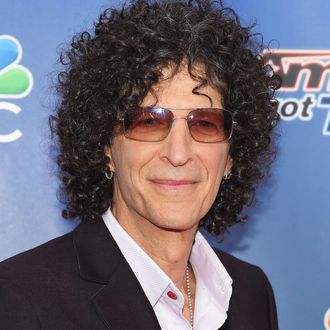 Howard Stern.
Photo: Michael Loccisano/Getty Images
Only two more weeks until all eyes are on the rock and roll mecca of the world: Cleveland, baby! Rolling Stone has confirmed five of the six presenters for the upcoming 2018 Rock and Roll Hall of Fame induction ceremony. As we already knew, Howard Stern will be inducting longtime pals Bon Jovi into the Hall, but we can now add a few more to the confirmed list. Brandon Flowers of the Killers will be presenting the Cars; Mary J. Blige will do the honors for Nina Simone; Ann Wilson of Heart will fete the Moody Blues; and Alabama Shakes's Brittany Howard will be inducting Sister Rosetta Tharpe. Additionally, Andra Day is will be performing a special tribute to Simone.
This is a cool and appropriate list — Stern's speech is bound to delight as David Letterman did for Pearl Jam last year — but it's important to highlight the deafening silence of anything Dire Straits related, the final act getting inducted into the Rock Hall. The organization has yet to confirm or comment on anything related to the band, as Mark Knopfler, Dire Straits' front man, hasn't actually acknowledged the induction. As such, Rolling Stone notes there are "strong indications" Knopfler doesn't plan on attending, thus rendering a full Dire Straits reunion impossible.
The band's keyboardist and guitarist, Guy Fletcher, also said a reunion performance will be unlikely because of "various and convoluted reasons" — but confirmed he would attend with the band's bassist John Illsley. All of the drama is very upsetting to this Vulture writer, who would love nothing more than to see Sultans of Swing performed live.