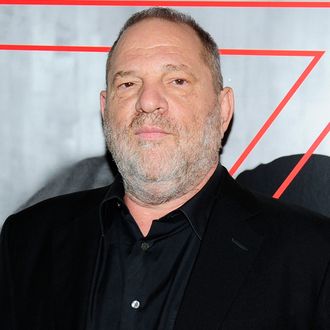 Harvey Weinstein.
Photo: Paul Bruinooge/Patrick McMullan via Getty Image
Earlier this month, a deal with deep-pocketed investors negotiating to purchase the Weinstein Company nearly cratered several times, putting the company at high risk of declaring bankruptcy. But on Thursday, an investment team led by billionaire Ron Burkle and businesswoman/former Obama-administration cabinet member Maria Contreras-Sweet announced it had bought the distressed movie studio for an undisclosed sum, according to Deadline. Although the TWC board has yet to confirm the sale has been accepted, the transaction would save the company from staving off the need to file chapter 11. The new investors said in a statement:
Our team is pleased to announce we have taken an important step and have reached an agreement to purchase assets from The Weinstein Company in order to launch a new company, with a new board and a new vision that embodies the principals that we have stood by since we began this process this fall. Those principles have never wavered and have always been to build a movie studio led by a board of directors made up of a majority of independent women, save about 150 jobs, protect the small businesses who are owed money and create a victims' compensation fund that would supplement existing insurance coverage for those who have been hard. The cornerstone of our plan has been to launch a new company that represents the best practices in corporate governance and transparency.
The deal for the "female-led company" nearly died twice in the past two weeks after New York Attorney General Eric Schneiderman filed a suit against the mini-major studio, alleging the Weinstein Company violated "numerous New York civil rights, human rights and business laws" related to disgraced former studio co-chairman/co-founder Harvey Weinstein's "unrelenting sexual harassment, intimidation, and discrimination." Even after negotiations restarted, the studio announced it was backing out of the deal to pursue bankruptcy protection and accusing Contreras-Sweet and Burkle's team of making an "illusory" bid.
But in a marathon dealmaking session at the attorney general's New York office Thursday, Schneiderman, the Weinstein Company board of directors (including chairman Bob Weinstein), and the Contreras-Sweet–Burkle team finally appeared to reach a compromise.
According to a source with knowledge of the negotiations who declined to be identified because the person was not authorized to speak publicly, the deal's victims' compensation fund will be between $80 million and $90 million. The deal also called for the ouster of TWC COO David Glasser, who was terminated for cause on Feb. 16. "As I made clear from the start, our office will support a deal that ensures victims will be adequately compensated, employees will be protected moving forward, and those who were responsible for misconduct at TWC will not be unjustly rewarded," Schneiderman said in a statement.
"This next step represents the best possible pathway to support victims and protect employees," the investors said.
This post has been updated.