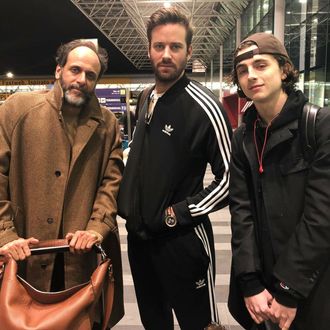 Photo: Instagram/Armie Hammer
Gather 'round Hammer Heads, Armie Wives, and moms who had to be reminded that the Winklevii weren't actually played by real twins in The Social Network: After many months of winning the athlesiure game, Armie Hammer has formally retired his tracksuits. In other words: Call Armie Hammer by his trackie, and he won't respond, but if he does respond, it will probably be in a burgundy velvet tuxedo. On Conan, Armie confirmed that his love affair with tracksuits is no more. "I would like to take this moment on the show now to officially announce my retirement from tracksuits," he said, before noting that his closet contains 70 in total.
This loss is especially sad for Vulture, who were — *deep throat-clearing humblebrag* — first on the tracksuit beat. We liked Armie's tracksuits here and there. We liked Armie's tracksuits everywhere. They were the elegant response to that devastating Oscar snub after a 14-month press tour. "You'll kill us if you stop (wearing the tracksuits)," we said, when we saw him donning them. And now, what are we to do? We rip out so much of ourselves to be cured of things faster, so let us take our time to process this fresh loss!
Some things never change, though: We'll still obsessively check goddess divine Elizabeth Chambers Hammer's glamorous, immaculate Instagram account. Cor cordium — that's "heart of hearts" for the uninitiated — godspeed on your next fashion innovation. Onward!