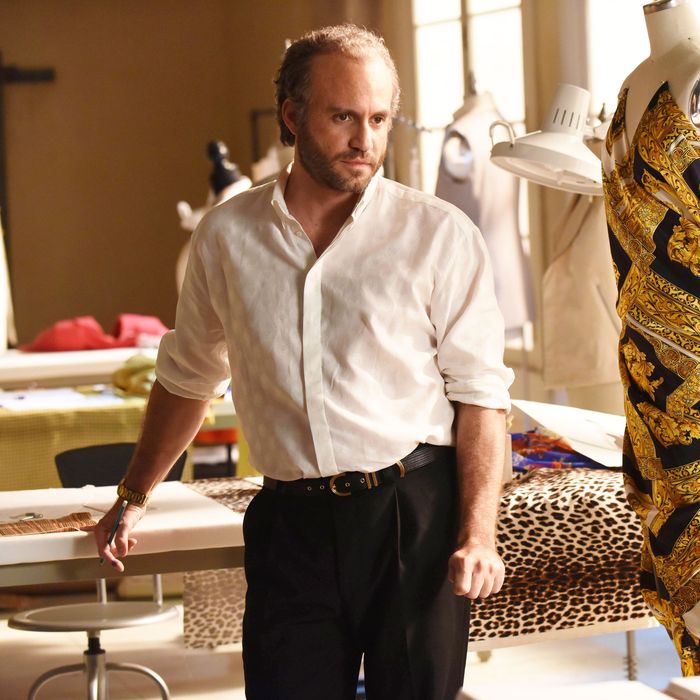 The second season of Ryan Murphy's American Crime Story anthology series, titled The Assassination of Gianni Versace, explores the titular designer's brutal 1997 murder at the hands of serial killer Andrew Cunanan. We're walking through all nine episodes with Miami Herald editorial board member Luisa Yanez — who reported on the crime and its aftermath over several years for the Sun-Sentinel's Miami bureau — in an effort to identify what ACS: Versace handles with care versus when it deviates from documented fact and common perception. The intention here is less to debunk an explicitly dramatized version of true events than to help viewers piece together a holistic picture of the circumstances surrounding Versace's murder. In other words, these weekly digests are best considered supplements to each episode rather than counterarguments. Yanez was on assignment and unavailable this week, but below is a summary of our independent research into the veracity and potency of events and characterizations presented in episode seven, "Ascent."
What They Got Right
Donatella's dress
Donatella may have creatively emancipated herself from Gianni by 1992, but she made her biggest splash that year by fashioning her brother's risqué bondage dress. Her arrival at that year's Vogue anniversary gala was indeed headline news, whether or not one ultimately thought Helena Christensen and Christy Turlington wore modified versions of the provocative piece better. It is also true that critical opinion about Versace's S&M look was polarized, although in retrospect, it's clear that — par for Gianni's career — he was ahead of his time.
Gianni grooming Donatella to run Versace
Whether it was due to his illness or simply being a long-term planner, Gianni very much prepped his younger sister to run the label. As a CNN style editor told People nearly 20 years ago, "Before his death, Versace had already begun ceding a bigger role to his sister … He wanted more time to play." As Donatella recently recalled, the abrupt transition to power following Gianni's murder was marred by her drug abuse and grief. Although given that the company was valued at more than $1 billion as of 2014, it's apparent that — as her brother anticipated — she eventually rose to the occasion.
The cancer timeline
A slight caveat here: The chronology of Gianni's reported bout of inner-ear cancer is rather murky. "Ascent" pegs 1992 as the period in which he began suffering unbearable symptoms, and 1993 as when Donatella shared news of his condition with employees. In a 2006 New York interview, she referred obliquely to how the cancer had decimated him during "the last two years of his life" before it went fully into remission, though without a precise moment of diagnosis. Yet a New Yorker feature that ran shortly after Gianni's death suggests he fell ill in '96 (though it may have been conflating what Orth's later reporting alleged was a separate bout with cancer in his cheek around that time). Meanwhile, The Wall Street Journal ran a profile on the Versace business in 2003 that stated Gianni was "stricken with a rare ear cancer in 1995." Short of obtaining official medical records, we're inclined to defer to a a 1997 New York Times obit, which not only published that the ear cancer was identified in '93, but supported the assertion with a quote from Versace about how "There were a lot of tests and scans and treatments that were hard." In turn, that would authenticate ACS's timeline of his malady as fairly precise.
Merrill Lynch in Manila
In this case, it would be apt to credit the Cunanan character with telling the truth, albeit couched in a falsehood about his father resuming successful financial work overseas. When he insists that Merrill Lynch has had offices in Manila in the Philippines since 1957, predating the corporation's Tokyo HQ, he isn't fibbing. An informational web page on Bank of America Merrill Lynch's Asia Pacific operations confirms that its "presence in the region dates back to 1957 when we opened offices in the Philippines and then in Japan." If you're ever in the area, here's where you can visit for yourself.
Cunanan's ex-wife
Sort of, at least based on an interview that Miami PD conducted with Andrew's close friend Steven Nauck. A police-file summary of key Cunanan facts and rumors leads off with the notion that Cunanan "possibly has an ex-wife and child" and "divorced approximately seven to eight years ago." (Nauck also mentioned an ex-lover named none other than David Gallo.) While dining with Norman and friends after the opera, Cunanan says his ex was named Lizzie, and proceeds to pass around a wallet-size pic of his friend Elizabeth. Since no marriage certificate for the two, nor any confirmation from Cote, has ever surfaced, we can deduce that Nauck was repeating a lie Cunanan spread to many in his orbit — including, perhaps, his ill-fated benefactor Lincoln Aston. (More on him further down.)
What They Took Liberties With
Mr. Mercado
As discussed last week, all empirical and anecdotal evidence suggests that Cunanan worked for a substantial period of time at his local San Diego Thrifty pharmacy. As far as why "Ascent" depicts the location as Mercado Drug Store, whose namesake owner lectures Andrew about wasting his time with glamorous magazines and daydreams, one might assume the show had difficulty securing use of Thrifty's name and likeness. But that's not the case, according to executive producer Brad Simpson. "This [Thrifty] franchise was owned by Filipino Americans and was located in an area near San Diego — National City — that has a large Filipino immigrant population," he wrote in an email. "We did not seek to use the Thrifty name." Like so many of Cunanan's own tales, Mr. Mercado is just "a dramatic invention."
The escort service dressing-down
The scene of Andrew being degraded and rejected by a mercenary escort-service owner who "can't sell a clever Filipino, even one with a big dick" served its purpose, i.e., motivating Cunanan to set out on his own in search of wealthy older men he can seduce. But there's nothing to verify that such a specifically humiliating encounter occurred. In fact, Orth reported that Cunanan was in the employ of an escort service circa the early '90s, working in both California and Florida. Contrarily, a cringingly dated Washington Post story subsequent to Cunanan's death on Andrew and other "trophy boys" puts forth that he was primarily an independent contractor. Either way, the job interview portrayed in "Ascent" appears to be more of a storytelling contrivance than concrete catalyst.
Andrew and David's instant tryst
Once more, "Ascent" takes liberties with Orth's source material, which concludes its secondhand account of Andrew and David's San Francisco meet-cute by affirming they had a "nonsexual sleepover." Given the episode's explicit themes of gay alienation and the necessity of keeping sexual liaisons a clandestine matter, the images of Cunanan and Madson showering and lying together (presumably) post-coitus may have been a kind of rebuke — a refusal to castrate their intimacy. As for their place of lodging, however, the Mandarin Oriental is more than plausible. According to the FBI, it was one of his favored hotels. All of this presupposes, of course, that Orth's anonymous eyewitness to the pair's supposed first brush is to be believed. Interestingly, at the dinner scene in question, Andrew introduces his friend Eli to David — as in (more than likely) Eli Gould, an attorney pal of Cunanan's whom Orth claims was present when Andrew allegedly crossed paths with Versace in 1990.
Lincoln Aston's murder
À la the escort-service scene, Andrew looking on as Kevin Bond bashes Lincoln's head with a stone obelisk (that part is, gruesomely, accurate) does what it needs to: earmarking the first instance when Cunanan is riveted by bloodlust. But did he actually observe the killing, never mind cover for Bond, a deranged loner who was eventually convicted of second-degree murder and sentenced to 15 years? Firstly, per the testimony of Aston's friend James Michael Hays, Aston met his future assailant at a club called Caliph, not Flicks. Although more broadly speaking, The Advocate and others reported accounts that Cunanan and Aston were intimate with each other, but also — along with Norman — immersed in a secretive gay social club known as Gamma Mu. This conflicts, however, with Cunanan's friend Nauck telling Miami PD he was unaware of Andrew and Lincoln being more than platonic. In any event, we came up empty in our efforts to find a shred of documentation that Andrew watched in horror and then calm collectedness as Bond committed his savage act. Regardless, he was still on course to replicate it at David Madson's apartment exactly two years later.
Andrew's assault of his own mom
Did Cunanan get so fed up with his mother's clinginess that he slammed her into a wall and fractured her shoulder blade? As "Ascent" would have it, he did just witness a brutal murder, awakening his latent, violent tendencies. And it all fits Orth's narrative, which attributes details of the incident to quotes from Mary Ann's parish priest. It's a sensational scene, but one with no additional corroborative evidence. What's undeniable is the damage Cunanan caused his doting mother in the wake of killing five men, and the far-from-globe-trotting circumstances he left her to get by in on her own.