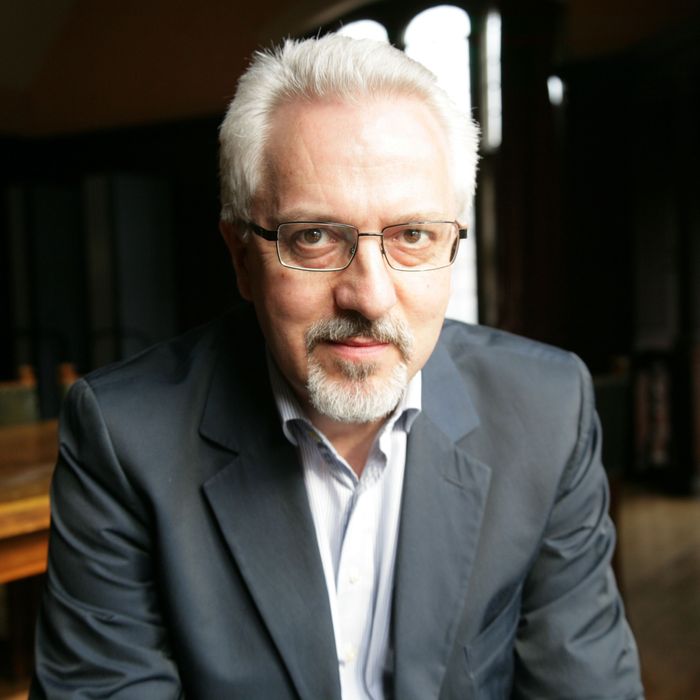 Alan Hollinghurst.
Photo: Geoffrey Swaine/REX/Shutterstock/Geoffrey Swaine/REX/Shutterstock
The fictional scandal named in the title of Alan Hollinghurst's new novel, The Sparsholt Affair, involves a minister of Parliament, political corruption, and a tryst between two businessmen friends, David Sparsholt and Clifford Haxby. The reader never learns any of the details of what transpired, except that the events occurred in 1966, the year before the Sexual Offences Act of 1967 decriminalized sex between men over age 21 in Britain, and that they were national news. The sordid story attaches to the uncommon surname Sparsholt for anyone alive at the time and sticks to David Sparsholt's son Johnny through the novel's fractured narrative. Its echoes diminish over time, and the novel overwhelms the scandal with the minor dramas of closely observed lives, rendered in a prose of consistently astonishing refinement. We're left with a sensational hole at the center of a deviously anti-sensational novel.
Hollinghurst has written six novels over 30 years and won the Booker Prize in 2004 for The Line of Beauty. From The Swimming-Pool Library in 1988, he's written books that resemble 19th-century novels about the sexual and emotional ways of being that the past elided. A manuscript contained in that book recounted the erotic life of one character's sojourn in colonial Sudan, juxtaposing it with the narrator's liberated wanderings in the clubs and parlors along the Central Line in 1980s London. The new novel's structure, like that of Hollinghurst's previous book The Stranger's Child, is more elaborate, a forward march, or series of leaps, through the generations. Beginning in World War II and ending with smartphones, The Sparsholt Affair chronicles the progress from the closet to Grindr, though the historical advances occur in the gaps between episodes. The book's five sections take place in 1940, 1966, 1973, 1995, and 2012. So just as the scandal of the title has been left out, so has the AIDS crisis and the Thatcher era, which happened to form the the context of The Line of Beauty. The novel becomes a study in contrasts in time, between father and son as well as their older and younger selves.
David Sparsholt at age 17 is a rower and aspiring engineer who arrives at Oxford for one term before shipping off to war with the Royal Air Force. He's seen through the eyes of Freddie Green, secretary of "the Club," a group of students who invite authors to the university to read from their works and say their piece on current events: "When the bombing began people wanted to know what the writers were thinking." Freddie's account is written in retrospect, we're informed at its start and its finish, a "little memoir" composed for but never shared with the "Cranley Gardens Memoir Club," a gathering of his Oxford friends that will continue for decades. The style of Freddie's memoir is a dazzling imitation of mid-20th-century British prose — think of Christopher Isherwood, Anthony Powell, or Cyril Connolly — and he surveys his milieu as his friends' heads are turned by the young athlete who's appeared in a window across the yard: "a figure in a gleaming singlet, steadily lifting and lowering a pair of hand weights. He did so with concentration though with no apparent effort — but of course it was hard to tell at this distance, from which he showed in his square of light, as massive and abstracted, as if shaped from light himself."
The "abstracted" man will soon take on a few real qualities, but neither Freddie nor his Oxford friends will ever see David whole. He's earnest and unsophisticated but not quite innocent. He's engaged to a girl named Connie who's come to Oxford from their provincial home for a job to do with the war, and though he's serious about her she may not be everything he desires. He sits as a model for a painter friend of Freddie's and tunes in on the affections directed at him by Evert Dax, the relatively posh son of a novelist who reads at the Club's autumn event. David and Evert go out for pints and David lets slip that he's gotten in trouble and must pay a fine of £20 pounds (a steep sum before the pound's steep inflation in the 1970s, equivalent to about £1000 in today's currency) for having Connie spend the night in his room. In a transaction that's never spoken of as such, David sleeps with Evert. This is the first of several minor Sparsholt affairs that glow around the obscured scandal of the novel's title.
The succeeding sections are told in the third person and cleave mostly to David's son Johnny's point of view. We meet him first on holiday at age 14, his attention focused on a French teenager name Bastien who's joined the family at the seaside. Their mutual attraction of the previous summer have been eclipsed by Bastien's new interest in girls. There are glimpses of David and Clifford Haxby sailing and reminiscing about the war just before the scandal engulfs them. Seven years later, Johnny has moved to London to become a painter and work as an assistant to art restorer. There he falls in with Evert Dax, his circle of friends from Oxford, including Freddie Green, who's become a prominent author but doesn't again take center stage in the novel. A romance with Ivan, an assistant of Evert's, never takes off because Ivan prefers older men and will become Evert's partner. Johnny is befriended by the posh Francesca and her girlfriend Una, who suggest that Johnny provide the sperm for their child. Hatched in the mid-'70s, that plan isn't executed until the late '80s.
When we meet Lucy, the biological daughter of Francesca and Johnny, it's 1995 and she's 7 years old. By this time, Johnny is an accomplished portraitist and has a long-term partner named Pat, but in another of Hollinghurst's elisions we never get to know him.
These relationships constitute the plot of the novel's later sections, but the energy of Hollinghurst's prose is directed toward the more routine aspects of Johnny's life: what it feels like to restore the details of an oil painting, to enter a department store or an underground club in 1973, to ride on the upper deck of a bus with posh young women used to taking cabs. There are funerals and wakes and many portrait sittings. In the final section, a 60-year-old Johnny downloads a dating app, sleeps with a man three decades his junior who shows him amateur internet pornography, and does cocaine at a club. Hollinghurst manages a time-lapse impressionist portrait of London bohemian life. The way life opens up to Johnny in a way that it never could for his father — who remains owner of his own firm after scandal and prison wrecks his marriage to Connie and he marries his dour secretary — is the novel's real subject, though Hollinghurst has decided to look at it every which way but head-on. We last see David alive meeting his son for dinner at the RAF club, where he still signs for his meals as Squadron Leader Sparsholt. From there Johnny, who's been shown the manuscript Freddie left behind after his death of cancer, brings him to meet Evert Dax.
After leaving them alone for a bit, the son watches the reunited lovers part, hoping they'll kiss when instead Evert fingers David's RAF badge: "a small gesture of quizzical familiarity that struck Johnny as quite outside the repertoire of his father's life, or what he knew of it." The scene is a fit summing up of a novel about the shifting limits and small gestures that shape lives or warp them.
*This article appears in the March 19, 2018, issue of New York Magazine. Subscribe Now!