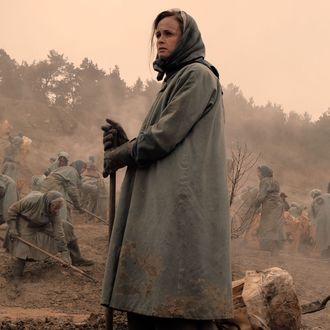 Alexis Bledel as Ofglen in the upcoming season two of
The Handmaid's Tale.
Photo: Hulu
Today, Hulu gave fans another glimpse at season two of The Handmaid's Tale with a look at Emmy Award winner Alexis Bledel reprising the role of Ofglen. Despite her dramatic attack on Gilead's guards in season one, she appears alive and well, or, maybe not so well. Fans of Margaret Atwood's novel may notice that her surroundings appear to match the book's description of the colonies. Though only briefly mentioned in season one, the novel describes the colonies as being parts of North America polluted with radioactive waste, where Gilead sends criminals, known as Unpeople, to perform manual labor.
It looks like fans will finally get to see this somehow even darker side of Gilead in action. Another subtle reveal is that Ofglen is dressed the same way Janine appeared in last week's teaser, meaning we could be getting a whole handmaids-in-exile squad. And with the news that Cherry Jones has also been cast as Offred's colony-bound mother, Team Colonies could be a hard group to keep exiled.
The Handmaid's Tale will launch on Hulu on April 25 with two episodes.