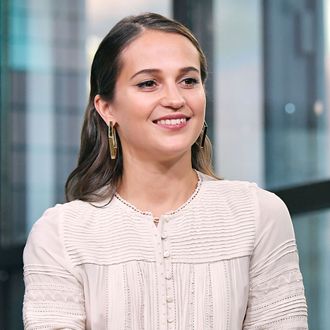 Alicia Vikander.
Photo: Mike Coppola/Getty Images
In addition to starring in the new Tomb Raider, Academy Award winner Alicia Vikander has all sorts of secret talents. Specifically, one talent. Specifically, she is … very good at using search engines? In an interview with BuzzFeed, Vikander revealed that "my friends call me Mrs. Google. I'm really good at Googling answers on anything, and I'm very good at planning travels." Later, she reiterates that if she weren't an actor, "Going back to being Mrs. Google, I would probably have my own travel agency." Going back to being Mrs. Google! This isn't something Alicia Vikander made up on the spot to dodge a silly interview question. Mrs. Google is her identity. It is her very soul.
First of all, Alicia Vikander's friends seem — what's the nice way to put this? — extremely bad at coming up with nicknames? Why is she married to Google in this scenario? Why did she take Google's last name? Maybe it sounds better in Swedish. Secondly, it's not that hard to use Google. The search engine's algorithm is designed to predict what you are looking for based off of your input. If you search "alicia vikander the light between oceans sweaters," for instance, you automatically get the best Alicia Vikander coverage out there.
But perhaps — perhaps — Mrs. Google's skills extend further. She says she'd run a travel agency, and like a human Kayak.com (which would also be a bad nickname), she's claims she's pretty good at combing through all sorts of sites to find the best real-life options. Alicia "Search One and Done" Vikander. This may explain how she managed to plan a wedding in secret, or how she managed to keep her relationship with Michael Fassbender on the down low for an entire awards season, which ending with her winning an Oscar. Imagine Alicia Vikander furiously paging through hotel reviews while doing crunches at the gym. Imagine Alicia Vikander vetting various wedding vendors while peering through gigantic sunglasses on a secluded beach. Imagine Tove Lo, the girls in Icona Pop, and Rebecca Ferguson — who are all apparently friends with Alicia Vikander — hanging out together and turning to Mrs. Google and announcing, "So, where are we going for dinner?" while she glares down at Yelp.
Others might give up after the first page of results, but not Alicia Vikander! With the tenacity of Lara Croft herself, she will go to the very ends of the earth to find out which cozy hotel might make for a cute weekend getaway.
Mrs. Google, please tell us if you find this post.