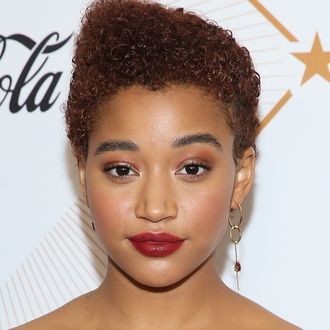 Amandla Stenberg.
Photo: Phillip Faraone/Getty Images
In a new interview with CBC Arts, Amandla Stenberg explained why she took herself out of the running to be in the biggest movie of the year, Black Panther. The 19-year-old was apparently in the running for a part, but bowed out of the process to ensure she didn't end up taking a role that could have gone to a darker-skinned actor. "One of the most challenging things for me to do was to walk away from Black Panther," Stenberg explained. "I got really, really close and they were like, 'Do you want to continue fighting for this?' And I was like, this isn't right."
The extremely thoughtful and conscientious young professional — who has been as much an activist as she has an actress throughout her career — further elucidated her thought process behind the choice to walk away from the massive Marvel picture. "These are all dark-skin actors playing Africans and I feel like it would have just been off to see me as a biracial American with a Nigerian accent just pretending that I'm the same colour as everyone else in the movie," she said. "That was really challenging, to make that decision, but I have no regrets. I recognize 100 percent that there are spaces that I should not take up and when I do take up a space it's because I've thought really, really critically about it and I've consulted people I really trust and it feels right." Someone get started on a first run of "What Would Amandla Stenberg Do?" T-shirts.