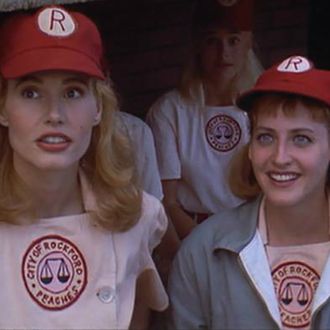 Geena Davis and Lori Petty.
Photo: Columbia Pictures
Looks like someone over at Amazon Studios has been using their head, which is, of course, that lump that's three feet above your ass. According to The Hollywood Reporter, the streaming service will reportedly be bringing the classic Penny Marshall baseball movie A League of Their Own to the small screen. Even better, the TV adaptation will be co-written and co-executive produced by Abbi Jacobson, of Broad City fame, and Mozart in the Jungle's Will Graham. While still focusing on the All-American Girls Professional Baseball League team the Rockford Peaches, the half-hour comedy will reportedly be less of "a traditional reboot" and more of a "modern look at the story," news that suggests the series will be in a league of its own. Wait a minute, is that what the title refers to!?!? It works on so many levels!