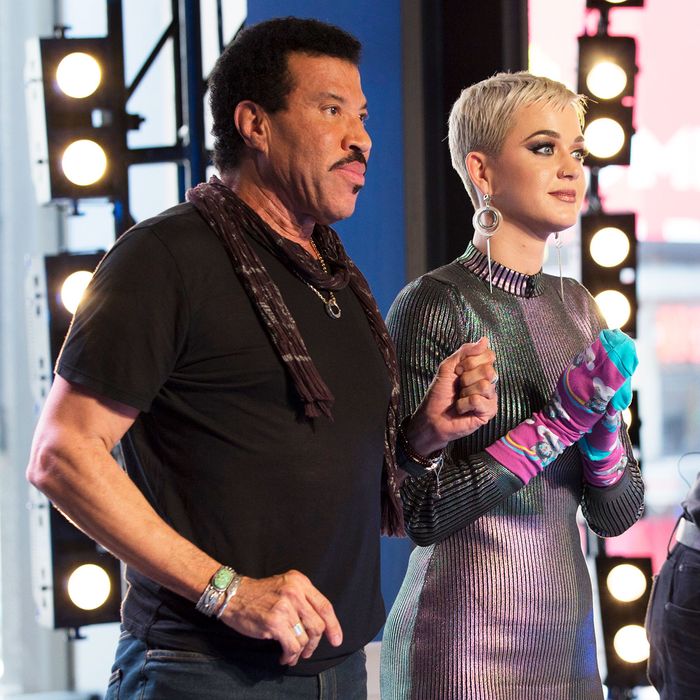 Lionel Richie, Katy Perry, and Luke Bryan, passing judgment on the new
American Idol
.
Photo: Eric Liebowitz/ABC
"I've waited a lifetime for this!" shouts host Ryan Seacrest as the first episode of the revamped American Idol gets underway.
But that statement would only be true if Ryan Seacrest were a toddler.
Less than two years have passed since American Idol ended its 15-season run on Fox, but already it's being brought back from the dead — or more like awakened from temporary slumber — by ABC, who last year acquired the rights to the singing-competition series that launched all the other singing-competition series.
Conceptually, the new version, which debuts Sunday night, is exactly like the old. There are three celebrity judges (this time, they are Lionel Richie, Katy Perry, and Luke Bryan), a series of auditions that enable amateur vocalists to show off their talents, and eventually a Hollywood-based sing-off that winnows the pack down, week after week, to a singular winner. Sensibility-wise, though, ABC's Idol is different. It's a kinder, gentler show that, at least in the first two-hour episode, jettisons Simon Cowell–style cutting commentary and more fully embraces positivity and uplift. Call it American Idol Disney, or The Voice: Wish Upon a Star Edition, or, if you want to keep things musical, just sing its title to the tune of the Mickey Mouse Club theme: A-M-E R-I-C A-N-I-D-O-L!
The first Idol certainly put a lot of emphasis on the joyful dreams-coming-true aspect of its contest, but it's clear right away that Idol 2.0 will make that an even higher priority. "We're quickly becoming one happy family with the auditions off to a picture-perfect start," Seacrest says early in the first episode, sounding like he's reading from the script of a Disney movie. There are not many bad auditions in the first episode, but even the worst ones don't necessarily qualify as terrible. Even Nico Bones — a skate-shop employee from Long Beach, California, who sings a well-known children's song about eating worms and dresses like he's desperate to be an extra in a Joan Jett biopic — has some level of talent. The judges never tell people they suck. Instead, they suggest that certain singers simply aren't well-suited to American Idol. Richie, Perry, and Bryan are particularly averse to excessive vocal gymnastics, advising those who belt too loudly or overpower the room with their range that maybe Broadway would be better for them. Which is funny, because I'm betting at least some of those people learned that style from watching the original American Idol.
There is also something extra-American about this Idol. The first episode shows auditions that took place in New York, Nashville, and, of course, Disney World in Orlando, but the majority of the spotlighted hopefuls come from red states like Arkansas, Texas, and Oklahoma. That choice seems to be a subtly calculated way to make sure that viewers up and down the demographic and political spectrum feel welcome to watch. Which is fine. But there are certain moments that lean into that good ol' 'merican impulse a little too much.
After an audition by Ron Bultongez, an entrepreneur from Plano, Texas, who originally came to the U.S. from the Congo, Bryan shouts, "Ron from the Congo, that's your nickname!" Then he and Perry modify that: "Congo Ron!" Yeahhhh … maybe you should just call him Ron.
In American Idol tradition, the first episode is, at two hours, far longer than it needs to be, especially considering that another two-hour audition episode airs on Monday night. And given all the Disney pixie dust — or wait, is that just glitter from Katy Perry's eye shadow? — that's been sprinkled all over the whole endeavor, the new Idol often may make you want to gag even while it's coaxing tears out of your ducts. But I suspect that a lot of people will tune in, for all of the reasons that ABC has decided this is a good time for an Idol revival: because the show is hopeful, and everyone in the family can watch it together, and, in a very watered-down, non-politicized sense, it argues that it represents all the diverse voices found across these United States.
Is it actually representing all the diverse voices in these United States? Of course not. But American Idol, even in its original form, has always sold us a fairy tale. Maybe the network owned by the company that specializes in fairy tales is where it always belonged.