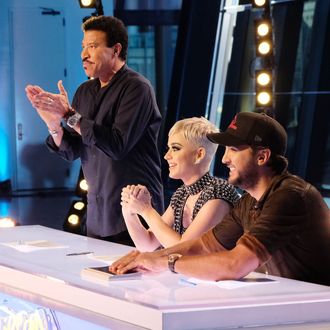 Judges Lionel Richie, Katy Perry, Luke Bryan.
Photo: Mark Levine/ABC
It's too soon to call it a smashing success, but ABC's relaunch of American Idol got off to a strong start Sunday with audiences. Per Nielsen, 10.3 million viewers caught the singing competition's two-hour (re)-premiere, with the show earning a 2.3 rating among the advertiser-desired demographic of adults under 50. That's on par with what last month's season premiere of The Voice notched on NBC (10.8 million viewers and a 2.4 rating), and perhaps more importantly, it's bigger than any show ABC aired last week, just edging out The Bachelor season finale and Thursday's episode of Grey's Anatomy. It also exceeds industry expectations for the new Idol: Trade reports and respected TV business insiders projected that the Idol reboot wouldn't crack a 2.0 demo rating. Fox even tried to counterprogram with a hastily scheduled O.J. Simpson "confession" special, which tanked, drawing a meager 4.4 million viewers.
Despite these generally great results, it's worth noting Sunday's premiere still represents the lowest demo rating ever for an Idol season premiere, coming in under 2016's previous low-water mark by about 20 percent. These are not the kinds of numbers that signal the new Idol will be any sort of pop-culture phenom.  Given overall linear ratings erosion over the past few years, however, ABC execs have to be overjoyed that their not-cheap singing show at least got audiences to take a look. Now, the hard part: getting them to stick around.