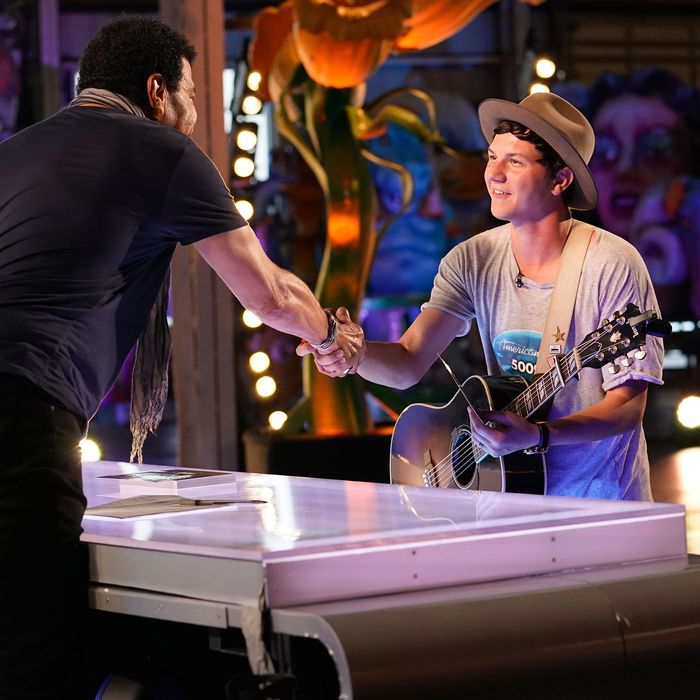 Photo: Alfonso Bresciani/ABC
American Idol's greatest mysteries remain unanswered: Why was Kendra Chantelle eliminated after her devastating take on "Georgia On My Mind" during the season ten Wild Card round? Why did seemingly every contestant cover Corinne Bailey Rae's "Put Your Records On" for, like, six seasons in a row? Is Norman Gentle the funniest man alive? Does Nicki Minaj realize Paul Jolley is buff now? There's no way of answering these universal questions, and now, we can add a new mystery to the vault: Why did ABC wait until episode two of its Idol reboot to showcase singers who could win the season? Seriously. The talent level in season 16 jumped at least the height of Constantine Maroulis last night, and we have Katy Perry's tears, Luke Bryan's two-syllable "Wa-ow!"s, and Lionel Richie's newfound love of contestant hugs to prove it.
We begin with 15-year-old Mara Justine, who pops off with a respectable, angst-sprinkled take on Rihanna's "Love on the Brain." This is a girl who was 4 years old when Rihanna landed her first No. 1 hit, but she sells the drama with gesticulations worthy of Patty Duke in The Miracle Worker. Hot take: American Idol is as much an acting challenge as a singing competition. Mara's clenched demeanor helped what could've been a contrived performance, but it's a stretch to say she owned every bit of the song's intensity and sadness. I like her commitment level (and I loved her asthmatic response to meeting Seacrest in the opening package) but it's going to take even greater focus and command to reach the top ten.
Snazzy pompadoured teen Andrew Weaver floats a rendition of Ed Sheeran's "Thinking Out Loud" that could make you and your whole family sway ("What a nice young man," coos your aunt), but it is painful that I can't reach out to Andrew on social media and say, "Hey, you and your slick hair remind me of Jimmy Ray, singer of the song Are You Jimmy Ray? Isn't that something?" because (1) no one has heard that song since Jimmy performed it at Nickelodeon's The Big Help in 1997 and (2) it's not a strong enough tweet. Andrew is a self-assured performer, but it remains to be seen if "winsome" can translate to "showstopping." Let the season arc of Kris Allen be your guide, young Andrew.
Christina Jones is our next combatant to brainwash us into believing all high schoolers are gifted, as she croons Gladys Knight and the Pips' "Best Thing That Ever Happened to Me" with the authority of a national speech-team champion. Even better, she has a version of synesthesia where she perceives music as having colors. Katy pesters Christina into describing which colors she "saw" as she sang, and she replies, "Kind of a hazel brown?" She doesn't give me liar vibes like Betsy DeVos or Hollywood Medium Tyler Henry, so I'm down with this color-coding shtick. I'm less enamored of young towhead Griffin Tucker and his rushed version of "Lady Madonna," which seems more suited for the floor of Nordstrom than the Idol stage. But Lionel Richie thinks Griffin is staggering, and since Lionel Richie is the sexiest living 68-year-old (Sorry, Lindsay Wagner!), I defer to him.
Something extraordinary happens with our next contestant, William Casanova: He is LOL-funny at least twice in the space of 45 seconds. That is Chupacabra-rare for an Idol contestant. The first time is when Katy Perry quizzes him on the authenticity of his name. "My mama didn't give it to me," he says, "but that doesn't make it any less real." Daaaamn. Greta Gerwig quakes at this flawless Lady Bird punch-up. Then after William says he sells shoes for a living, Katy tilts her head and asks how he comforts a customer who's missing a toe. "You've got to smile and make them feel like they have all five," he opines. Gertrude Stein, you have been supplanted. Following his simmering but expected take on "A Song for You" — a song that Idol has sapped of any potential novelty; I'm not even into my favorite singer Karen Carpenter's version anymore — he gets to pry his own Golden Ticket to Hollywood from Katy Perry's toes, since she has placed it there for comedy's sake. To be honest, it works. Katy really, really nails this gig. This is a fun show because of Katy! I'm on such a high from her antics that I'll throw a random compliment her way: "Walking on Air" deserved more radio play! That one's for you, KatyCats.
Meanwhile, I can take or leave Michelle Susset's hamminess as she gyrates to Selena's "Techno Cumbia," though the judges dig her confidence and Katy describes her as "not annoying." I can certainly leave Ukrainian-born Misha Gontar's tongue-twister lyrics that waded into a-licky-boom-boom-down territory, and the judges are not forgiving this time. But here's an undeniable talent: Brandon Diaz, a beaming troubadour with gnarly locks like young Edie Brickell, struts in with a story about making his Cuban immigrant father proud. He also mentions that he attends the Berklee College of Music, the alma mater of America's finest singer-songwriter Aimee Mann (a.k.a. the intellectual Karen Carpenter), so I know we're in for something rad. It's a rendition of Allen Stone's "Unaware" with soul, a falsetto that swoops up and around like a magic carpet, and a carefulness that is awfully refreshing on a show like Idol. His eyes are full of Visine and star power, and Katy takes no time to call him the best male singer of the season so far. He has that lifting power, that ability to make everyone in the coffeehouse stop sexting and start Shazaming.
I'd be touting Brandon's potential for victory except the unthinkable occurs: A construction worker named Trevor Holmes ankles in to the audition room, flashes his Mentadent grin, and has the nerve to be sheepish and charming about his brutally hot looks. His name is Trevor Holmes. That's a name God gives you for OnlyFans stardom. His rugged Joey McIntyre visage only gains in charisma as he purrs an acoustic performance that leaves Katy Perry literally (literally) gagging (gagging). Did I mention he calls Katy Perry his longtime crush? He does. The whole thing would've been thrilling had Trevor not introduced us to his longtime girlfriend, who waited outside while he inserted the name "Katy" into his lovestruck lyrics. Is it uncomfortable for the viewer? A little! Does Trevor's aw-shucks vibe compensate? Not if you think about it for any length of time! But for now, he's the kee-yutest contestant ever and we'll be seeing him try to out-cute America in Hollywood soon.
It is disturbing when young people seem wise, and bashful 17-year-old Louisianan Laine Hardy teems with sly awareness. He has Lego-man hair and eyelids like either Lauren Bacall or Dane DeHaan (my two favorite celebrities who built careers on looking like we disturbed their nap), but his voice is a one-of-a-kind treat for the season: a bouquet of rasp and sensitivity that sounds great pronouncing the word "Pontchartrain." After the judges whip a Golden Ticket at him, it's over to St. Louis native Gabbii Jones, whose strutty rendition of "Dangerous Woman" is ferocious but underwhelming. Fortunately, she is wearing a glittery black onesie and platform shoes, so out of fear that she is an assassin from the future, all three judges give her the green light. Additionally, Lionel gives her a hug. We will soon learn Lionel has a compulsive hug-giving disorder and must be stopped, but for now it seems inspired.
Cameron Theodos, a boyish Shreveport native with an optimistic songwriter vibe, is as charming as that description suggests. He's in, as is the gregarious Thaddeus Johnson, a season ten Idol auditioner who's back after losing 150 pounds and dealing with some inner demons. Here's one of the best compliments I can give: His song choice of "Don't You Worry, Child" by Swedish House Mafia is brilliant, arguably the most inspired choice of the week. It's on the level of Valentina in RuPaul's Drag Race season nine during the Madonna challenge when she sashayed down the runway as Madge's nude hitchhiker look from the Sex book. Much like how Valentina turned an iconic, non-drag look into inspired drag (unlike the other queens who simply recreated drag-ready Madonna moments), Thaddeus took a rowdy club song and elevated it to a rollicking soul anthem. He turned a howling 2010s radio jam into his own "A Song for You," making for an audacious performance and a full slay. Lionel can't help but hug it out with the luminous Idol returnee.
Somehow, though, he's not my favorite contestant of the episode. Like your little brother banging on the second controller as you play Street Fighter II, here comes a new challenger: It's Rissa Watson, a 17-year-old Oklahoman whose family runs a generations-old furniture store. It's so old. It's the kind of place where Tatum O'Neal pulls a grift in Paper Moon. And Rissa herself has an age-old authenticity that puts you at ease. With another performer, a song choice like Adele's "When We Were Young" might feel obvious, but in her hands it's a delicate country ballad suited for Kacey Musgraves, Jewel, or season 12 Idol finalist Kree Harrison. It's a ten. A wafting, yearning, studio-ready ten. Sometimes I feel like we'll never get a performance like Carly Smithson's gorgeous "Here You Come Again" from season seven again, and Rissa Watson makes me think we could get two or three by May. Here, I believe, is your Idol front-runner: a confident youngster with songwriter gravitas and a maturity that soothes and awakens a room. Catapult this dame to the end, please.
One more hunk to go: Garrett Jacobs, a twangy 17-year-old with a John Tucker Must Die thing going on, churns out a bluesy but slo-o-o-o-w take on "It's a Man's, Man's, Man's World." I can't tell how affected his vocals are, but he achieves an ancient-sounding Robert Johnson feel. Luke Bryan yips that the kid is "badass," but Katy derides his sluggish guitar-playing since she's the most dependable member of this panel. Garrett advances with no idea how many foxy blokes in boot-cut jeans await him in the Hollywood octagon. I think it's in the low hundreds at this point. Side note about boot=cut jeans: My favorite thing about the year 2000 is how in Britney Spears's scandalous VMA performance of "Oops! … I Did It Again," she strips down to a nude catsuit that is boot-cut. We were such slaves to the boot-cut silhouette that Britney Spears pretended her ankles naturally turned into Doc Martens. And we found it hot!
Finally, David Francisco, a smiley 25-year-old who relays a horrifying story of being paralyzed from the waist down in a traffic accident, performs the sunny "Isn't She Lovely" with clap-along energy. We're listening. We're smiling. We're sniffling. We're all weeping our brains out as Katy, Lionel, and David's accompanying girlfriend exchange glances and sob. It is shockingly emotional. An out-of-nowhere gut-punch in the vein of Andy leaving for college in Toy Story 3. I can't explain it. David simply did a good job and everyone's eyes blew up! Notably, he keeps his cool and finishes the Stevie classic with elan. Truly, something is emotional about watching this episode for any true Idol fan: Not only do we have competitors, we have a competition. Not only do we have committed judges, we trust their judgment. I had my doubts about this unkillable brand, but look at Idol go: messing up our minds, filling up our senses.