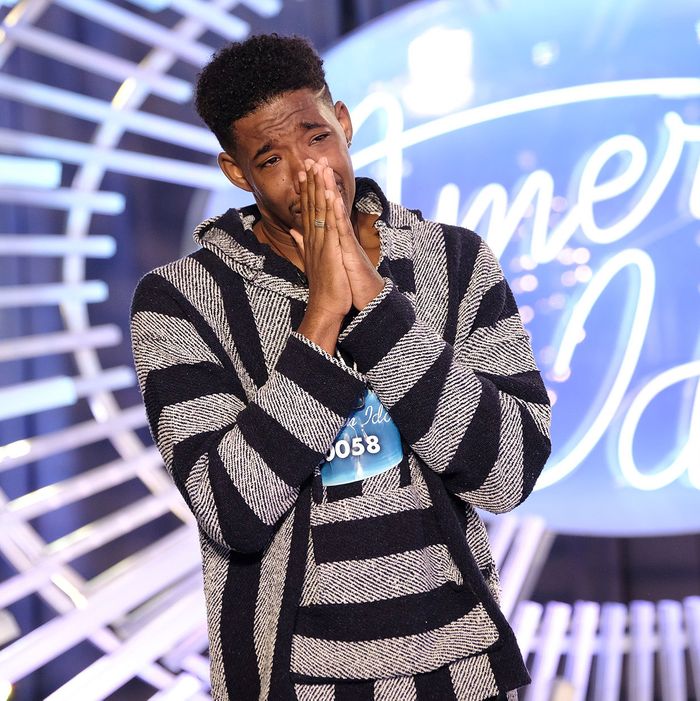 I am not a pop star and don't plan to be, but I want to give some advice to all auditioners on talent competitions: Please try to be Madonna. Just be her. Be an urgent, commanding sensation who is having the time of her life every time she's onstage. Be raunchy and cocky and righteous and risky and occasionally problematic, and then change the conversation by wearing henna or a bustier or something you stole from your kid's parkour coach. I know you probably want to be Ed Sheeran or Taylor Swift, but they're as rad and sexy as the Lyle Lovett episode of VH1's Storytellers. Just be exciting! I worry sometimes that Idol auditioners don't grasp the concept of excitement. They're up there hoping to be the next Julia Michaels and it's like, why? This is television. Fill the sparkly box with ebullience. Storm around. Sing some, sure, but make yourself indispensable to an industry that only needs seven or eight stars to survive. I'm in a coma listening to Post Malone gurgle up "pillies" for the 50th time today on KISS FM. Don't sedate; defibrillate!
Idol's fourth day of auditions takes us to New Orleans where, purportedly, people are having fun. "This city is bursting with music," narrator Katy Perry explains, like someone who was bludgeoned with saxophones and trumpets the second she left the airport. We also head to Nashville, a city that Olivia Newton-John sometimes pretends to be from. For suspense's sake, I'm ranking all the ticket-earning auditions once again — and throwing in evaluations on two memorable rejections.
IT'S A NO: Audriana Bolton, "(You Make Me Feel Like) a Natural Woman"
"People compare me to Ariana Grande, Mariah Carey, and Christina Aguilera," said this actual human being. You can guess what happened next: Audriana spat out a version of "Natural Woman" full of Mariah finger wags and Aguilera vomit growls. I'm reminded of Katy's remarks to another contestant in the premiere episode: "You don't listen to music like that." Maybe Katy didn't say it again this time because she sensed Audriana's growing hostility. Xtina stans are dangerous, guys! They'll scream "Buy Lotus on iTunes" at a newborn, trust me on this.
IT'S A NO: Britney Holmes, "I Have Nothing"
Here it is, evidence that we may have the most polished Idol judging panel of all time: Britney Holmes hit every note of "I Have Nothing," a song that no one needs to hear again, and proved she's a valid and professional vocal coach. She served up the notes. She wrote down the notes, called them out one at a time, and there they were. Notes in a row. Boom, boom, boom. But her performance wasn't vivacious or beyond or any other adjectives in the names of RuPaul's Drag Race contestants. It was a series of zeroes and ones approximating the depths of Whitney Houston, but only coming up with a scratch track she'd record over. She should be a musician, but she's not an American Idol. And I'm glad we don't have to wait until round three or four of the competition to make that distinction anymore.
Moving on to tonight's grinning victors, we have …
12. Kenedee Rittenhouse, "Told You So" and "Firework"
Kenedee hails from Carrie Underwood's hometown. She seems to have an All About Eve–like fixation on Carrie's career. They sang once together in 2009 and you better believe Kenedee is chasing the embers of that meetup. But this is no Bette Davis/Anne Baxter duel: Kenedee has the look of a star but merely hits the notes of "Told You So" and, when challenged by Katy Perry, the chorus of "Firework." She didn't live the music. She provided the shell of it. The judges' blatant wishy-washiness will hopefully coax her into strengthening her instrument before we hit Hollywood. Addison DeWitt would be less kind.
11. Samothias, "Tennessee Whiskey"
Samothias has yellow Crazy Town hair, and since he expressed no opinions on butterflies or sugar (m'lady), we'll never know if it was intentional. But his version of "Tennessee Whiskey" by Chris Stapleton delivers on intimacy, and that's good because whenever I hear the name "Chris Stapleton," I am angry he is not related to Emmy winner Jean Stapleton or Oscar winner Maureen Stapleton. These are three disparate Stapletons of pop culture and I want them united! Samothias is through to the next round and although he never visited the set of All in the Family or Interiors (1978), I dig his chill Midwestern tone.
10. Daniel Ethridge, self-written song
Look, there's inherent appeal to seeing a half-Korean Texas kid summon the grit of a haunted old Opry star. In his first song, he does just that. But it is his second performance, a song for his bullied younger sister, that feels inhabited and owned. With a gentle guitar that wouldn't sound out of place in the oeuvre of Peter, Paul and Mary, Daniel establishes himself as a comfortable songwriter with smarts to boot. He didn't invigorate me, but he surprised me. Give us a take on "500 Miles" next! "If I Had a Hammer"! "Where Have All The Flowers Gone?" Hell, just give me Mary Travers back. I miss Mary, y'all.
9. Trevor McBane, "Colder Weather"
American Idol cannot get enough of farm animals. If they can shoehorn a Hereford cow into your audition package, they'll do it. Trevor McBane, a bearded backwoodsman wearing head-to-toe black and a giant grin, charms us with his goat-handling skills before facing the judges. Goats! Can you imagine? Soon, he puts down the goats and offers up a Zac Brown Band cover that began with a respectable rumble, but amped up to little more than a toothless growl that hurt my voice. "You're not perfect, but I'm believin' ya!" yelps Luke Bryan, who has the feistiness of a 6-year-old hawking cereal on 1960s television. Trevor scores three yeses, but no one really expects him to hog-tie Hollywood week.
8. Taryn Coccia, "Masterpiece" and Payton Taylor, "Angel From Montgomery"
What did I say about sibling auditioners? They're cheaters who manipulate the desperate Idol editors into creating easy drama. Nothing but common thugs. These two ladies aren't even honest about their front: Taryn was supposed to be the sole auditioner with her sister Payton playing guitar in back. But after Taryn's so-so rendition of Jessie J's "Masterpiece" complete with ersatz sass and neck-bobbing, Katy Perry couldn't help herself and whispered to Lionel Richie (I'm paraphrasing), "Do you see that wild Amy Adams character over there? She's full of life and winks at me like we're in a big naughty Lady Antebellum song together. Let's audition her, Lionel. For the kids." And thus, Payton steps up and trills a legitimate take on John Prine's "Angel From Montgomery." Taryn squeaks by to Hollywood with two yeses while Payton pulls the full three, and I guess I have to congratulate these hoodlums for a scam well done.
7. Marcio Donaldson, "Jealous"
Compton native Marcio adopted his sister's week-old baby in order to save him from a life in the foster system, so at least we know whose story is most harrowing tonight. His version of Labyrinth's "Jealous" is both unsteady and choppily phrased, but the distinct personality and occasional feminine vocal flourish add some color to the proceedings. His adopted son also happens to be the cutest living Earth organism, which affects my feelings too.
6. Cody Martin, "Happy Birthday to You"
Behold, a miracle: In 27 short seconds (approximately), Cody Martin earns a golden ticket to Hollywood by crooning "Happy Birthday to You" to birthday girl Katy Perry. It reminded me of TRL's glory days when folks such as Evan and Jaron or B2K were forced to sing "Happy Birthday" to shrieking preteens or else face the wrath of their glowering stage parents. The bad news is we have no idea what kind of artist Cody Martin is. The good news is, I guess this song isn't the funereal mood-killer I've long suspected it to be.
5. Amalia Watty, "To Make You Feel My Love"
Two notes about this well-covered Bob Dylan song: (1) This is the jam that sealed Kris Allen as a threat to win his season. You'll remember that Kris Allen invented the concept of Antoni from Queer Eye's face. (2) My favorite cover of "To Make You Feel My Love" is this innocuous live rendition by Joan Osborne, my candidate for most talented one-hit wonder of all time. So enjoy that, and make sure you lap up her take on "What Becomes of the Brokenhearted" for sustenance. And now, Amalia Watty, a scratchy-voiced soulster who boasts a kind of girlish depth in the vein of Corinne Bailey Rae. I loved her vibe, her conviction, even though I concur on Katy's point that she could've amped up the dynamics a bit. I suggest a cover of "One of Us" next, since all I want to do is look up Joan Osborne songs now. "St. Teresa," anybody?
4. Dominique, "A Song for You"
I already scolded American Idol for dropkicking all meaning out of "A Song for You." Guys, I don't care that you've been so many places in your life and time! I don't care that you've sung a lot of songs! I'm ambivalent about your history with bad rhymes! But here's Dominique, a bearded but babyfaced legal secretary caramelizing all my doubts and returning the lusciousness to Donny Hathaway's classic. He tossed us an assured and comforting performance that makes me long for a contemporary song choice next time.
3. Brandon Elder, original song
With a transfixing, two-chord song about his late adoptive mother and golden Creedence Clearwater Revival locks across his face, Brandon Elder simultaneously slows down and blows up the show. His vulnerability is apparent, but the X-factor in this performance is the straightforward narrative quality of the lyrics. You listen to every word, and I can't say I do that with most pop songs. Or most people. His vocal power is limited (and certainly hushed), but it is inspired. That sounds shady and I swear it isn't. It remains to be seen whether Brandon has more tricks to throw down, but for now, he moved a mountain by getting the psycho circus of American Idol to quiet down, turn down the lights, and listen for one shining moment.
2. Genavieve Linkowski, "I Won't Give Up"
Here are several novel things about 18-year-old Genavieve: (1) She made a Jason Mraz song sound … soulful? That's impressive. Because if you put your ear up to any dumb hat, you can hear a Jason Mraz song. Props to Genavieve. (2) I'm with Luke on this: There's a quality about her voice, a consistent, driving confidence that never veers into contrivance. It's pretty and magnetic. (3) Lionel Richie says she reminded him of a young Céline Dion, as if "a young Céline Dion" is not a more powerful entity than Jesus Christ himself. Praise be, always, to Eurovision Céline. (4) Genavieve has 130 siblings and they all can't stop hugging her. It's looking good for this girl. She could make "White and Nerdy" sound like a Sara Bareilles tearjerker.
1. Victoria McQueen, "Don't You Worry 'Bout a Thing"
Born the same day as American Idol's first episode, 15-year-old Victoria McQueen seemed like a potential gimmick, a fraud who makes Lionel Richie snap and rip off his mustache in disgust. But good lord, no: This lanky, starry-eyed beaut practically puts Stevie Wonder's "Don't You Worry 'Bout a Thing" on her finger, spins it like a basketball, and waits for the judges to notice her perfect control. Most 15-year-olds on Idol seem like they just wrote their first song in gel pen on the back of a binder; Victoria seems like a saucy, good-humored grown-up with taste and eagerness to boot. The judges exchange glances 20 times and sputter about her perfect pitch. Well! Isn't that a fine adrenaline boost? I'm praying Victoria will stay this chipper for months to come because we'll need that buoyancy to propel us through the long, grueling, Simon Fuller–owned spring.