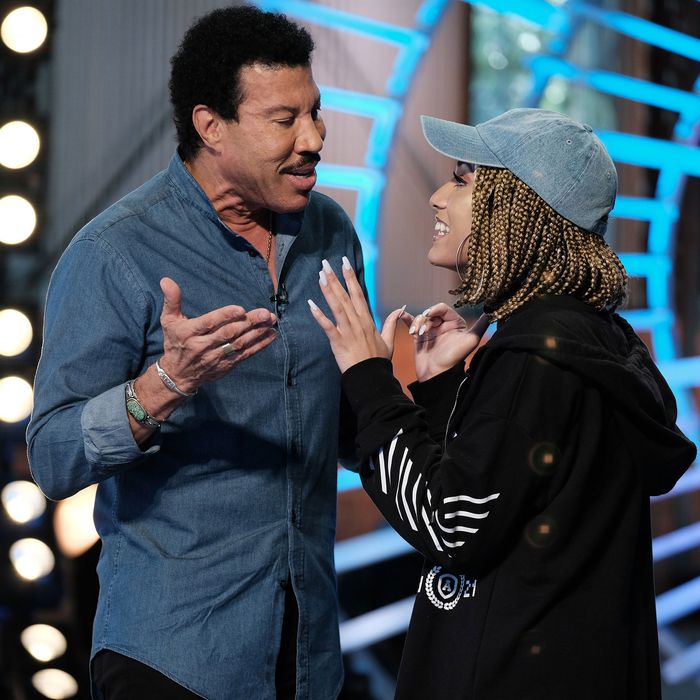 I come back to this YouTube clip all the time: Cloris Leachman talking about her friend and fellow Northwestern alum Paul Lynde with a phrase I can't get out of my head: "He was born finished." Born finished. Paul Lynde did not need Paul Lynde lessons. He was snickering, sneering, and sneaking gay innuendo into America's living rooms with no academic help at all. That's what I need from Idol contestants: the sense that they don't need Idol's mentorship. I want singers who force this glorified Gong Show to love them, worship them, and push them to the top. Anything less and we get, well, most of the winners of American Idol that you can't recall.
It's our last audition episode and maybe the spottiest yet, but we've got two standouts worth touting before Hollywood Week exposes everyone as a phony. As usual, we'll begin with a couple of rejected auditioners and then rank the episode's Golden Ticket holders. Should be a gas!
IT'S A NO: Ayana "Rose" Lawson, "I Can't Make You Love Me"
The Idol editors play games with our hearts by introducing young Ayana, a quiet soul who enumerates her life struggles with stunning clarity, and then her performance, which is … shockingly forgettable. It needs dynamics, or range, or crackly Bonnie Raitt wisdom, or something. You know what else we need? A Bonnie Raitt biopic starring Patricia Clarkson. Nothing makes more sense. Does Patricia not want an Oscar? I can't think of another reason we've been deprived of this Fox Searchlight triumph.
IT'S A NO: Damiano Scarfi, "More Than a Feeling"
Terrible, but more importantly: Why do the auditioners on Idol look like they're wearing no makeup? Everyone is red-faced and plummy-eyed, as if they're reenacting Gwyneth Paltrow's death scene in Contagion. Don't tell me there's not enough makeup on set, because Katy Perry is always wearing a full face of color like she lost the food fight in Hook.
11. Lee Vasi, "Zoom" and "Love Should Have Brought You Home"
First of all: I miss the glamour of female celebrities named Lee. What a rare treat. The swoopy hair of Lee Meriwether. The blunt hair of Lee Grant. This clip of Lee Remick in uncomfortable hysterics. Such a good class of can-do dames (who all guested on Columbo, probably?). Lee Vasi here has the same harsh bob as Lee Grant, but it's a blonde-cornrows situation that would not be appropriate in Shampoo. She starts out purring the Commodores' "Zoom" and Lionel Richie can't help but stand up, purr alongside her, and steal the moment like the Jenna Maroney fame hoarder he is. Next, disaster strikes: Lee takes her own turn on Toni Braxton's "Love Should've Brought You Home" and it careens from solid R&B crooning to whatever the opposite of that is. Up-down bleat-screaming? I don't know. The juxtaposition of tuneful singing and weird ghost shrieks perplexes the judges, but Luke Bryan has the nerve to suggest that she's top-ten material nonetheless. Whaaaaat? Top ten of what, exactly? She's barely in my top-ten lady Lees! Lee Ann Womack is well ahead of her. I don't know why the judges excuse her snafu, but I need plenty more control and authority from Lee in the future.
10. Gabby Barrett, "Good Girl"
Gabby Barrett, a platinum-blonde 17-year-old ready to star in a Nikki Finke origin story, is the arithmetic mean of Idol contestants: Loves Carrie Underwood. Smiles a lot. Has a Nice Dad™. But beyond that, she's got a cool, nasally power that sells "Good Girl" by Carrie Underwood. Is it gag-worthy? No. But when the judges push her to sing an additional song where she can't copy the original artist — in this case, "His Eye Is on the Sparrow" — she slows down and breathes charisma into a church-y old tune that I'd otherwise only want Lauryn Hill to sing. I'm not sensing an artist yet, but Gabby has tenacity that keeps me awake.
9. Michael J. Woodard, "Make It Rain"
Michael J. Woodard wandered in wide-eyed and innocent, like he was about to relay a story about Randy Beaman, before slaying us gently with a confessional, effortless version of Ed Sheeran's "Make It Rain." My worry is this: He can lacerate our souls from about ten feet away, but I question if he can snare a whole stadium. To be honest, I might've guessed the same thing about Ed Sheeran had he auditioned for Idol, and he's now the emperor of music. What I'm saying is: Why do you trust my opinion on this? Go find an Oberlin musicologist or something! Scatter! Go forth!
8. Brielle Rathbun, "Gravity"
I don't know what possesses someone to perform a Sara Bareilles song on American Idol because she's exactly what an American Idol champion shouldn't be: a fabulous singer who disappears behind the solemnity and craftsmanship of her songs. I want rowdiness! Nuttiness! Thumping boogeyman command! Less Sara Bareilles, more Sarah Paulson in Carol! But 18-year-old Brielle successfully endears me with a warm, smoky voice and a whole bunch of adopted and biological siblings. It's the best version of "Gravity" we've heard yet, which is great, I guess? It's not great. It's nice.
7. Carly Moffa, "I Let the Lion Out" (original song)
The judges heard a Florence Welch–type goddess in Carly Moffa, whose original song "I Let the Lion Out" reiterated a few times that the lion had been let out. I listened to this performance more than once because Carly's voice seemed affected to me at first, too reminiscent of every ukulele-wielding quirkster who hiccuped "Bubbly" in 2009. But there's more there, a subtle power that Carly holds back in favor of salable Toby Lightman mimicry. I'm not in love, but I'm wondering what this flitting whirlybird knows that we don't. Also, Toby Lightman ruled and I miss the salad days of VH1's Top 20 Countdown where Dido or David Gray would be No. 1 for, like, 20 weeks in a row.
6. Mylon Shamble, "Stand By Me"
Katy Perry said this raspy, borderline–Old Woman Who Swallowed a Fly version of the Ben E. King classic was the best she's ever heard. She has clearly not heard Tracy Chapman's rendition from Letterman, but I'll allow it.
5. Caitlin Lucia, "I Kissed a Girl"
Props to Caitlin for sporting a headscarf, kooky bell sleeves, and gigantic lashes and giving America the dose of 1968 Elizabeth Taylor it needs. Caitlin's Laugh-In color scheme signaled that we were in for a joke, but her smooth, Alessia Cara–lite take on Katy Perry's debut smash was soothing. If I'm being honest, I don't need a bluesy version of "I Kissed a Girl" since the original's humor and pluck make it pop ("I kissed a girl — just to try it!" is still funny), but I like Caitlin's maturity. It'd be exciting if she kept selecting Katy Perry singles in chronological order and offering slightly better vocals than the original every time, usurping a sitting judge's career in a live update of All About Eve. Here's to a thumping reggaeton version of "Part of Me."
4. Drake Milligan, "You Look So Good in Love"
Essay question: Do we need more country singers? Maybe? Maybe not? I can't tell. Country music is very much alive, but most male country vocalists are still imitating the same Randy Travis record from 1987. Young, flippy-haired Drake Milligan's take on George Strait's "You Look So Good in Love" is a fine addition to that tradition. Lived-in, barbecue-ready vocals. He's also an award-winning Elvis impersonator, which makes me think he can stomach humiliation better than most contestants. If we're talking about pure talent, Drake is at the top of the heap. If we're talking about ingenuity, he's at the bottom. And if we're talking about country music, I'm wondering why men of the genre feel no need to evolve. Can't one of you sound fun, progressive, and aware of marijuana culture like Kacey Musgraves?
3. Ada Vox, "House of the Rising Sun"
Ada Vox is the drag name of season 12 auditioner Adam Sanders, who's back with umber foundation and gold trimmings. He can still sing reeeeally well and his drag name is adorable! It's not as good as my drag name (Olympia Bukkakis) but it's fetching. Seriously, the range on this lady is upsetting. Up through the roof, then down through the floorboards. In the future, every child will learn contouring by the fifth grade, so Ada is an exciting step for both American Idol and the youth.
2. Samuel Swanson, "Let's Stay Together"
Here we go. This is a child who grew up on a farm, but still dresses like a sensible mall version of Leontyne Price. That's all I ask for. Milk those cows, but please find all the H&M baubles your debit card can handle. This giggly man hits us with "Let's Stay Together" in a rendition that has Vandross highs (as Lionel Richie points out) and some nervous moments too. But I just love it. It's all genuine and saucy and creamy. And when I resort to icky Top Chef adjectives, you know I'm serious. Prediction: Samuel will knock us on our patriarchal asses with a killer take on "Hit 'Em Up Style (Oops!)" during Hollywood week, which will have us wagging our index fingers in approval.
1. Jurnee, "Rise Up"
It's annoying how easily Jurnee wins this episode. First, the backstory: Jurnee is a queer woman whose new wife is about to be deployed in the Army. Already I supplicate at her world-weary feet. Then she chirps Andra Day's "Rise Up" with Minnie Riperton–like precision and radio-ready ease. It's over! What else is there to discuss? Her cool hair? Her hoop earrings? How she pinned me to the wall like a knife-thrower with every note? How she kind of reminds me of vintage Lark Voorhies? How her name is an alternate spelling of a word Ryan Seacrest has uttered 41,000 times as an Idol narrator? It's all so right, and a perfect conclusion to this ten-hour odyssey of auditions, Luke Bryan grins, overlong Lionel Richie hugs, and Katy Perry wig-whispering. See you in Hollywood week, where everyone we love will disappoint us with a hoarse performance of "Fallin'."