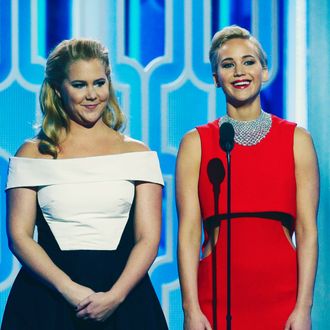 Amy Schumer and Jennifer Lawrence.
Photo: Handout/Getty Images
In difficult times, it's so important to have close friends to bring you comfort, joy, and to remind you that ultimately, we all die alone. Like Amy Schumer, who sent a bouquet of flowers and a sweet note to her friend Jennifer Lawrence after her split from director Darren Aronofsky in November. During her appearance on Watch What Happens Live With Andy Cohen on Thursday, Lawrence told Cohen about Schumer's friendly gesture.
"When Darren and I first broke up. I told [Schumer] and I was really sad," Lawrence said. "The next day I got a bouquet of flowers delivered and I said, 'What is this?' I bring the bouquet of flowers in and there was a note that says, 'I'm so sorry to hear you're gonna die alone. Love, Amy.'" Harsh, perhaps, but thoughtful. And at least now Jennifer Lawrence doesn't have to talk about Mother! anymore.