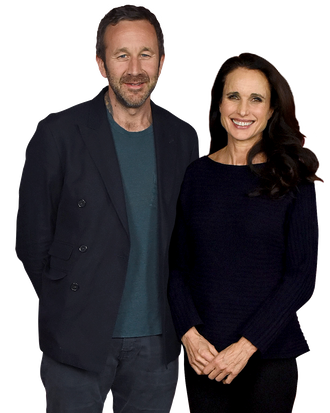 It's hard to articulate exactly why writer-director Russell Harbaugh's quirky, anti-sentimental feature debut Love After Love works so well in its dissection of a family's grief. It helps that he cast the film perfectly — and rather surprisingly. Andie MacDowell is brilliant as Suzanne, the family matriarch who's just lost her husband, and Chris O'Dowd plays against type as her hot-headed, philandering son, Nicholas. Vulture sat down with MacDowell and O'Dowd in front of a Los Angeles audience as part of SAG-AFTRA Foundation's "Conversations" series to discuss how Harbaugh's John Cassavetes–inspired domestic drama tested them, what they learned about themselves during the process, and why facing your own mortality "can suddenly make you very horny, and angry."
Before we dive into Love After Love, I would love to know: What does each of you consider your big break as an actor?Chris O'Dowd: I did a Mike Leigh movie called Vera Drake, which was an abortion comedy.
I don't remember the comedy part of that movie.
CO: Oh, that was just me then. [Laughs.] No, that movie was the first time that I could stop my day job, which was exciting. I guess I was around 25? The problem with that movie, however, was I thought every piece I'd do after that would also be made by an auteur genius. Turns out that's not true. But before that, I'd been to drama school at the London Academy of Music. I'd auditioned for like 200 plays, started getting little bits; I got that film and things got easier.
Andie MacDowell: I would say sex, lies, and videotape. Before that, acting had been a struggle. I probably had the worst start of any actor in the world. My first movie was Greystoke and my voice was dubbed over by Glenn Close. Coming out of that was really hard. I was devastated and humiliated. I hadn't had any formal training beyond studying theater in college, but it wasn't enough of a foundation. So after Greystoke, I threw myself into theater classes and worked really hard. I still had a lot of lingering doubts about myself. Even when I did St. Elmo's Fire, I was afraid. You can see it on my face in that movie. I come across as very shy.
Did you find yourself being typecast as shy and quiet after that?
AM: No, I didn't get cast at all! [Laughs.] For all my auditions I'd work with a coach and had to go in and change people's minds about me every single time. I kept doing that and then came sex, lies, and videotape. I knew that woman, my character, so well. I was so fired up. I was like, "Man, I could kill this!" I even did it onstage in one of my classes. I worked it hard.
It's amazing to think that you were that shooting that movie exactly 30 years ago right now.
AM: Yes, 30 years ago. Before that, I'd been seen as damaged and unusable, but that movie changed everyone's perspective because critically it did well. And more importantly, it made money. That's the big deal.
CO: They tend to like that in Hollywood. [Laughs.]
What appealed to each of you about making Love After Love? It's an odd movie in tone and structure, but has a unique emotional resonance.
CO: Interestingly, what introduced me to the material wasn't the script, but a short film that Russell had made with the same characters, called Rolling on the Floor Laughing. It was so awkward to watch, but he managed to create so much atmosphere in just eight minutes, which is a rare commodity. I was like, "This guy's got a great eye, and a great sense of how to make conversations very difficult."
And feel very real.
CO: Yes. And then I read the feature script and it was really, really strong.
Were you nervous about the fact that Russell had never directed a feature?
CO: A little. But also excited. It wasn't my first time working with a first-timer. There are things you can't get from people who are more experienced and not as excited by the process. Creatively it was very enticing and turned out to be very fruitful. Russell is a wonderful, creative person to be around.
Andie, did you feel you knew this character as well the woman you played in sex, lies, and videotape? To me, Suzanne has a lot of nuance and disquiet we saw in Ann; they share a lot of the same struggles.
AM: Yes, I knew Suzanne, too. At my age, it's so hard to find characters this well-developed and multilayered. I'd never read anything like it. I was very fortunate that Chris wanted to work with me because I'm sure he could've said no.
Chris, did you really wield that kind of power?
CO: No. [Laughs.]
AM: But you did want me!
CO: I was very excited.
AM: Mostly I was just so was excited to play a woman who also was a sexual creature. Again, you don't see women my age in that position on film.
Quite literally in some scenes.
AM: [Laughs.] Yeah. I also think all of Russell's characters, even the smaller ones, are interesting people.
CO: There's a precision to everybody involved in it.
When did you meet for the first time?
CO: I can't remember!
AM: We went to dinner in New York.
CO: I remember that! We made out.
AM: [Laughs.] I will say that our process was very much due to Chris and Russell. Chris is very deep and methodical about preparing for scenes. He wants to go through every detail about the character to make sure he's in the right place. He drove me absolutely crazy! [Laughs.] But I had to let go and let Chris do his thing. And then it was magical. It felt like we had so much money — but we didn't — and that I was working on a movie that supported me and actually gave me time to work. I am so spoiled now. It was the best experience I have ever had doing anything.
CO: I was definitely deep into it. [Laughs.] And even though some of the scenes kind of feel meandering, there was such a genuine structure to it.
I know you shot the movie in upstate New York near Woodstock, and in Manhattan, but it feels like it has an almost indeterminate sense of place. Was that on purpose?CO: Russ is from Indiana, and I think he kind of saw it as being in and around there.
And the influence of John Cassavetes's films is palpable. How much was he a touchstone for you while filming?
CO: I know those films were big reference points for Russell and there's definitely some Cassavetes in there!
Was there a scene in which you felt particularly tested as an actor? Andie, one of those moments where Chris was driving you crazy?
AM: [Laughs.] No, the fact that I was having those feelings only helped. Hmmm. I don't remember struggling with anything, but I loved the soup scene.
CO: When we're making the soup?
AM: When we're eating the soup and talking at the table.
CO: Oh yeah, that was fun.
Chris, the scene in which Nicholas is giving a toast and then picks a fight with Suzanne's new boyfriend at the dinner table is so supremely awkward. Was that improvised at all?
CO: It's funny, we didn't improv a huge amount in the film, but we did a lot in that scene. I kind of can't remember the minutiae, but I think I was definitely going through something there!
AM: I also loved the opening scene with the just two of us. It's so beautiful.
CO: That was the first thing we shot together.
AM: Some of it was written and but you then asked me about happiness. Remember that?
CO: Oh, that's right.
AM: And that was all improvised. But like you said, otherwise mostly everything was written. I loved the way Suzanne spoke, so it was nice to stick to the script.
CO: When I saw the movie, I was just genuinely so surprised and delighted that Russell made exactly the movie he aimed to make. For a first-time director to be so artistic in the face of people going, "Come on, come on, what are we doing?" was incredible.
What did you learn about yourself making this film that surprised you?
CO: I'm not used to playing characters who are still. Usually I'm playing people who are generally quite gregarious who have a lot of movement to them. I think you need to be brave to not do anything, which was challenging but quite powerful. The strength that you can get from doing nothing is probably what I learned skill-wise.
AM: I learned that it doesn't bother me to see myself naked onscreen. [Laughs.] It had no effect on me. "Yeah, I've seen it. That's what I look like!"
There weren't many of those scenes, but the ones Russell included were beautifully shot and not gratuitous.
AM: Tasteful, important, and a huge part of the movie, which is a story about the human condition and the human body. [To O'Dowd:] Your nude scenes on the other hand were sexy. So hot!
CO: I can't remember. [Laughs.]
AM: I remember them! I really analyzed your character, by the way. His pain was also anger, which happens a lot when someone dies. He needed to fuck, excuse my language. That was his emotional outlet, whereas my character wanted to be held. She slept with the first guy she dated after her husband died, and you see how uncomfortable it was for her. But the next time, there's some comfort. What you feel from that character is: How do you replace loneliness? The sex tells the story; it's an important part of how these people process loss.
What is the core message of this movie, if there is one?
CO: For me it's that grief is messy. Losing someone doesn't lend itself to a linear, rational grieving experience. It's more like a collage of emotions that you don't understand until you're having them. What everyone is going through is being reminded of their own mortality, and that can suddenly make you very horny, and angry.
AM: Another thing I love is in the film is exploration of the emotional boundaries my character has with Chris's character, and then the lacking of that kind of relationship with her other son. It makes you stop and think: Wow, these people are messed up. And families are. Mine is, I can tell you that. Every family has unique complexities. The movie is also about that, about loss, about learning how to get out of each other's way. But I love that the second death in the movie brings us together. There is still joy, but it wasn't sappy and or overdone. It's still an art film.
CO: And really left it open to a sequel. [Laughs.]