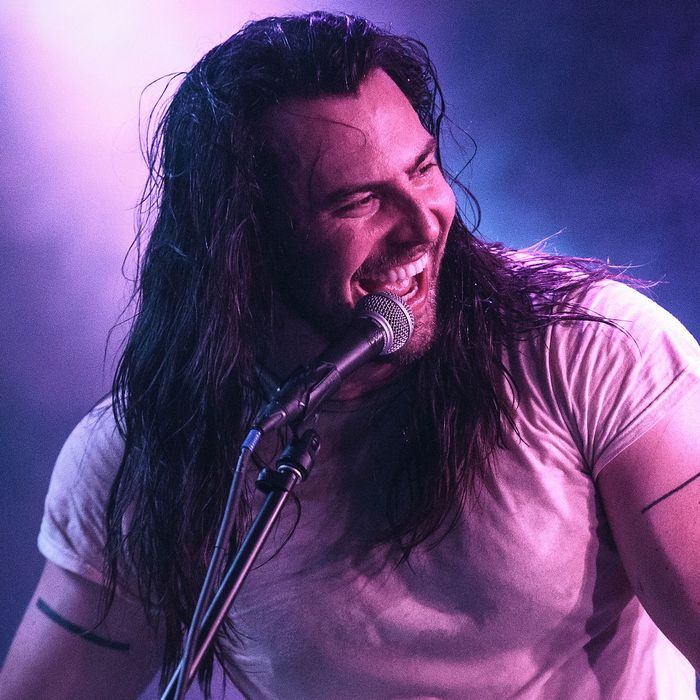 Andrew W.K. performs at Saturn Birmingham on September 15, 2015, in Birmingham, Alabama.
Photo: David A. Smith/Getty Images
Between the 2001 release of his debut LP, I Get Wet, and his latest album You're Not Alone, Andrew W.K. has had a rough time. The man who had made himself an icon of partying with "Party Hard" wasn't likely to take a full-on vow of silence, but his voice was muted regardless. Legal wrangling with a former business associate, the details of which remain hazy to this day, ensured that the artist, born Andrew Wilkes-Krier, would have trouble recording under the name of Andrew W.K.. Three of the six intervening albums were released in Japan only; of them, one was a series of covers of J-pop songs and another was a series of covers of music from the Gundam anime. Though all six demonstrated that W.K.'s taste for music was more refined and eclectic than many gave him credit for, no one, other than hard-core fans, was still paying attention. Wilkes-Krier found ways to stay in the public eye. He continued to perform live shows and wrote advice columns for the Village Voice and Vice; he appeared on television here and there. Still, given that he hadn't released a new collection since 2009, it seemed safe to assume that, though the artist at his best could make revelry feel eternal, his party in the studio was over for good.
Yet here he is with a full collection of 16 tracks, though not all are songs. Tracks 5, 10, and 15 are brief sermons, roughly a minute in length, in which W.K. exhorts himself and his listeners to accept pain and misery as necessary parts of life, "a challenge we are ultimately worthy of." Even if you haven't kept up with the specific troubles of Andrew W.K. over the years, it's clear that the guy has endured some sort of dark night of the soul, and that he's making an effort to reconcile that experience with his original outlook of relentless affirmation. "Whoa-oa, the devil's on your side," he sings, backed up by a swell of keyboards and distorted guitars.
As with I Get Wet, three songs on You're Not Alone have the word "party" in their title, but partying carries a somewhat different meaning than it did originally, when W.K. burst into being as a purveyor of relentless bangers. The lyrics are more considered, the attitude more nuanced; the relentless four-on-the-floor beat has receded, and the guitars, however huge, feel less tsunami-like than ever. Those looking to party hard, party till they puke, and have a fun night are better off revisiting Wet's "Party Hard," "Party Till You Puke," and "Fun Night," respectively; partying, on the new album, feels more like a worldview to be carefully explained — something W.K.'s done lecturing at universities, incidentally — and less like an experience to be viscerally embodied. Even songs with the similar structure to the old songs, like lead single "Ever Again," are marked out by intimations of damage. "If our dreams start to crumble they can bury us," he sings, adding later that "I honestly thought I wouldn't survive."
With an inventive conjunction of punk simplicity, pop positivity, metal volume, and distortion, EDM beat, and frequent deployment of keyboards, I Get Wet, despite having no discernible aesthetic influence on anyone, ended up prefiguring a rather large swath of 21st-century music. (Even W.K.'s decision to mix his songs to play better on crappy sound systems than on good ones bears a strong similarity to the practice of SoundCloud punk-rap producers.) You're Not Alone probably won't resonate to a similar degree sonically with the pop to come, but its future thematic resonance may well be a different matter. For all his distance from the mainstream, Andrew W.K. has always been a pop musician with a keen sense of general concerns and essential impulses. If he's making an album centered on coming to terms with major depression, it's very much in line with the thoughts of an audience whose rates of depression have been growing with each new generation. Saying yes to life is far more difficult than it sounds, but if saying yes to Andrew W.K.'s music makes it easier, then it's hard to argue that he hasn't made an excellent album.