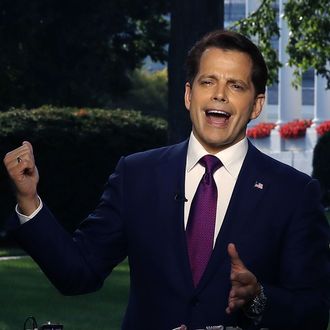 Anthony Scaramucci.
Photo: Mark Wilson/Getty Images
Former White House communications director Anthony Scaramucci might have only spent ten days working for President Donald Trump, but he still has glowing things to write about the man who hired and fired him last July. According to The Hollywood Reporter, the Mooch signed a book deal to write The Blue Collar President: How Trump is Reinventing the Aspirational Working Class.
The book is reportedly not a gossip-filled tell-all (unfortunately), but instead a book about Trump's management style. Scaramucci, who previously founded SkyBridge Capital, told the New York Post, "It's an entrepreneur writing about an entrepreneur who has now ascended into the presidency." He added, "I have seen him up close and personal and I know he has very good intentions and, being an entrepreneur, I am actually very comfortable with his operating style — despite the fact that I'm a casualty of it."
Scaramucci was canned last summer shortly after delivering an absolutely bonkers rant to The New Yorker.
The Blue Collar President is set to debut next September. It's being published by Center Street, an imprint of Hachette Book Group. For that inside look into his whirlwind tenure in the administration you might have to wait for the rumored movie and/or TV series.