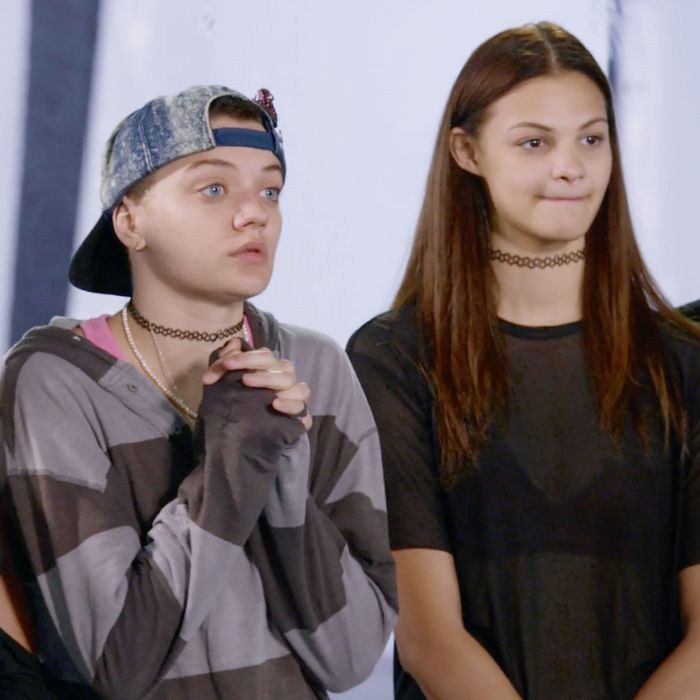 Movement. The art of taking our bodies this way, and that way, to and fro. We consider the human form in all of its gorgeous capability. We can walk. We can dance. We can model next to a billowing parachute. And that's what this episode of America's Next Top Model is about. That, and newly defined cliques that are probably four episodes too late.
Fresh off her win last week, Kyla is feeling the pressure to keep delivering. As she has told us all season long, it is hard for her to do anything (be sexy, use social media, take pictures, not be an activist, etc.), so Kyla will have to continue to improve. She has fierce competition such as Rio, who also seems to think she is competing to be the most needlessly catty in talking heads, as this season mercifully winds down.
The first half of the episode centers around the arduous physical challenge that is moving around while serving face as the ladies are tasked with modeling Philip Klein sportswear in a stop-motion ad after some coaching by Victoria's Secret runway choreographer Jermaine Brown. It's hard for many of them to maintain focus due to the drama in the house, where personalities are clashing harder than ever. Rio and Jeana have formed a duo and sequestered themselves from the other ladies, who are quick to judge them for their cocky attitudes. Whether this has anything to do with Jeana and Rio consistently doing well in the competition is in the eye of the beholder, but we're just gonna go ahead and guess that it does, as Shanice simultaneously vents in her talking head about the girls' stuck-up attitudes and her lack of a challenge win thus far. Shanice is an interesting case in that she is continually praised by the judges, but has yet to have a true breakout moment that really shows us all why she deserves the title of America's Next Top Model.
Occupying yet more space is the negative cloud of despair that follows Brendi K. everywhere she goes. Jermain gives her a helpful and necessary note about closing her mouth while she practices her dance-modeling (kill us) and she shuts down immediately. Or maybe she was already resigned to failure. It's tough to watch the rest of the girls try and support Brendi when she is in such a prison of her own making. Also, she's on an emotionally abusive reality television program. There's also that.
Succeeding in the dance challenge are Jeana and Shanice, but only one of them can win a chance to go to a spa later that day. The winner is Jeana, much to Shanice's dismay. Adding insult to injury, Jeana doesn't even do the right thing by taking the deserving Shanice along to the spa as her plus-one, instead selecting her friend Rio. This is, of course, is the topic of some shit-talking in the bus back home, as Shanice can't understand why Jeana wouldn't rather spend the time with her, someone who outwardly doesn't like Jeana, over Rio. Ugh! Sha-Salty and company miss out on the opportunity to try cryotherapy. Insert a joke here about how Rio and Jeana seem extremely comfortable in minus-150 degree boxes and are probably a little reptilian.
Brendi, who unsurprisingly got in her own way and failed earlier in the challenge, has a tearful moment with the rest of the ladies when she reveals that she doubts herself to such an extent that she thinks she should leave the competition altogether. While everyone is there for her emotionally to the best of their ability, it seems evident that Brendi is legitimately depressed and it's something the other contestants can't exactly relate to in this moment. It's sad.
Oh, by the way, the show makes sure to show Erin, unprompted, bellowing that she's 42 years old a little earlier in the episode, and everyone takes a shot of bourbon at home. Just wanted to make sure you knew that Erin's age was covered in this ep, as it is in every other! The "Erin is 42 Drinking Game" is still in full effect, y'all.
After inartfully slinging some shadiness at Rio and Jeana upon their return from the spa, the other girls call it a night. The next day they are carted off to the desert for a photoshoot inspired by the kinesthetic properties of wind, we guess. The ladies, dressed in gorgeous gowns, must stand on a parachute as it is blown behind them by a huge fan. It's actually quite a beautiful sight when the set gets going and the girls get into it, but the shoot is not without drama. This time, it's weather-related, as a strong gust of wind suddenly lifts one of the tents off the ground and it flips over. Allegedly, Jeana, in the "right place at the wrong time" by her admission, is hit by one of the tentpoles and suffers a "scratched cornea" as a result. None of this makes that much sense, and video footage shows Jeana totally clear of the tent as it comes unhinged, but she cries and it's a whole event. Shanice rolls her eyes until they pop out of her head; she's been done with Jeana and her B.S. since this episode started.
Despite her self-esteem issues, Brendi gives what appears to be a powerful performance in the challenge, which probably means we will see an insane photo presented later as her "Best Shot" in which her shoe is on her face. Everyone else seems to also do well, save for Jeana. This is surprising as she's usually so commanding, but there are issues with the size of her shoes and she asks to remove them. Worrying that she will look short, judge Drew Elliott warns her that she has to "stay tall" (?) and Jeana confidently replies that that will not be a problem. We'll see…
At the judging panel, it becomes clear for the first time why Shanice can win the competition. We see her truly stunning photo, and though she expresses some indecision about what her brand is as a supermodel overall, the judges convince her, as well as us at home, that it's actually pretty clear. She is that fun girl who likes to hang out and party with her girlfriends and is gagged when she turns up to Paris to model the world's fashions. She makes you feel like you can do it, too. Look, we don't know, it made sense when we were watching it. Don't sleep on Shanice, or Sha-Nasty, or Sha-Nice. Remember there are at least three of her.
The rest of the girls get pretty mixed reactions, save for Khrystyana who seems to be back on top of her game, thus making Jeana's negative critiques during panel stick out. We don't particularly agree that Jeana looks any better or worse than she usually does, but it's interesting to see the show select Jeana as "the one we're finding a problem with this time." It reads to us almost immediately that the show wants to disturb the gruesome twosome of Rio and Jeana, and the latter may be the subject of a hit job for drama's sake.
Soon, it's decision time for Brendi K., who moments ago was telling the girls she had all but decided to go home and live in her car, because "that's what she knows." Her decision becomes painfully clear as a defeated Brendi doesn't even allow herself the opportunity to receive critique. She plainly states that she would like to leave the competition in order to do what's best for her mental health. Tyra hugs her and agrees that "health and well-being is more important than any modeling job or career" and then takes her seat again as head judge and creator of a show that is in its 24th season of emotionally manipulating and exploiting people. You guys remember Rhiyan? Anyway, we wish Brendi the best and don't blame her for getting the fuck out of here. And while Brendi's image fades away amidst the Top Model logo, Tyra lets the girls know that there is still an elimination to come.
Except not. Jeana and Kyla land in the bottom, but get a good ol' Tyra Banks fake-out and both end up staying. Meanwhile, it's worth noting that Shanice's win for Best Photo is a satisfying victory, and one that tightens the competition among the remaining models. Here's hoping that things get more interesting with next week's episode when we (finally) get some go-sees out of these ladies! Until then, we'll keep lurching through life until we find our own Jermaine Browns to lift us up.