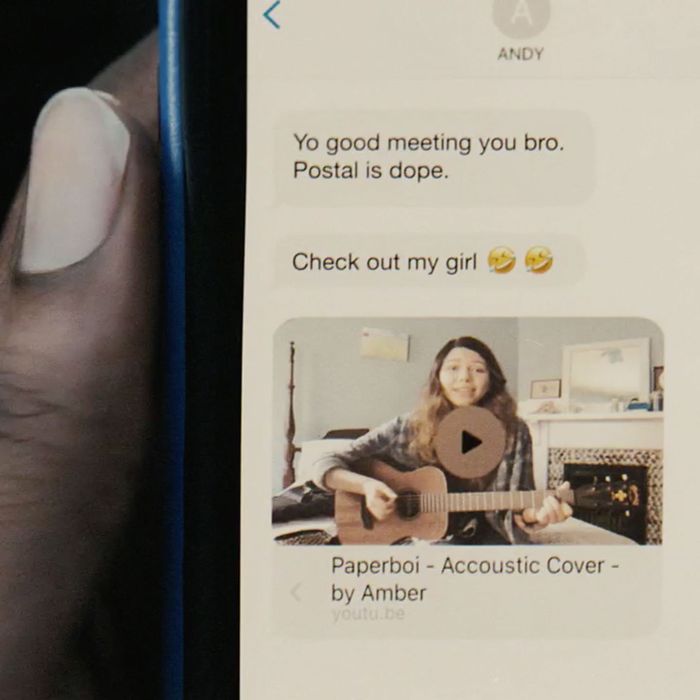 On FX's Atlanta, the career ascent of Alfred "Paper Boi" Miles often occurs offscreen, so it's difficult to gauge just how popular he's become in season two. But after Thursday night's episode, "Sportin' Waves," question no more: The white people have got to him.
On a visit to find a new plug for his drug hustle in "Sportin' Waves," Al finds out that the supplier's girlfriend, Amber, is a big Paper Boi fan. "So your girl likes hippity-hop?" Darius, bless him, asks. "Oh yeah, she's gangster, bro," the guy (very unconvincingly) responds. When Paper Boi and Darius head out, the spam begins. Paper Boi gets texted a link to a YouTube video from the plug — and it's the girlfriend singing Paper Boi's self-titled hit on acoustic guitar. It's a sound so foreign to Paper Boi's ears, he doesn't even know what he's hearing. "It's an acoustic rap cover," Darius explains. "White girls love that shit."
"I mean, he's not wrong!" Bryce Hitchcock, an actual YouTube cover artist who plays Amber, tells Vulture. "Most white girls aren't great rappers, unless that's your thing, so they just do something acoustic with it because rap is popular and they want people to see their videos." Hitchcock, an actress and singer who's been covering songs on her own YouTube channel for years, auditioned to do the "Paper Boi" cover knowing she'd play a laughably accurate stereotype. The only problem? She'd never covered a rap song before. "Part of the process was finding a way to make Paper Boi's song my own thing. I found more acoustic-y chords to go under it and found a different flow, almost jazzy in some places," she says.
Though Stephen Glover wrote and performed the original song for the show, Hitchcock says she auditioned with her version, played it at the table read, and was told it didn't need a single adjustment. "They were all like, 'Oh, dang. Where'd that come from?'" she says. "I remember Donald was wearing a Sublime Doughnuts hat, which I thought was perfect because that's an Atlanta doughnut shop — I go to school part-time at Georgia Tech — and we were all in Atlanta."
Like most pop culture on the show, the inspiration for a white girl appropriating rap came from the real-life trend. "We've had a running joke for years about popular songs that were initially trap and extremely gutta, and they get really mainstream," Atlanta writer Jamal Olori says. "Then you get people who have no reference for those songs doing covers." He brings up Chicago socialite Niykee Heaton's viral 2012 cover of Chief Keef's "Love Sosa" as one of the worst offenses: "She's talking about guns and drugs, but it's something she knows nothing about or even cares about."
"It kept happening with Fetty Wap's 'Trap Queen,' where they even did a Kidz Bop version so it's basically 9-year-olds singing about a woman who's holding down a drug fortress." It wasn't a stretch to Olori that Paper Boi's song might be lost on a wider audience: "It's about selling cocaine. We knew it's something that would happen in the real world. You wouldn't hear a middle-class white girl singing about this. It's things she would run away from. But because the song is so popular, [Amber] gravitates to it. It also shows that the song has gotten so big in our world, that it even caught onto hers."
Episode director Hiro Murai had Hitchcock film her cover for the show on a MacBook, so that it recreated the bedroom atmosphere of the DIY covers she actually uploads herself. Her version plays again over the episode's credits, but Hitchcock says she hasn't formally recorded the song, though the suggestion did come up. After shooting, she recalls Donald Glover mentioned the possibility of using a recorded version for promotional purposes; she's also considering playing the cover again for her YouTube channel. Currently, the original version still exists only within the show — multiple looped edits of the hook have a quarter of a million views on YouTube — but that could soon change. "At some point, we'll package these songs and release it. We still have the full song, which has a full two verses, it's like three minutes and change," Olori teases. "You just haven't heard anything but the chorus. We might drop it in the future."