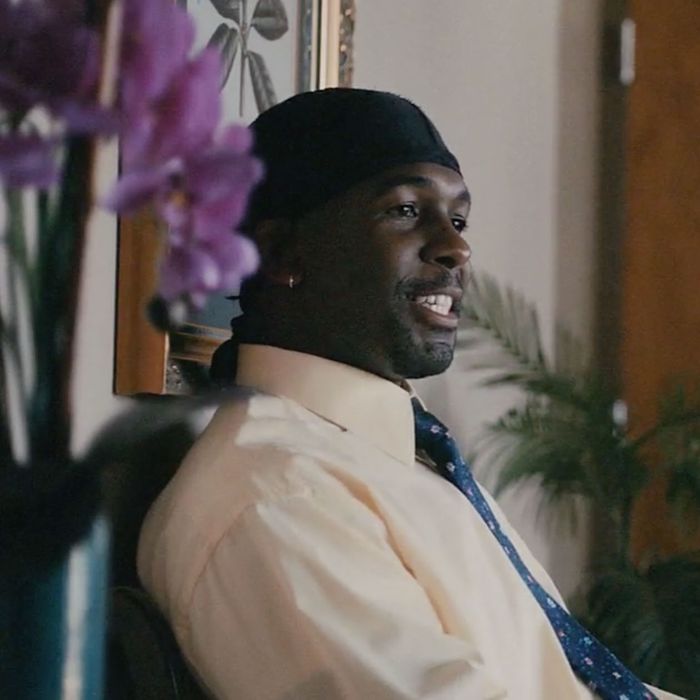 The newest character on FX's Atlanta, Tracy (Khris Davis), a recently incarcerated friend of Paper Boi (Brian Tyree Henry), has one defining accessory: his du-rag. He wears it in every scene, so often that it became a conversation piece in Thursday night's episode, "Sportin' Waves." When Tracy complains about the heat, Darius (Lakeith Stanfield) jokes that it's because of all that grease boiling on top of his head beneath the cloth. Tracy soon explains that this is not just a style choice, but one made for personal grooming purposes intended for a professional setting. Fresh out of prison, he's lined up a job interview for "some marketing job or some shit," so he needs to look the corporate part. Enter: the wave cap.
"I'm about to have these waves going crazy like the Bermuda Triangle, boy," he tells Darius, Alfred (Brian Tyree Henry), and Earn (Donald Glover). "I'm the Prince of Tides, nigga. First you got to brush it, then you just let 'em bake." Alfred, a fellow black man who's probably had waves in his day, rolls his eyes at Tracy's pretension. Darius, typically entertained, just wants him to prove it and tries to snatch the du-rag. But Tracy must protect the goods at all costs: "I got to leave 'em undisturbed, they in the oven right now," he explains, stepping comfortably into his role as Atlanta's new comic relief.
What comes out when they're done, just in time for Tracy's otherwise unsuccessful interview, is a thing of beauty: Waves so laid, so luscious, and so luxurious they deserve to be modeled and marveled at Atlanta's biggest black-hair expo. The shine! The curl pattern! The length! The texture! Elsewhere in the city, Yung Joc is quaking. So, we just had to know: How did Atlanta get Tracy's waves so on point that every follicle will be studied in cosmetology schools for decades?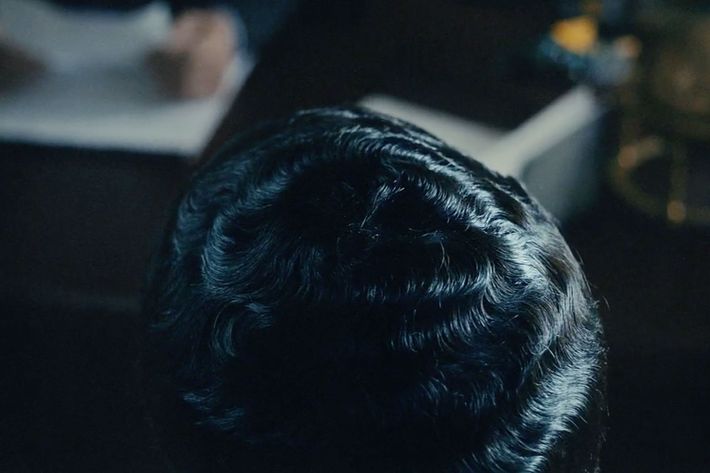 As you might suspect, the waves aren't real — but they're also not a wig. Before Davis, who previously starred on Broadway in Lynn Nottage's Sweat, was cast as Tracy, his hair needed a final audition. "I'm like, 'My hair?' Well, shit!" he tells Vulture. "I was literally standing in front of a barber's shop about to get a haircut [when I got that call]. I ran back home, put my wave cap back on, blew-dry it, and made some waves pop out. A cat's gotta have some waves!" They were impressive enough to get him hired, but not nearly up to par with Tracy's final look. Davis says he had to wear a wave cap for a week and adopt a strict regimen: wash, apply nighttime and daytime pomade, and brush his hair in the shower with special shampoo and conditioner. Alas, it still wasn't enough. "I showed Donald and he was like, 'Nah, that's not what I want," Davis remembers.
Glover instead showed him a guy he found on Instagram whose natural hair miraculously accomplished Tracy's goal. "It was almost comical and scary at the same time," Davis says. "There's no way in hell my hair could ever do that! Even if we permed it, fried it, and dyed it, my hair's never gonna do that." Perm or S-curl out of the question, there was one solution: a weave. What we saw onscreen is weave that's been glued to a wave cap, cut down to size, dyed on the sides, and styled on Davis's head to blend in with his own hard-fought waves. Still, the look that surprised the cast most was seeing Davis's real hair after weeks covered by a du-rag. "After we wrapped, we were all in a van and Lakeith was like, 'You know what's funny? I don't think I've ever seen your hair,'" he says. "I finally took my wave cap off so everybody could actually see my hair, since Tracy wears one religiously." Sure, Tracy doesn't get that marketing job, but we predict a career doing YouTube hair tutorials might suit him better.