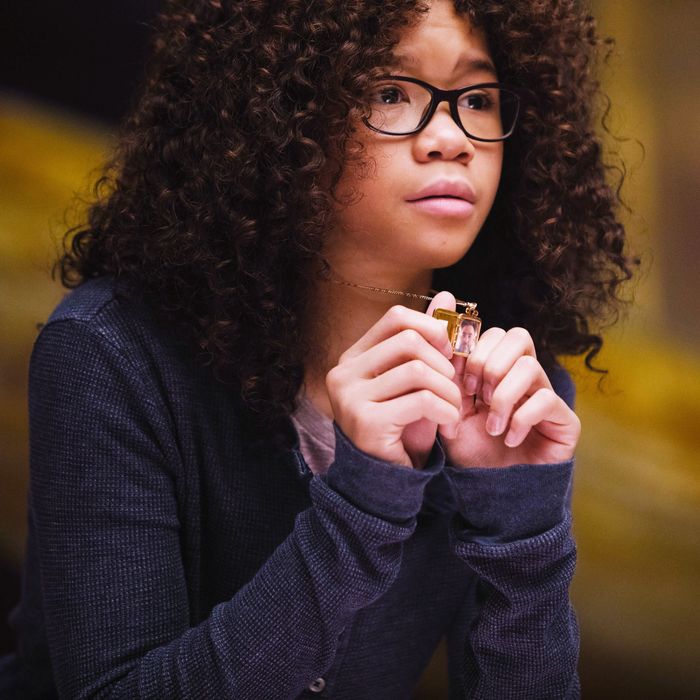 Photo: Atsushi Nishijima/Disney
Mild spoilers for A Wrinkle in Time follow.
Meg Murry, the young protagonist of A Wrinkle in Time, has always had a thing about her hair. In the first few pages of Madeleine L'Engle's 1962 book, Meg is preoccupied with its plainness: A far cry from her mother's more glamorous mane, Meg has wiry, "mouse-brown hair" that can barely be tamed. "Meg's hair had been passable as long as she wore it tidily in plaits," L'Engle wrote. "When she went into high school it was cut, and now she and her mother struggled with putting it up, but one side would come out curly and the other straight."
Hair is still an issue for Meg in director Ava DuVernay's new screen adaptation of A Wrinkle in Time, but the insecurity she feels about her curls is political as well as personal. "Throughout the film, we tried to take what Madeleine L'Engle intended and push it even further in terms of a contemporary context," said DuVernay, who cast the young actress Storm Reid as Meg, the biracial daughter of two scientist parents played by Chris Pine and Gugu Mbatha-Raw. DuVernay's Meg continues to shrink within herself if anyone so much as mentions her curly hair, but her self-image in this fantasy film is subtly informed by the reality of being black and female. "Hair is a big deal for black women," said DuVernay. "There's the European standard of beauty that we're all exposed to and bombarded with that says, My hair needs to look like a Caucasian woman's hair: straight."
That is not how Meg's hair looks, nor is it the look adopted by DuVernay herself, who sparked to A Wrinkle in Time after making her Oscar-nominated films Selma and 13th and has now become the first black woman to direct a movie with a nine-figure budget. "All of my career, whether I'm walking onto the Disney lot or back when I worked as a publicist, I've worn dreadlocks," said DuVernay. "That's an act of rebellion in a society that says, 'You would look better if you looked like us.' "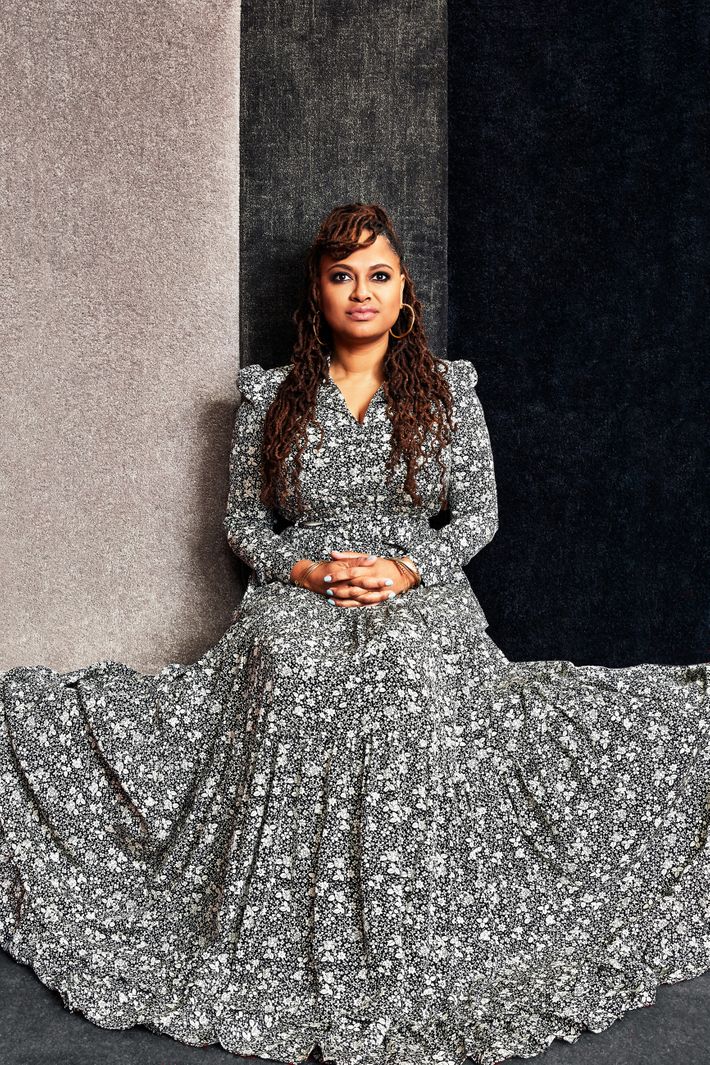 When Meg's interstellar travels take her to the evil planet of Camazotz, then, it's significant that one of the first things she sees is a suburban tableau where every child bounces a ball in perfectly well-behaved unison. This world, not unlike the one Meg has left, is conditioning her to conform. The girl's greatest test comes even later, when Meg journeys within the mind of the planet's dark force, known as the IT. There, Meg is presented with an alternate version of herself who struts around with cool self-confidence, more expensive-looking clothes, and notably straightened hair.
"There's no Darth Vader in this movie, there's no Killmonger — there's no explicit bad guy," said DuVernay. "It's a kid's book that doesn't have a monster. The monster is inside of you." To DuVernay, then, there could be no more profound challenge for Meg to face than the literal manifestation of her own insecurities: The version of herself she comes face-to-face with in the movie's climax is the Meg she could be, if only she would shed the Meg she actually is. "If somebody showed me a 'perfect' version of me — even now, as a 45-year-old woman — would I have the strength to say no?" asked DuVernay.
These are among the messages that DuVernay wanted to pack into her film, which is entering theaters just as Black Panther, the superhero movie directed by DuVernay's friend Ryan Coogler, also charts new frontiers of screen representation. For DuVernay, who based Meg's look on her niece Molly, one of the most crucial relationships in A Wrinkle in Time is the budding rapport between Meg and her white classmate Calvin (Levi Miller), who twice compliments Meg's natural curls. "The fact that this Caucasian boy says to her, 'I like that'? That's so big for a girl of color!" said DuVernay. "And it's big for Caucasian boys to be able to feel that's beautiful, too."
DuVernay mentioned a key scene in the film where Meg holds out her hand to Calvin and asks her to trust him, and the young man does, following Meg into the face of danger. "Tell me where you've seen that before," said DuVernay. "If half of the executives and crew members in this town saw that as a boy, maybe they wouldn't doubt so much that a black woman could lead. It feels slight, but we know what images do and we know the power that they have."
That's why DuVernay tried whenever possible to inform A Wrinkle in Time with her own experiences, from Meg's hair journey to the places where the movie was filmed. "I never saw my neighborhood on film until I was a teenager, with Boyz n the Hood, and it was all being shot up," said DuVernay, who grew up in Lynwood and filmed A Wrinkle in Time in nearby locations like Crenshaw High School and the historically black West Adams district of Los Angeles. "So for there to be this beauty, to have these celestial beings come into the hood and take this girl away to fly to awesome planets? I mean, come on."
Continued the filmmaker, "There's all these seeds I wanted to plant. I don't have children; I'll never have children by choice. But to be able to say something in this film to children of all ages …" DuVernay trailed off, then found her voice. "It was irresistible to me," she said.