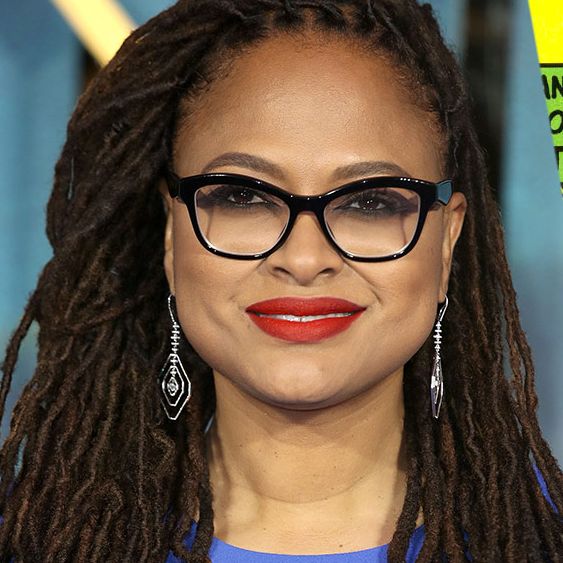 Ava DuVernay and her potential muse, Orion of the New Gods.
There have been few experiments in superhero fiction as ambitious as writer-artist Jack Kirby's Fourth World saga. Launched in 1970 at DC Comics, it consisted of four interconnected comics series entitled Mister Miracle; The Forever People; Superman's Pal, Jimmy Olsen; and the most grandiose of them all, The New Gods. The Fourth World stories chronicled a massive war fought between cosmic beings from utopian New Genesis and satanic Apokolips, with us Earthlings caught in the middle. It was the superhero genre's grandest piece of auteurism to date — and it failed. Kirby wanted it to run for hundreds of issues, but it was cut short after just a few years. However, it left a big stamp on DC: Its characters later became treasured jewels of the company's mythology. And now, it appears that Ava DuVernay will be bringing them to the screen.
Deadline and Variety are reporting that the A Wrinkle in Time and Selma director is making a deal with DC owner Warner Bros. to direct a Fourth World movie, apparently based on The New Gods. That likely means we'll see heroes like bitter Orion and puckish Lightray going up against the supremely evil Darkseid (pronounced "dark side" — Kirby had a thing for weird spellings) and his allies. Superfans will note that one such ally in the comics is Steppenwolf, the villain of last year's Justice League (played by Ciarán Hinds). However, according to Deadline, DuVernay's New Gods would be its own thing, disconnected from any existing DC properties. But that doesn't necessarily mean a stand-alone film: Variety says this film is intended to launch its own sub-franchise. There's certainly enough source material to pull that off.
This is intriguing for a number of reasons. DuVernay isn't a mere hired gun: She went on record in December as saying her favorite superhero is one of the New Gods characters, the broad-shouldered warrior Big Barda. She's the second woman to be handed a DC helming gig (after Wonder Woman's Patty Jenkins, of course) and the first woman of color. This is the first major decision from the new DC-movie regime led by exec Walter Hamada, and it indicates that he's swinging for the fences — and, apparently, reversing DC's stated goal of minimizing interconnectedness between its movies.
And from a comics-geek perspective, this could be, if it's pulled off well, a fitting epilogue to the life of Kirby, who died in 1994. He was arguably the most important creator in the history of comics and the superhero genre, having co-created, drawn, and co-written Captain America, the Avengers, the X-Men, the Fantastic Four, and legions of other characters at DC's rival, Marvel. But at Marvel, he never had any ownership of his creations. DC was better to him, giving him a stake in the Fourth World late in his life, so this will be a nice payout to his family. Kirby famously — and, in his lifetime, quixotically — predicted that his comics would eventually become movies. He surely would have loved to learn that his great unfinished masterwork is finally getting its due.