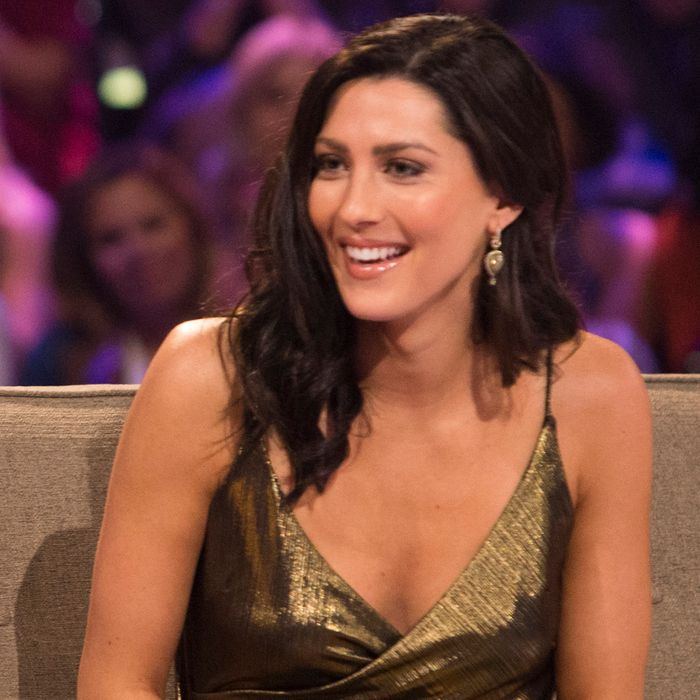 Well, consider this the Bachelor ending that Arie Luyendyk Jr. wanted. After breaking off his proposal with Becca K. mere weeks after their sponsored Peruvian lovers' getaway, Arie quickly reversed course in an attempt to win back the affection of his runner-up woman, Lauren B. As we found out in The Bachelor's "After the Final Rose" special on Tuesday evening, everything pretty much worked out in everyone's favor: Arie and Lauren seem to be happily engaged, while Becca will jubilantly be taking the reins as the next face of The Bachelorette. But if you want to learn more about the tumultuous conclusion of the most boring season ever, here are six topics you should bring up at the watercooler this week.
Arie immediately regretted proposing to Becca.
Arie admitted in his sit-down interview with Becca that he wished he didn't get down on one knee. "I do regret proposing that day, because I wasn't fully ready," he said. "I think the pressure of this, the pressure of being on The Bachelor, knowing there's a timeline and needing to make that decision on that day … I should not have proposed." As for Becca, she, understandably, wishes Arie just owned up to his emotions and didn't propose if he wasn't fully committed: "You've robbed me of that. I'll never have a first engagement or proposal again. I understand it's a very high-pressure situation, but I wish you thought through that more than you did."
Arie doesn't regret filming their breakup.
Specifically, he believed that by making their half-hour spectacle of human misery public, it would place all of the blame on him and none on her. "The reason I did it the way that I did was because I wanted everyone here and at home to know that this was on me and it wasn't on you," he explained, an explanation Becca accepted. In fact, she said she forgave him, and bid him farewell with a hug.
Arie got romantic reassurance from Lauren before he broke up with Becca.
Since the show's producers wouldn't give Arie her private number, he direct-messaged Lauren via Instagram on New Year's Eve to potentially set up a conversation. (Lauren received the messages while she was hanging out with a fellow Bachelor contestant, Tia, in Dallas.) It became clear after a few communications — now about seven weeks after he proposed to Becca — that the spark was very much still alive. "He asked if I was open to having a conversation, and I wasn't very excited at first, because I thought he wanted to clear his conscience since he was happily engaged," Lauren explained. "It didn't settle well with me at first, but I did have a slight piece of me that was curious to see what he had to talk about … I wanted to make sure we were both respectful of Becca." Soon enough, Arie prodded Lauren about how she felt after their breakup in Peru: "I told him I was having a difficult time and it was really hard for me. I think that told him maybe there was an opportunity for us to have a conversation about how he was feeling as well. He told me he was having a difficult time since proposal day." And the rest, as we know, is Bachelor history.
Arie and Lauren didn't watch Monday's finale.
Owing to the fact it was, as Lauren put it, "pretty difficult for us to rewatch it. We lived it, so we felt like we didn't need to."
Arie proposed to Lauren.
Or rather, he fully embraced his Jason Mesnick destiny. After admitting that he and Lauren would be "getting out of the country for a while" to avoid the continuing media circus surrounding their controversial reconciliation — oh, and she'll be moving to Arizona to fully be with him soon — Arie got down on one knee and said:
I made some bad decisions, but the best decision was running back to you. I can't imagine a life without you. You've shown me a love that's patient, a love that's kind, and I truly believe you are my soulmate. I'm ready to face this life with you and all that comes with it, good and bad. I love you so much, and I want to do this in front of everyone, because I want to show you that I should've done this a long time ago.
Lauren, true to form, responded with one word.
Becca is the next Bachelorette.
At the end of the night, Becca was crowned the newest Bachelorette leading lady, much to the ecstatic applause of the live audience and #BachelorNation. "This is one of the easiest decisions we ever made," said Chris Harrison, before Becca explained her reasoning for returning to the franchise so quickly. "It was easy to, honestly. Once I got past the initial heartbreak," she said. "At the end of the day, the show is about finding love, that's all I want to do. I have so much love to give. Hard yes all around." Mark your calendars and stock up on appropriate rosé rations: Her season will premiere on May 28, and her gals couldn't be happier.