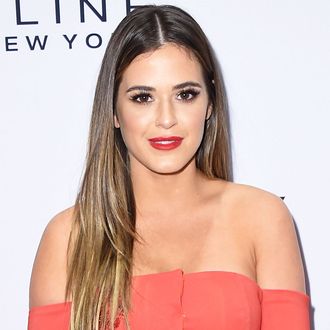 JoJo Fletcher.
Photo: Michael Loccisano/Getty Images for Daily Front Row
It's hard to pick the most cynical moment from last night's cavalcade of horror on The Bachelor. But I think the winner may be the moment Chris Harrison cut to commercial break in the middle of an excruciating split-screen breakup with the words, "to say this is trending and blowing up social media right now is a gross understatement."
Gross, indeed! Because if you then went to look on social media, former participants in what is usually a romantic fairy tale were sharing their thoughts on the raw split-screen footage of Arie breaking up with his fiancée, Becca.
Here's former Bachelor Sean Lowe, one of the franchise's actual success stories, reacting to the presentation of the breakup:
Catherine Lowe's reaction was less verbal:
From Kaitlyn Bristowe, another one of the show's former leads:
And another former Bachelorette, JoJo Fletcher, who wonders how they even convinced Becca to agree to this footage in the first place:
… before ending up on the same page as everyone else:
There's also former Bachelor Ben Higgins …
… and former Bachelorette Trista Sutter …
… and former finalist Jade Tolbert.
But surely there must've been some dissenting opinion among the Bachelor Nation elite? Thanks go to universally recognized asshole, former Bachelor Juan Pablo Galavis, for offering some much-needed perspective from Arie's side of things: