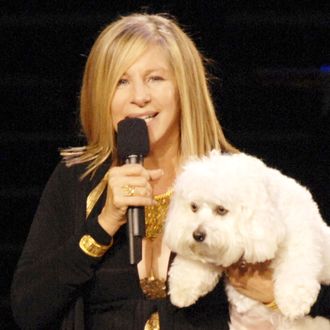 Barbra Streisand and the late Sammie.
Photo: KMazur/WireImage
Earlier this week, the world learned that Oscar-winner and possible Westworld investor Barbra Streisand had cloned her dog. It was a weird enough story, and led to all sorts of takes about the ethics of pet cloning, and so finally, in a piece for the New York Times, Streisand has told her side of the story. "Barbra Streisand Explains: Why I Cloned My Dog," reads the headline. The byline is of course by Babs herself. The photo is of two of her clones looking at the grave of the dog from which their genetic coding was copied.
First of all, we learn of Barbra's sadness when her dog Samantha died after 14 years, and her discovery of the dog-cloning process, which is apparently a thing.
A friend had cloned his beloved dog, and I was very impressed with that dog. So Sammie's doctor took some cells from inside her cheek and the skin on her tummy just before she died. And we sent those cells to ViaGen Pets in Texas. We weren't even sure if the cells would take.
According to the ViaGen Pets website, by the way, the payment to initiate cloning a dog is $25,000, while genetic preservation is $1,600. Anyway, while the whole cloning process was happening, we learn that Streisand also adopted a Maltipoo named Sadie, "after the first dog I ever owned, given to me by the cast of Funny Girl on my 22nd birthday," and another dog from Sammie's breeder whose name was Funny Girl. She decided to name that dog Fanny. Here, we learn a little more about why Babs went with cloning:
She's a straight-haired Coton de Tulear, like most people want. My Sammie was curly haired and that's why my husband initially picked her out for me as an anniversary present — she was the odd one, different, just like I felt as a little girl. One of the reasons I chose cloning was because I couldn't find another curly-haired Coton.
Then, we're in for another twist: The cloning process took and it produced four puppies. It is exciting news, but it is also too many puppies for the multi-hyphenate to handle. So, she decides to give Sadie to her manager's assistant, and "then the 13-year-old daughter of my A&R man bonded with one of the clones, so I gave them that puppy."
In conclusion, Streisand now has three puppies: Miss Fanny, Miss Violet, and Miss Scarlett, the last two being the clones. She is quick to add that "Each puppy is unique and has her own personality. You can clone the look of a dog, but you can't clone the soul. Still, every time I look at their faces, I think of my Samantha." Does this fully explain why Barbra Stresiand cloned her dog, as the headline promise? No. Is is a surreal journey into her decision-making process? Yes, and what a journey it is.
In secondary conclusion, here are some lyrics from "Don't Rain on My Parade" from Funny Girl that I have rewritten to be about cloning:
I'm gonna clone and clone now

Get what I want, a new dog

One dog or a whole litter

One swab, that dog will be there

Eye on the target and WHAM

One swab one tongue swab and BAM

Hey Mister Arnstein, HERE'S MY CLOOOOOONE

I'LL MARCH MY GEEEEENES OUT

I'LL CLONE MYYYYY PETS
Have a nice Friday.