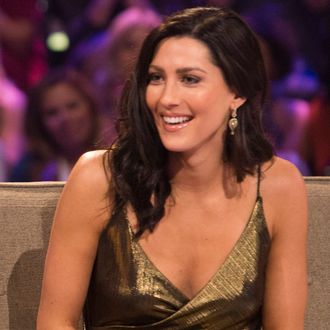 Becca during the finale.
Photo: Paul Hebert/ABC
As the excruciating two-night Bachelor finale was coming to an end with Arie Luyendyk Jr., finally settling on and proposing to Lauren Burnham, it came time to pass the torch to the next Bachelorette, Luyendyk's freshly dumped ex-fiancée, Becca Kufrin. Considering the half-hour of human misery the producers put Kufrin through — filming Luyendyk breaking up with her just weeks after he proposed, and then continuing to roll the cameras as he followed her around — it seems like ABC kind of owed her this spot in the franchise. It's a good thing she was chosen — if she wasn't, who knows how many billboards her fans would have used to communicate the injustice.