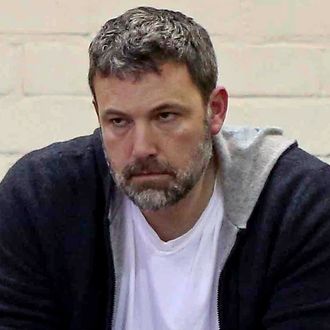 Ben Affleck.
Photo: SplashNews
Remember the time when Ben Affleck tried to deflect interest in his cartoonishly large, phoenix-rising-from-the-ashes back tattoo because people kept ridiculing him for it? Ah, fun memories. We were more than happy to investigate the psychology behind Affleck's ink fib when the tattoo once again made an appearance earlier this month after a long hiatus, as was The New Yorker, which published a far more critical piece on the actor titled "The Great Sadness of Ben Affleck." The sentiments were … not very kind. At all:
But in the wake of the split from Garner, a recalibration appeared to be taking place. Affleck was older, suddenly flailing; and his enormous, garish tattoo—whether real or not—was the least of it … Affleck has been photographed more than once by the paparazzi, looking despondent. The resulting pictures have become reliable meme-fodder.  
But no, Affleck doesn't want to become reliable meme-fodder any longer, you meanies! "I'm doing just fine," he tweeted to The New Yorker Thursday morning, breaking a months-long period of silence on the platform. "Thick skin bolstered by garish tattoos."
This is definitely going to stop the whole meme thing.