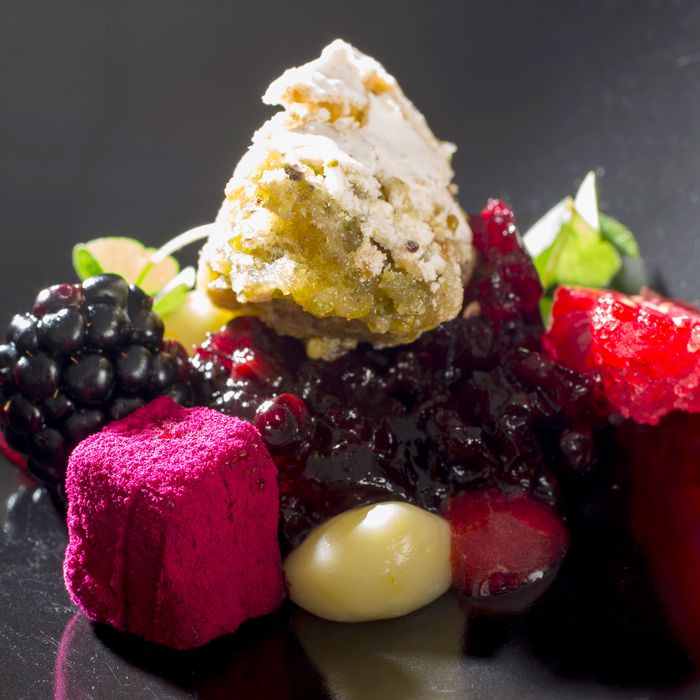 These days, there are as many flavors of food TV as there are flavors of ice cream. On Netflix alone you're buried in choice — Chef's Table! Cooked! The Wild Chef! Something called The Big Family Cooking Showdown! — and when you add in other streaming options, you quickly turn into the TV equivalent of that person at a restaurant who can't decide what to order. Are you in the mood for a competition situation? Or maybe a dreamy, slo-mo vibe? Short and sweet? Maybe something more substantial? Here's a guide to exactly the right food show to satisfy your craving.
For snobby food competitions: Top Chef
Go back to a time when contestants didn't understand yet how a reality show would work, when the rhythms and challenges weren't familiar tropes, and when you could still serve someone a seared scallop and not seem like a giant cliché. Go back to the first seasons of Top Chef! Remember Marcel from season two, who put foam on everything? Or season four, which brought us Spike Mendelsohn, Richard Blais, and Stephanie Izard? Although the earliest episodes are a little off-kilter, it's plenty of fun to watch the series pull itself together.
Top Chef is available to stream on Hulu.
For nostalgic classics: The French Chef and Julia & Jacques
If you've never fallen down the well of old Julia Childs cooking videos, it's worth splurging on a few episodes of The French Chef. You can go the compilations and highlights route, but if you aren't familiar with Childs and her approach to cooking, you simply must watch her make a tarte tatin. It doesn't work! Her apples are way too juicy and the whole thing falls apart! But she has a great time and serves it anyhow! It is fantastic. Other recommend episodes: the Queen of Sheba cake (which begins, "we're having a champagne and coffee party today!"), elegance with eggs, cheese soufflé, and chocolate mousse. When you're done with The French Chef, you can also dive into Julia & Jacques Cooking at Home, a delightful PBS series that Child did with Jacques Pépin in 1999.
The French Chef is available for purchase on Amazon; Julia & Jacques is available to stream on Amazon Prime.
For no-nonsense cooking lessons: America's Test Kitchen
Perhaps you'd like to learn legitimate cooking skills, but you want them delivered with the wonkery of kitchen dorks who care a great deal about exact measurements of thyme. Maybe you're even in the mood for someone to gently scold you. Try America's Test Kitchen! In recent years, ATK has parted ways with Chris Kimball, that iconic bespectacled subject of Daniel Ortberg mockery, and it's now in the hands of excellent chefs and hosts Bridget Lancaster and Julia Collin Davison. They really, really want you to learn how to cook. They'd also love it if you followed the steps they've meticulously tested to make sure your beef chili is the best it can be. (Also, please use this extra-efficient way to cut onions. And since they went to the trouble of taste-testing all of that smoked paprika, please do not purchase inferior paprika.)
America's Test Kitchen is available to stream on Netflix, Amazon Prime, and americastestkitchen.com.
For chipper cake nihilism: Nailed It!
If serious food TV isn't your thing, try Netflix's new original reality series Nailed It!, where people who cannot bake — and who don't particularly care to learn — attempt to make complicated, often frightening desserts while host Nicole Byer cracks jokes about their efforts. Who cares if you can actually make a cake, or which ingredients go where, or how any of it tastes? Let's just slap together some frosting and Rice Krispies treats in the hopes that it'll look something like an emoji face with sunglasses. (Spoiler: It won't.)
Nailed It! is available to stream on Netflix.
For carb comforts: The Great British Baking Show
If Nailed It! sounds like the absolute worst version of a competition food show to you, The Great British Baking Show (or as it's known in the U.K., The Great British Bake Off) is the perfect countermeasure. It's the most feel-good reality show ever produced, so if you haven't watched it yet, what are you waiting for? For those who've already seen every GBBO season, Netflix is also streaming The Great Family Cooking Showdown, which features one of the show's fan favorites, Nadiya Hussain, as a host.
The Great British Baking Show is available to stream on Netflix and PBS.
For an absorbing food studies course: Ugly Delicious
Don't be surprised if you have a lot of feelings about celebrity food entrepreneur David Chang's Ugly Delicious. It's less a cooking show than a show about food: food as culture, food as symbol, and food as metaphor for the self. In the space of eight episodes, I went from finding the show fun, to thinking it was exactly as pretentious as it pretended not to be, and then thinking it was weirdly tone-deaf, and then it became very absorbing and fun again. It has fantastic production value, it comes straight out of Chang's distinctive brain, and it's compulsively watchable. I think I love it, but I may need to watch it four more times just to be sure.
Ugly Delicious is available to stream on Netflix.
For dreamy slo-mo food porn: Chef's Table
Perhaps these shows sound like too much. Maybe you don't want to learn how to cook at all. Maybe you don't want to examine your childhood food traumas for clues about who you are as an adult (looking at you, David Chang). Or you're just not the competitive type. If you'd prefer an abstract, artsy vibe, try Chef's Table, a Netflix docuseries that takes you into the kitchens of the most celebrated chefs in the world. It is not a show that will make you think, "Wow, I should cook more," and it will not make great food feel particularly attainable, but it is utterly mesmerizing. These chefs are doing remarkable things to food, and the meals they create are beautiful. Thankfully, it won't make you resent your giant Postmates burrito either — Chef's Table is more about what you see than the food you eat.
Chef's Table is available to stream on Netflix.