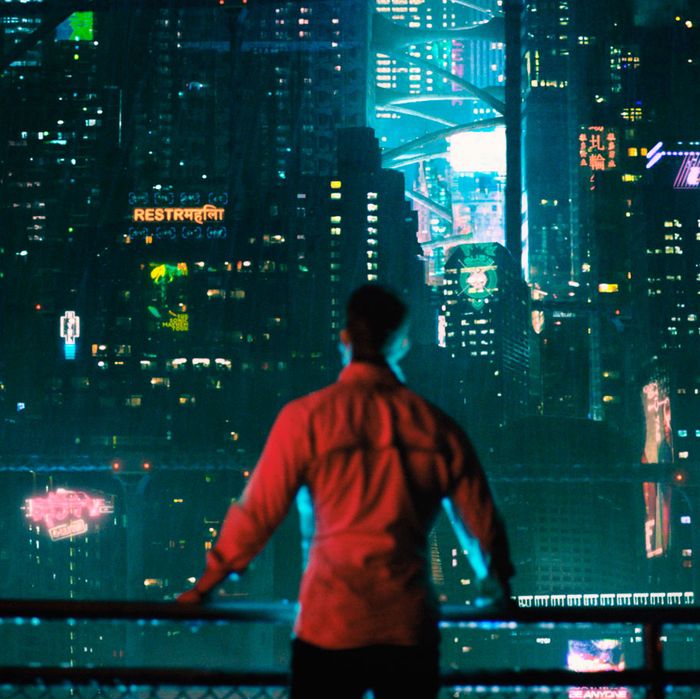 Altered Carbon
.
Photo: Netflix
As the rate of TV production continues to boom, we've moved past the era of great TV into the era of a lot of pretty okay TV. For every show that requires your full attention (like Atlanta or The Americans), or captures the Zeitgeist (like Game of Thrones or Big Little Lies), the world of television is full of shows that are just … fine. You don't devour these sorts of shows as much as you nibble on them absentmindedly. The passive experience of catching a cable marathon of, say, House Hunters, has a cousin in the streaming era: the passive experience of letting a Netflix show wash over you for a few hours.
If you haven't tried the background binge, I recommend it – especially while cleaning your room, cooking dinner, doing a few exercises, or splaying yourself across a coach and imagining you are a starfish. (What, I find it calming.) As with most binge-related experiences, Netflix is the best place to go for this, so it you're interested in trying the background binge, try out these shows.
While you're cleaning the house: Queer Eye
Watching Queer Eye provides you with a hit of calming, friendly, invigorating queer energy, the kind you might get from watching YouTube videos of Liza Minnelli or sniffing a candle that smells like a Sufjan Stevens song. Still, you don't need to keep your eyes on the TV the whole time. Put on Queer Eye, start cleaning your room, and then your own life will look better right around the time the Fab Five presents the "heroes" with their own makeovers. Bonus: Whenever things start to get emotional, you can take a little break to cry.
While you're napping: Any Marvel show
Every one of Netflix's Marvel shows are very dimly lit and stuffed with too many characters, but the plot moves so slowly that, even if you doze through an episode or two, you still won't miss much.
While you're cooking: The Crown
Netflix's marquee costume drama is dense with palace intrigue and well-acted performances, which is makes it a great pair with a nice red wine and some sort of thick stew. If you haven't enjoyed this rich costume drama while preparing dinner, you haven't embraced the decadent lifestyle that Princess Margaret enjoys.
While you're exercising: Altered Carbon
There's a compelling sci-fi noir buried within the murk and goo that defines this series, and the best way to get hooked on it lies in — and, whew, this sounds like the excuse for every Netflix show — not taking it too seriously and committing to a few episodes. How to get there without getting too bored? Take Joel Kinnaman's ridiculous physique as inspiration and do some circuit training in front of your TV. By the time you realize you'll never have a backside that defined, you'll be too exhausted to do anything else but just lie in front of the TV, sore and fascinated by the bonkers goings-on of Altered Carbon.
While you're unwinding: Mindhunter
Not to start a sentence with "I realize this might make me sound like a serial killer, but" — well, that's the truth. Once you get past the descriptions of blood and gore and sociopathy, Mindhunter is really just a nice story about a group of nerdy, symmetrical people in lumpy suits trying their best to solve the mysteries of human behavior in a methodical way. Mindhunter is the visual equivalent of listening to a friend describe a scary road trip in great detail: There's a jolt or two of surprise, but the show mostly lulls you into a mundane calm. I recommend watching while lying on a couch under a blanket with a big cup of tea, as you stare out into space and think about how life is wild, man.
While catching up with friends: Grace and Frankie
Watching Jane Fonda and Lily Tomlin living their best lives in San Diego as they build a friendship turns out to be a nice, sunny backdrop to casually hanging out with your own friends. You can comment on whatever zany antics everyone gets up to, and then occasionally check back in with each other about your actual lives. Let Jane and Lily inspire you to new levels of honesty about your emotions — and, in one of the areas where the show most excels, about sex.
While you're studying: Frasier
Let Frasier and Niles help you feel smarter in relation to the universe with their intellectual chatter. If you're not a student, I'd recommend putting on Frasier in the background while doing highfalutin activity like Sudoku, the crossword, or just drinking coffee. If you have a dog in your apartment, this will also really entertain your dog.
While you're getting high: Neo Yokio or The Great British Bake Off
If you would like to have your mind blown while your consciousness is, ahem, chemically upgraded, I'd highly recommend putting on Jaden Smith and Ezra Koenig's strange anime experiment, or just getting ensorcelled by the beauty of nice British people and their (hopefully) crisp pastries.
Just watch it, please: One Day at a Time
Listen, I would prefer if you watched One Day at a Time and paid close attention to the greatness of the show, but it hasn't been renewed yet and needs viewers, so please put on One Day at a Time whenever you can. Even if starts as background noise, it'll still get you hooked anyway.