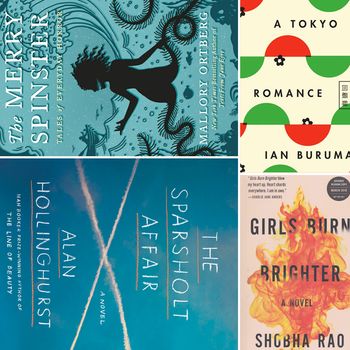 Each month, Boris Kachka offers nonfiction and fiction book recommendations. You should read as many of them as possible.
Speak No Evil, by Uzodinma Iweala (Harper, March 6)
The author was a Harvard undergraduate when he wrote Beasts of No Nation, a precociously un-autobiographical first novel about an African child soldier. (It was later adapted into a Netflix movie of the same name.) Thirteen years later, Iweala's second novel starts close to home, with the Harvard-bound son of privileged Nigerians, but soon it veers into the dark unknown. After young Niru, growing up tony D.C., is inadvertently outed to his profoundly homophobic parents by his white friend Meredith, his life becomes a journey of confusion, torment and, eventually, violence. Toward the end, Niru's pensive narration gives way to Meredith, contemplating her own complicity in a web of injustice.
A Tokyo Romance, by Ian Buruma (Penguin Press, March 6)
Before taking over the New York Review of Books, the Dutch-born writer finished this memoir about a lesser-known corner of Japan's history as well as his own. In 1975 he moved to Tokyo and fell in with the outer fringes of the art world — a scene of fluid sexuality, campy burlesque, avant-garde theater, and hard-core porn. And so a child of European privilege wound up vamping in a red jockstrap, doing a whiskey ad with Akira Kurosawa, and having affairs with women and men. Most astonishingly, he left six years later with the same girlfriend, his future wife.
Girls Burn Brighter, by Shobha Rao (Flatiron, March 6)
Rao's first novel, about two poor girls in an Indian village whose friendship prods them to survive unthinkable hardship, has already been compared to A Little Life, thanks to its abundance of both beauty and brutality. After calamity separates Poornima from Savitha, their only road to reunion runs through the human-trafficking trade; suffice it to say that misogyny is, for the subcontinent's worst off, not a debated concept but a simple fact of life. Rao's writing propels the story forward to an ambiguous ending that could fuel as much debate as the suffering that comes before.
The Merry Spinster: Tales of Everyday Horror, by Mallory Ortberg (Holt, March 13)
Gender-fluid revisionist fairy tales aren't a brand-new phenomenon (see Helen Oyeyemi's Boy, Snow, Bird and Carmen Maria Machado's Her Body and Other Parties). Ortberg's tales arrive fashionably late to the party, but beautifully turned out. Ortberg heads straight for the big game, mainly Grimms' disturbing menagerie. Some stories, like "The Velveteen Rabbit," become even more disturbing, while others ("Beauty and the Beast") are hilariously banal. Poor Cinderella becomes put-upon Paul with shades of King Lear, the Frog Prince becomes "The Frog's Princess," and a whole clutch of stories are restored to their pre-Disney glory — primordial, oppressive, and funny.
The Sparsholt Affair, by Alan Hollinghurst (Knopf, March 20)
More expansive and arguably even better than Hollinghurst's Booker Prize–winning The Line of Beauty, his sixth novel turns the exquisite writer's chief concerns, queer history and postwar Britain, into an ingeniously told family saga. Jump-cutting between eras in shifting tones and styles, the intricate plot takes us across several interconnected cultures of gay men — first the closeted, coded '50s and '60s; then the louche 1970s in the wake of the alluded-to "affair"; followed by the gradual tug-of-war between mainstream respectability and the zipless app-enabled culture of now.
American Histories, by John Edgar Wideman (Scribner, March 20)
The preface to the author's collection of fact-based short stories is a note to an unnamed president about the fact that slavery never really went away. The unredeemed past courses through these fictional monologues and dialogues, including a correspondence between Frederick Douglass and John Brown, and a fresh new confession from Nat Turner. There are essays and reviews framed as imagined narratives, but the most probing story of all may be "Williamsburg Bridge," in which a man on the verge of suicide channels the lives of those who leapt before him.