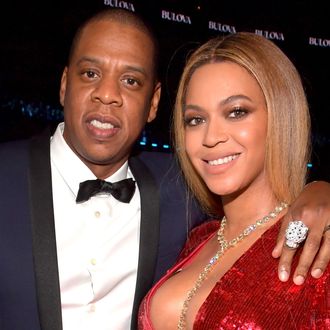 They're back.
Photo: Lester Cohen/Getty Images for NARAS
There is not a soul on earth who could tarnish Tiffany Haddish's present shine, but unfortunately for Tiff, Beyoncé is not of this world. On her surprise new song, "Top Off," with Jay-Z and Future for DJ Khaled's next album (titled Father of Asahd, aw), Bey comes instructed by her husband to "put these fuckboys on notice" and delivers her ether accordingly. We'll get to Haddish, but first, the fuckboy: Drake. Bey raps, "I break the internet, top two and I ain't number two," referencing Drake's own incorrect proclamation from "Gyalchester" ("I know I said top five, but I'm top two. And I'm not two and I got one"). Don't take it personal, Drake; Bey doesn't know much about algebra, but she knows 1+1 equals not you. As for Haddish, let's just say that she's about to learn a hard (but valuable!) lesson about what not to do once Beyoncé allows you precious seconds in her inner circle: "If they're tryna party with the queen, they gon' have to sign a nondisclosure." Yikes.
Update: Tiffany Haddish has received Bey's memo and will never face her wrath again, tweeting that, duh, she'll sign an NDA. Just keep the selfies coming!