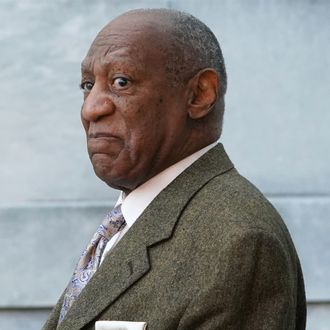 Cosby.
Photo: DON EMMERT/AFP/Getty Images
Bill Cosby and his defense team were at the Montgomery County Courthouse today to oppose the prosecution's attempts to have as many as 19 women accusing Cosby of sexual assault testify in court. Led into the courthouse by his handlers just one week after the entertainer's 44-year-old daughter died of kidney disease, Cosby is facing three counts of aggravated indecent assault over allegations that he drugged and sexually abused a former Temple University employee in his Philadelphia home in 2004. The first trial against the 80-year-old ended in a hung jury last June.
During today's pretrial hearing, Judge Steven O'Neill dealt two blows to the defense: scolding them for falsely accusing prosecutors of withholding evidence, and refusing to throw out the felony assault charges.
Montgomery County DA Kevin R. Steele also asked that 19 of Cosby's accusers be allowed to take the stand in April when the second trial is expected to begin. The prosecution has argued that their individual testimonies show a pattern of Cosby drugging and/or sexually assaulting women for five decades. To date, more than 50 women have publicly accused the entertainer of sexual assault. And while the judge has yet to rule on whether the women will be permitted to testify (his ruling could come as soon as Tuesday), their graphic testimonies would likely bolster the prosecution's case.
The defense team, led by Los Angeles attorney Thomas Mesereau — who's represented big names like Michael Jackson, Suge Knight, and Mike Tyson — opposed allowing any testimonies that could taint their client's image as a beloved sitcom dad. If the judge allows the women to testify, the defense is expected to seek a trial delay.
In addition to facing criminal charges in Pennsylvania, Cosby has also been slapped with several other lawsuits, including a civil suit in Los Angeles, where Judith Huth has accused him of sexual assaulting her in 1974 at the Playboy Mansion when she was just 15. The underage sex trial in L.A. could get started as early as June, according to Huth's attorney Gloria Allred. Several of Cosby's accusers, including model Janice Dickinson, have also filed defamation suits against the comedian for publicly calling them liars.
A big question looms about whether the post-Weinstein climate in which this second trial will take place will change the way potential jurors consider the case. Meanwhile, Cosby has shown no signs of worry. Since returning to Philadelphia, the octogenarian has performed an impromptu stand-up at a tiny jazz club and has been spotted having dinner with his family at an Italian restaurant along the Delaware River.
Depending on this week's ruling, jury selection could begin later this month.