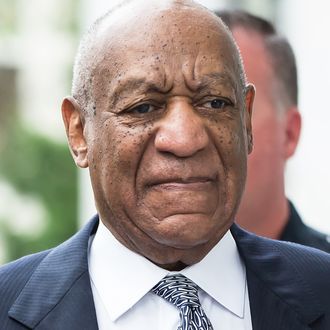 Cosby.
Photo: Gilbert Carrasquillo/Getty Images
Today in the Montgomery County Courthouse outside of Philadelphia, Judge Steven O'Neill announced that five women will be allowed to testify against Bill Cosby when his second trial gets started on April 2. The 80-year-old comedian is facing three counts of felony indecent sexual assault after a former Temple University employee accused him of drugging and raping her in his Philadelphia home in 2004. The first trial against Cosby ended in a hung jury in June of last year.
The judge told prosecutors that they'll be permitted to call up to five of Cosby's accusers to take the stand out of about 19 witnesses they hoped to call in the case. It was not yet announced which women will be testifying.
This is a major blow to Cosby and his defense team, led by L.A. attorney Tom Mesereau, who is famous for representing Michael Jackson. The defense team had initially asked the judge to throw out the case. When they were unsuccessful, they opposed the prosecution's request to call additional accusers to the stand citing the statute of limitations.
Today's decision came after the California Supreme Court rejected Bill Cosby's request to appeal a court decision by one of his most famous accusers just yesterday. Late last year, the state's Second Appellate District court said that former model Janice Dickinson could use a press release and letter from the 80-year-old comedian's team suggesting she is a liar to move forward with her case against Cosby. The comedian's lawyers fought the ruling and lost. The latest decision also now allows Dickinson to add Marty Singer, Cosby's former lawyer, as a witness in her civil case.
Cosby has pleaded not guilty to all criminal charges.