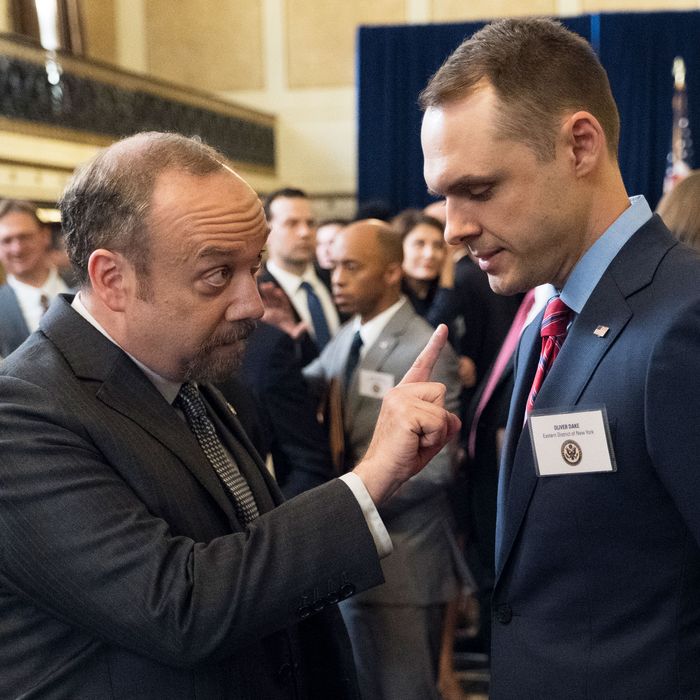 Photo: Jeff Neumann/Showtime
Welcome back to Billions! At the end of last season, following the BANANAS double-cross, back-whammy, Chicago-two-trot maneuver heretofore known as the Ice Juice IPO, Team Windbreakers seemed like they'd finally got Team Half-Zip Navy Pullovers against the wall. This was a real burden for those of us who find Chuck Rhoades unbelievably smug, moralizing, and megarich but also remarkably judgmental of the megarich — and the extended hug that Wendy and Axe shared as the cops surrounded him was only the mildest comfort to proponents of that rather unimaginative (yet appealing) 'ship.
The question on my mind, and on the show's, is a far more elevated one: How fares Axe Capital Chief Investment Officer Taylor Mason? If there is any doubt in your mind about how I feel about Taylor, let me allay it: Taylor rules. Taylor is the greatest. When Dollar Bill immediately supported their new title at the end of last season, I WEPT. In my experience, despite how racist and sexist and homophobic the finance world can be, if you are actually bringing in the big bucks for your team, people will find a way to like you. Billions does a good job demonstrating that shift in how people see Taylor.
Right off the bat, Taylor's first big move is to get Axe Capital's accounts unfrozen. There's only one sure-shot way to pull that off without months of tussling: Axe needs to give up his license to trade, which he does with a face that looks like it's been chewing a wasp. Taylor has also figured out what makes these guys tick, and after jumping in to promise they'll uphold (at minimum) last year's bonuses — even though Taylor is NOT authorized to make that claims, as Wags later reminds them in private — you can see the climate in the room instantly shift.
To make a sweeping statement, the bro-ier fans of Billions (and there are many; I have a hedge-fund background and those people all watch it in real-time every week) have never liked Lara, but I must confess to having a soft spot for her. Lara haters don't like the idea of Axe sharing power with anyone, I think, and it's disconcerting for them that anyone has the ability to make their guy come totally unglued at the drop of a hat. Well, without Lara, the Axelrod sons would be even weaker and bitchier than they currently are, which is saying something! Those kids could use some adversity and character in their lives. Lara has always backed her husband up to the hilt, and I cannot be the only one who is VERY eager to see what kind of adversary she could be if she suddenly found herself on the outside.
We're not clear as yet what the exact legal status between Axe and Lara is at the current time. He's staying in the NYC apartment, she's bringing in STEVEN BIRCH to oversee her half of the money (way to go for the jugular, Lara!), and things are as tense as piano wire. I'm guessing legal separation, but we'll find out. Also important: She and Axe don't have a prenup, and the fact that people seem to think half of Axe Capital is hers suggests they got married in New York, which is a community-property state, the bane of finance husbands. He could have saved himself a lot of money by suggesting that Equitable Division of Marital Assets Connecticut is beautiful this time of year!
Over in Windbreaker Country, I was touched to see that Connerty (who is not my fav) is still dating the flight attendant (and now law student!) who helped them nail Boyd. Say what you want about Connerty (and I do), he has stellar taste in women. I mean, of course, Sacker, the greatest woman in the world. Sacker is the real deal. I would travel a thousand miles to touch the hem of her exquisitely tailored garment. She's the Head of Crim of my heart.
Now that Oliver Dake is in our lives to stay, I cherish every teeny morsel of backstory we can get on him: He's married! He's a Calvinist! I think Chuck needs to pull back the ego a bit in dealing with Dake — your interests are at the moment, not necessarily forever — but if Chuck was able to actually manage his ego, this would be a far more boring television program. He gets what he wants: His family's role in the Ice Juice play will be shielded from exposure. Excitingly, Chuck has a new boss himself: Attorney General Waylon Jeffcoat, who is folksy, conservative, has a plentiful supply of graphic horse-breeding and/or baseball metaphors, and no interest in meddling with the Half-Zip Navy Pullovers unless they do something really spectacularly illegal. I do love a challenge!
On a meta note, can I say that I appreciate that Billions has a single shot of Lower Manhattan and a title card that says "Billions," and no further elaborate and indulgent opening sequence? Those things are starting to drag on for three-plus and it's A BIT MUCH.
I have saved the best for last, because the best is Wags, everyone's favorite deeply troubled sashimi gourmand and pill-snorting powerhouse. He has his game face on and knows what needs to be done: a nice shvitz with Taylor to ascertain their future moves and commitment to Axe, the right tone for the troops, and the proper moves to light a fire under the leadership. It's his coaching that puts Taylor in the position to blow away the hedge-fund elite at their annual strategy dinner, though Taylor makes it looks easy. Axe has loyal friends just at a time when Chuck has burned his own, possibly beyond repair. His father and Ira are done with him, though Black Jack Foley is determined to get Chuck Sr. back in line.
I lied. The best moment is when we see our old frenemy Spyros sidle in with a li'l cappuccino to take his place as Axe Capital's new head of Compliance while the female employees look at him disgustedly. Strange bedfellows, indeed! Can't wait to see where we're headed.