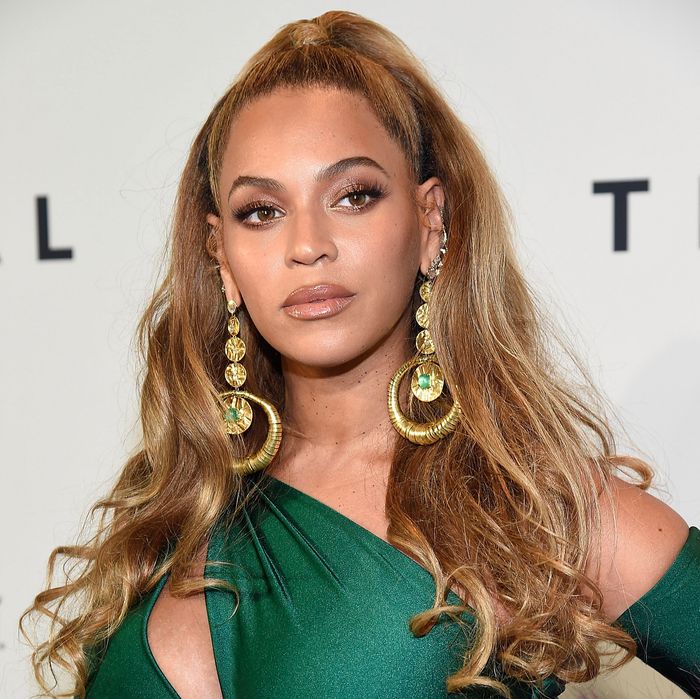 Do not bite this face!
Photo: Kevin Mazur/Getty Images for TIDAL
One night in December of 2017, someone who shall remain nameless (mostly because we don't know who they are — more on that later) had the audacity to bite Beyoncé's face. Tiffany Haddish first dropped hints about Bey-bite-gate to Vulture in an interview, and then spilled the rest of the tea to GQ. An actress "bit Beyoncé in the face," Haddish told the mag, recounting the after-party for a Jay-Z concert in Inglewood on December 22. Originally thought to have just been aggressively flirting with Jay-Z, it turns out the mystery woman bit Beyoncé, continued to pop up throughout the party, and even told Tiffany Haddish to stop dancing.
When our friends at the Cut looked into this matter, they compiled a list of celebs at the Inglewood after-party: Rihanna was there, as were James Franco, French Montana, Queen Latifah, G-Eazy, Diddy, Sara Foster, Jen Meyer, and Sanaa Lathan. Let's narrow this down: Rihanna, Queen Latifah, Foster, and Lathan are actresses. Rihanna is Rihanna, and Queen Latifah is Queen Latifah — friends don't just go around biting friends' faces and telling Tiffany Haddish to stop dancing!
So that leaves Foster and Lathan, the two names the Cut floated as potential culprits. Foster played Jen Clark in the CW's 90210, and most recently starred on VH1's Barely Famous. Lathan starred in Love & Basketball, Brown Sugar, and the Best Man movies. A few other names have floated around — namely, Jennifer Lawrence — who looks to have been in New York City (busy maybe getting back together with Darren Aronofsky) when the alleged face-biting occurred, so Vulture will happily clear J.Law's name.
Barring a few more Chrissy Teigen tweets ("I can only think of one person who would do this. but I cannot say. but she … is the worst," Teigen posted), we can't give you a definitive answer. However, consider this: Sanaa Lathan was definitely at the Jay-Z concert, as evidenced by her own Twitter.
Something else to consider: Lathan has been spotted with French Montana before (as evidence in the 2015 Instagram below), so it's likely that she was at the after-party.
Vulture can't close this case, but at least we have a solid lead. We await any anonymous tipsters (including and especially gossip blogger Quincy Jones).
Update: Sara Foster has addressed the Beyoncé bite accusation on her Instagram:
And then in a series of posts to her Instagram Story: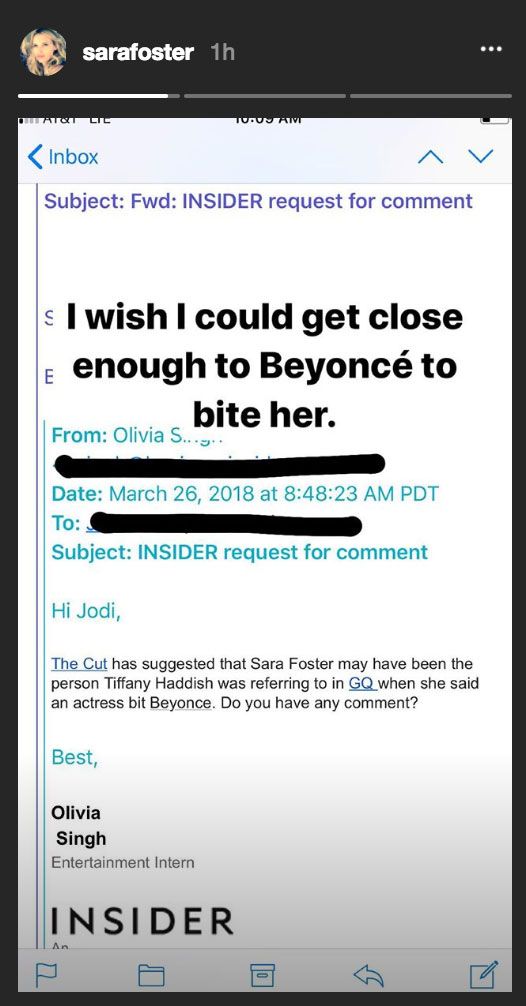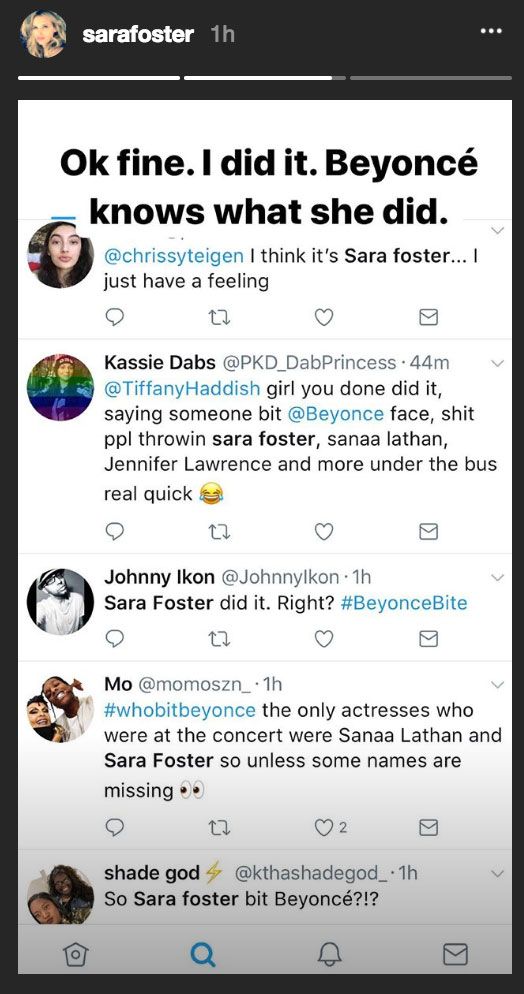 After her earlier hints, Chrissy Teigen seems to have finally found out who the culprit is. The Beyoncé biter was a surprise to her:
Lathan has yet to address the bite rumors on her own Instagram (although the comments on her recent photos are a mess). Again, Quincy Jones: We are all ears.
Update: Tiffany Haddish still hasn't confirmed our theory, but she has cleared an innocent woman's name. Taraji P. Henson did not bite Beyoncé, and how dare you suggest her!
Update: After many hours, Sanaa Lathan has responded to allegations that she bit Beyoncé: "Y'all are funny. Under no circumstances did I bite Beyoncé and if I did it would've been a love bite," she tweeted. Vulture's case is still open, but is the real culprit plotting their Disappearing Acts?
Gossip Girl, weigh in!
Update, March 27: As the nation continued to spin into disarray, Vulture's official inquiry into Bey-bite-gate endured. Late Monday night, a tipster told us that during a comedy show in Jacksonville, Florida, this past January, Tiffany Haddish told the story of the bite incident, but also added a hint: The biter dated French Montana. The theater confirmed to Vulture that video recording was not permitted during the performance.
We know Lathan and French Montana have spent time together before. On Watch What Happens Live With Andy Cohen, Lathan admitted to "hanging out" with the rapper.
TMZ is also reporting that sources close to Haddish say the culprit was Sanaa Lathan. Per TMZ: "One source said it was not an aggressive bite … it was playful and noninvasive, but still caught Beyoncé off guard." We'll take this under review, but in the meantime it looks like a certain someone is Out of Time.
Update, March 30: Page Six has added "multiple sources" to the allegation that Lathan is, in fact, the Beyoncé biter in question. According to their new report, the actress allegedly "playfully bit her on the chin" after the singer interrupted a conversation between Lathan and Jay-Z. "It was a big thing in the moment at the party, everyone was talking about how anyone would dare to do that," one Page Six source claims. Sanaa Lathan has not weighed in on the new report as of yet, but really, how can she not?