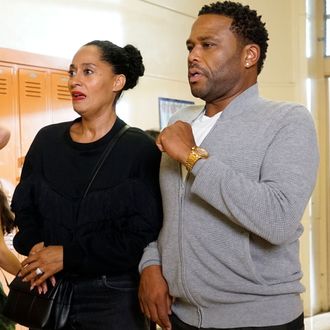 Tracee Ellis Ross and Anthony Anderson.
Photo: Kelsey McNeal/ABC
In a rather unprecedented move for prime-time television, ABC has decided to indefinitely shelve an episode of Black-ish due to "creative differences" between the network and the sitcom's creator, Kenya Barris. Per Variety, the politically and socially charged episode, titled "Please, Baby, Please," was originally supposed to air on February 27, but was pulled from the schedule a week prior in favor of a rerun episode. Specifically, the episode features a narrative that primarily follows Dre (Anthony Anderson) who has to care for his infant son "on the night of an intense thunderstorm that keeps the whole household awake." Dre reads his son a bedtime story to keep their minds off the storm, but ends up improvising another story that "conveys many of Dre's concerns about the current state of the country." Additionally, there's a scene between Dre and his oldest son Junior (Marcus Scribner), where they argue about the rights of athletes if they choose to kneel during the national anthem at football games.
"Given our creative differences, neither ABC nor I were happy with the direction of the episode and mutually agreed not to air it," Barris told Variety, with an ABC spokesperson adding, "On this episode there were creative differences we were unable to resolve." As of now, the remainder of Black-ish's current season will air normally.