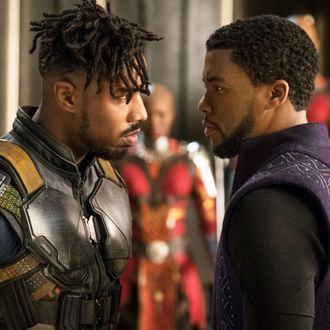 Photo: Matt Kennedy/Marvel Entertainment
Black Panther has officially clawed its way into the Three Commas Club. In its fourth weekend in release, the Wakandan Afrofuturist epic earned over $1 billion in worldwide box-office grosses, to rank among the fastest films to hit ten figures in Hollywood history. In addition to standing as 2018's biggest blockbuster to date, and challenging the industry's time-honored calculus about films featuring predominantly black casts not performing well overseas, Black Panther also surpassed Wonder Woman as the top-grossing superhero origin movie of all time.
As of Friday, T'Challa and Company had pulled in $520.8 million domestically and $419.5 million in foreign ticket sales. But thanks to a $22.7 million opening day in China, where Black Panther debuted on March 9 and had enjoyed strong prerelease ticket sales, the Disney-distributed film was able to join an elite club of just 33 movies that have managed to cross the billion-dollar mark.
The film also appears likely to retain the spot as America's top movie this weekend, edging ahead of its main competition at the multiplex — director Ava DuVernay's A Wrinkle in Time — which had been expected to pull in around $35 million according to pre-release tracking estimates. Black Panther arrives at the top of February domestic debuts as well, as the only Marvel Cinematic Universe installment to pull in more than $1 billion since 2016's Captain America: Civil War. Wakanda Forever indeed!