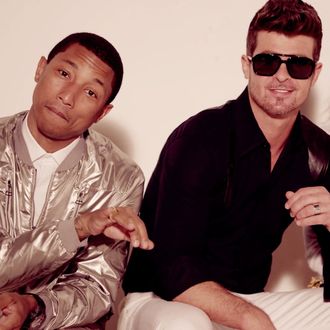 Pharrell and Robin Thicke.
Photo: RobinThickeVEVO
Three years after Robin Thicke and Pharrell lost their lawsuit to Marvin Gaye's family over the similarities between "Blurred Lines" and "Got to Give It Up," an appeals court has upheld the verdict against them. Today, a divided panel at the 9th Circuit Court of Appeals determined that, contrary to Thicke and Pharrell's defense that Gaye's copyright only gave his music "thin" protection, "musical compositions are not confined to a narrow range of expression." The ruling did differ from the previous decision in one way, however, by clearing T.I. (Clifford Harris Jr.), who contributed a verse to the song, saying "no evidence showed Harris was vicariously liable," which means he's no longer on the hook for part of the damages. It's still possible to slip out through a few blurred lines after all.