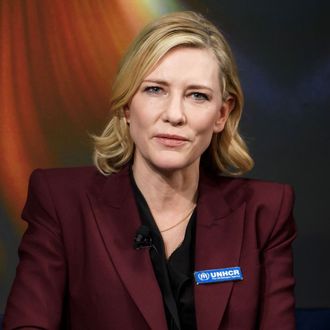 Blanchett.
Photo: Fabrice Coffrini/AFP/Getty Images
Cate Blanchett is the latest Woody Allen muse to address working with the director. "I don't think I've stayed silent at all. At the time that I worked with Woody Allen, I knew nothing of the allegations," Blanchett told Christiane Amanpour, when the CNN reporter asked her about supporting Time's Up after having worked with Allen. "At the time, I said it's a very painful and complicated situation for the family, which I hope they have the ability to resolve," Blanchett continued. The Blue Jasmine star said that she'd support any legal action regarding the case, but that social media is "not the judge or jury." "I feel that these things need to go into court, so if these abuses have happened, the person is prosecuted and so someone who is not in the shiny industry that I am can use that legal precedent to protect themselves. Always, in my industry or any other industry, they're preyed upon because they're vulnerable."
Allen's daughter Dylan Farrow has accused the director of molesting her when she was a child. Allen maintains the accusation is false, and that his ex Mia Farrow turned their children against him. In recent months, multiple stars — including Timothée Chalamet, Rebecca Hall, Greta Gerwig, Kate Winslet, Griffin Newman, and Michael Caine — have expressed regret over working with Allen, saying they wouldn't work with him again, or donating their paychecks from his movies to charity.