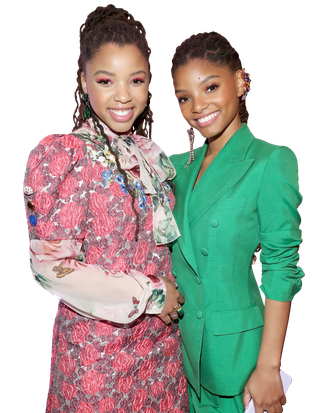 Chloe (left) and Halle (right).
Photo: Getty Images
The story of the Bailey sisters, Chloe x Halle, famously goes like this: The two posted Beyoncé covers on YouTube when they were preteens that showcased the vocal ability of people twice their age; eventually impressed the queen herself enough to become the first signees to Beyoncé's label; sat beside their new boss and other faces of the Beyoncé generation on that now-iconic porch in the Lemonade film; the rest is history. Throughout their meteoric rise, the two teens have also gotten good at multitasking.
On Freeform's Black-ish spinoff Grown-ish, they play track-star twins, but in reality, they're nearly two years apart (Halle, 18 as of today and Chloe, 19). The pair also ran the show on their own debut album, The Kids Are Alright, self-producing and writing the entirety of the sophisticated, genre-melting collection of songs about youth handled with adult perspective. Vulture talked to Chloe x Halle on the album's release day about controlling their own narrative, Grown-ish, having Beyoncé as a mentor, and why their generation is in good hands.
In your short film for the album, you have Moonlight's Ashton Sanders playing a literal swagged-out angel, which is casting perfection. Tell me everything.
Chloe: Yes! It was so magical how that short film came together. It flows so well. We love Ashton. I remember we met him in person at this Teen Vogue shoot we were doing together and we exchanged numbers. We were also following each other on social media, and that was about that. We knew we needed a really cool leading guy in our film, and we texted him saying we'd love for him to be a part of it. He said yes immediately; it happened that fast. He did such an incredible job. The film was directed by the wonderful Cara Stricker and Kwasi Fordjour, and it represents how pressure makes diamonds. No matter what you go through, you will be alright.
I was struck by how hands-on you both were with this album, especially for a debut. Chloe, you produced almost all of it and you each wrote or co-wrote all of the songs. Was creative autonomy crucial to you?
Halle: Oh yes. Our parents always taught us from a young age that we can do anything we put our minds to and not to be afraid to dive in to do something that may not be considered things for little girls to be doing. My sister is so inspiring to me when she produces. And we write all of our songs from our living room. It's fun for us. We also feel like this generation is on this wave of learning how to do things on our own and learning how to stand up for ourselves. It's a big thing for us.
Was there any pushback, people telling you it would be better to let other people control your work rather than do it yourselves?
Halle: There has been underestimation at the front door, and that's bound to be there since our appearance is these small, young girls. Most people just expect you to go in and write a Disney song. It's fun for us to prove ourselves. Once we put our foot in the door and shove it open, it's exciting for us to see people's reaction. They realize that we can do this.
Chloe: I feel very fortunate because we're given this incredible platform with Beyoncé and [her label] Parkwood, but we're still able to use our voices and tell the story that we want to tell and create the music we want to create. Beyoncé has always encouraged us to trust our intuition. I'm so grateful because some artists are not able to do that, but we are and it means the world to us.
The longer I've lived with the album title, the less it reads like a personal affirmation and more a public declaration: It's not that the kids will be alright, they already are. We're seeing that now with the Parkland teens mobilizing to fight for policy change. I think adults sometimes worry they've failed your generation. Is that what inspired the album?
Chloe: That means so much to us that you took that from this record. That's exactly what it's about. My sister and I always try to look at the bright side of things, no matter how crazy the world gets. Adults might think they've failed us, but they didn't. They just prepared us to be even stronger. We're gonna be alright. I'm so proud to be part of this generation because we're not afraid to raise our voices, be heard, and say what's right and wrong. This album is about learning to trust ourselves and our voices.
There's a line on this album — "that fake woke hashtagging" — that reminded me of a conversation I had with Willow Smith. Your generation, especially its celebrity faces (the Willows, the Yara Shahidis, the Rowan Blanchards), have been branded with wokeness. Is the term starting to lose its meaning for you all?
Halle: Most young people are already "woke," or whatever that word is supposed to mean — maybe it's not being afraid to speak out. It's telling our truth that we care about.
Chloe: "Woke" is less about the word and more about the actions you put behind it. Whether it's speaking your mind through your art or getting with another group of kids to start change. I'm just happy because kids aren't just hashtagging, they're actually doing things. March for Our Lives puts words into action. It's an exciting thing to see how [the word] may have ignited this fire within us.
Do you remember what Beyoncé said when she heard your album for the first time?
Chloe: She said she loved it! And I'm just so happy because if I know Beyoncé loved it, then that's the only stamp of approval I need, except for my parents and little brother. It even made my heart warm when she said she loved the short film. We like making her proud.
What has she meant to both of you on a personal level?
Halle: Watching her over the years, I've seen how grateful and gracious she is. She also really knows her self-worth and power and, as young person, that's personally been really inspiring. I look to her and can say, "If she can feel like she's worthy and beautiful, then I can too."
Chloe: For me, Lemonade broke so many barriers. It instilled confidence in so many women, even older women. I still love it. From the music to the visuals, she's a genius.
There was a recent episode of Grown-ish about the frustrations of dating as black women that centered on your characters. I wondered how much of their experience was your own.
Chloe: I remember we went in for the table read and read the script and just thought, Wow, this is speaking the truth. It meant so much to us that our characters were able to portray this reality. But as important as it is, we got to play it somewhat lighthearted so that people who've never been exposed to this can understand it in a digestible way, but still really get the gist of it. I love Grown-ish because we're able to talk about the topics that aren't normally talked about in mainstream media. That episode let women of all colors know that you don't need validation from anyone else except yourself and that's okay.
Was the depth of the subject matter what attracted you to be on the show?
Halle: Grown-ish actually came about really naturally and organic. We always hang out with our friend Yara, and the show's executive producer, Kenya Barris, saw us onstage at the BET Awards accepting for Beyoncé. He said that was when the light went off in his head for us to be on the show. We entered the whole project with open arms and no expectations. It ended up being beautiful and it never feels like work.
You both are college age, but you're not having the traditional college experience outside the show. Would you ever enroll full time?
Halle: Yes! I'm in my senior year of high school right now and I graduate in June, so of course, that's always something I would love to do. I can't wait to be done with this high-school venture and go soon into the college venture.
What would you study?
Chloe: Definitely business and finance.
Halle: Same. I also want to dive into music theory and advance myself more as a musician.
This album exists in the same world as Willow's, SZA's, and Solange's albums in that it presents young black women as multidimensional, complicated beings. It also speaks the language of our minds. Where were your heads at when you wrote it?
Halle: During the making of this album, we were just documenting our truest feelings, almost like a diary. We put our most sensitive feelings into these words. I'm 17 now and I've been thinking a lot about what's gonna happen when I turn 18. [Ed. Note: Halle turns 18 today. Happy Birthday!] Will anything really change? What will my adult life be like? I've been discovering myself as a young girl and venturing through this with my sister. So I've been writing down all those feelings that you have as a young girl turning into a young woman, the insecurities and learning how to love the highs of your life as well as the lows. I've been learning to accept that everything I have going on now is for a reason and that I'll end up in the perfect place. It was all of those emotions put into one for this album. I love that I can have this album out when I'm 17 and then, in the future, when I'm 30, I can listen to these songs and remember exactly who I was at this age.
This interview has been edited and condensed.