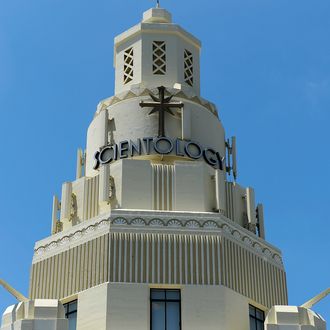 Photo: Kevork Djansezian/Getty Images
"The only thing more interesting than what you've heard is what you've haven't." So claims one promo for the Church of Scientology's newly announced TV network named, fittingly enough, the Scientology Network. Per the religion's announcement on Sunday, their content will be available on DirectTV, AppleTV, Roku, and Chromecast, as well as their app, on Monday. As Deadline observed, the Google Play description for the Scientology Network app offers a sneak peek at potential programming, including shows like "Meet a Scientologist, Voices for Humanity, L. Ron Hubbard: In His Own Voice and more." Whether your favorite famous Scientologists will make an appearance in any of their content is, as of yet, still a mystery.
The tagline seems intended to address the extremely bad press the organization has received in recent years, lead in part by Leah Remini's docuseries Leah Remini: Scientology and the Aftermath, in which the actress speaks to fellow former Scientologists about the mistreatment, exploitation, and harassment they allege they were subjected to by the church. Alex Gibney's 2015 HBO documentary Going Clear: Scientology and the Prison of Belief, based on the 2013 Lawrence Wright book, recounts much of the same. The Church of Scientology has continuously denied all accusations made against them. Their new TV network drops tomorrow, March 12.