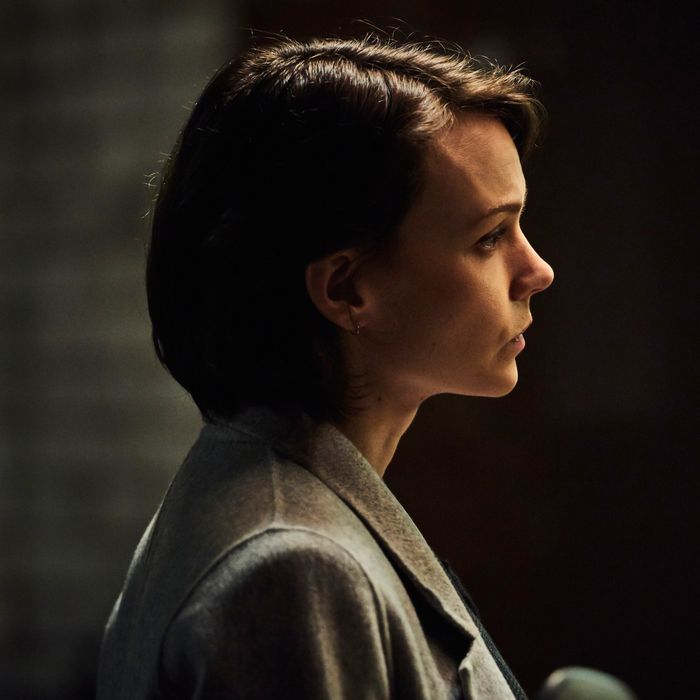 Carey Mulligan in
Collateral.
Photo: Fabio Affuso/Netflix
For those who enjoy kicking back and relaxing while dour British women in coats unravel elaborate criminal schemes: (1) So do I, we should hang out sometime, and (2) you should watch Collateral, which debuted on Netflix in the U.S. earlier this month.
Collateral stars Carey Mulligan as a former pole-vaulter turned very serious police detective, and at a mere four episodes, it's a solid, easy-to-binge addition to the genre of TV best known as British Women Getting It Done. In Collateral, Carey Mulligan solves a mystery while a bunch of British character actors shine in various smaller roles. It is exactly what it says on the box: a dour British detective show.
Of course, every dour British detective show needs a compelling lead, and Mulligan more than delivers as DI Kip Glaspie. In some ways, she's an odd choice to play a detective — she rose to fame with movies such as An Education, playing porcelain women who like books — but she pulls it off because Glaspie is such an odd detective. Everyone recognizes her because she used to be a sports star, and her bored, sarcastic reaction sells Glaspie as someone prematurely disillusioned with the world, like a child star who stopped being famous. She wears big coats, as any British TV detective must, but shrinks inside them, as if it's too exhausting to occupy any more physical space.
Over the course of the show, Glaspie stumbles into a vast conspiracy that involves the death of a pizza-delivery man, a group of refugees in Britain, sexual harassment in the military, and a gloriously deluded rich woman played by former Doctor Who companion Billie Piper. It's clear that screenwriter and playwright David Hare (Skylight, The Hours) who wrote all the episodes, wants this to be the modern British drama for and about the country post-Brexit.
"We really are turning into a nasty little country," a Labor politician says in a crucial scene. It's the big ideological point Collateral wants to make as it crisscrosses London between classes, revealing all sorts of nastiness in people along the way. But in the end, the mystery gets resolved tidily, leaving a stylish impression of quality rather than the real thing. Maybe that's the true appeal of a show like this one: Collateral tells you the world can be solved, and that steely British women are hard at work solving it, even if they are sad all the time.
As a diversion, which, in the end, all dour British cop shows are, Collateral is great fun. I highly recommend it. It depicts London as a rainy and yet appealing mess, a cross between a Zadie Smith novel and those parts of the Harry Potter movies where they wander around in street clothes. The character actors affect their little flourishes well — my favorite is a winking moment where a Turkish translator brings up the films of Nuri Bilge Ceylan — and the plot chugs along at a far more rapid pace than any other show you'll find on Netflix. If you imagined a British cop drama in your head, you would think of something like Collateral. For that alone, it's worth watching — or if you just wanna see Carey Mulligan wander around interrogating people about pizza.