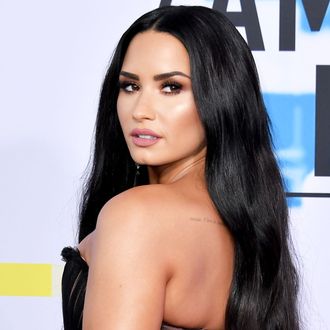 Lovato.
Photo: Neilson Barnard/Getty Images
In her new Billboard cover story, Demi Lovato opens up about a traumatic experience she had at the 2016 Met Gala. Lovato, a survivor of addiction and advocate for recovery, says an unpleasant interaction with an unnamed celebrity nearly triggered a relapse. "This one celebrity was a complete bitch and was miserable to be around. It was very cliquey. I remember being so uncomfortable that I wanted to drink," she says. Instead of drinking, Lovato texted her manager who arranged a spot for her at a local Alcoholics Anonymous meeting immediately following the gala. Lovato showed up to the meeting still in luxe attire, but got the necessary help: "I changed my clothes, but I still had my diamonds on —millions of dollars of diamonds on in an AA meeting. And I related more to the homeless people in that meeting who struggled with the same struggles that I deal with than the people at the Met Gala — fake and sucking the fashion industry's dick."
But who was the "complete bitch"? You'll remember that following the 2016 Met Gala, a photo of Lovato with Nicki Minaj and designer Jeremy Scott in which Minaj appeared to be glaring in her direction became a meme at the time. Minaj later posted a separate photo of the trio to her Instagram, tagging everyone but Lovato. On Snapchat, Lovato side-eyed with the caption, "When you aren't mentioned in someone's post, but didn't do shit to the person." She later clarified on Instagram that she was joking and Minaj's presumed shade actually "gives her life," but that "this picture pretty much summed up my first and probably last met." Days later, she hinted that a photo doesn't tell the whole story:
Mystery unsolved!