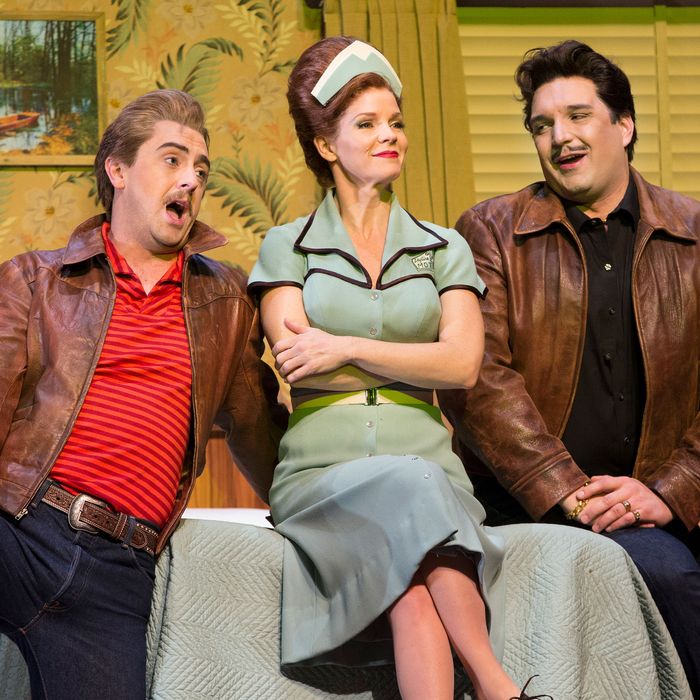 From the Met's
Così fan tutte.
Photo: Marty Sohl/The Metropolitan Opera
Shortly before the Metropolitan Opera opened its new production of Così fan tutte, the battle between the company and its disgraced former demigod reached a second-act climax. The Met fired James Levine, alleging a history of sexual misdeeds; Levine sued the Met; and — just before showtime — the Met's attorney issued an aria-like lamentation: The company finds it "shocking" that its 46-year music director could feel so betrayed. It vowed a vigorous defense. Curtain.
Minutes later, David Robertson started the overture for Mozart and Da Ponte's comedy of seduction and manipulation, and though his conducting sounded brisk and smart, it was hard to be sure over the laughter and antics. As the music played, giants, dwarves, contortionists, and sword-swallowers spilled out of a box and held up jokey cue cards that made it hard to obey the instruction: OPERA. STARTING. NOW. CONCENTRATE!
Così fan tutte was a Levine specialty, and though the Met is scrubbing his name from its website and program books, he conducted the most recent performance of the opera, in 2014, plus 60 others. It'll take more than a lawyer's letter to expunge that legacy. So the Met is trying harder, embedding an intimate ensemble masterwork in a spectacle full of freaks and glitter and rickety machines.
Director Phelim McDermott has dropped the action in a 1950s Coney Island so vivid that you can practically smell the hot dogs and taste the frozen custard. The amusement-park setting helps with one of the opera's central mysteries: How could two young women fail to recognize their boyfriends just because they slap on funny hats and fake mustaches? Here, the answer comes in the form of a dreamscape where fantasy and cheap reality mingle. If you can blind yourself to the tawdriness or develop a sudden desire for a plush-toy prize, then maybe you can forget your fiancé's face and voice for one night of amusement.
But there is a snake in that electric garden. "Leave your troubles outside," the master of ceremonies commands the audience in Cabaret. Don Alfonso, his counterpart in Così, would have you drop your illusions instead. Outside is clichéd romance; inside all is glister, cynicism, and hard-won understanding. Alfonso is the anti-magician, determined to explain away the trickery of love as just another base instinct. Even when the music insists on sincerity, when the games fade away and genuine feelings surge, there's always a bearded lady or a tattooed man gloomily standing by, to remind the protagonists that their pangs will pass in one revolution of the Ferris wheel.
McDermott's production is strenuously fun and sometimes magical. Tom Pye's sets whirl and spark, and Laura Hopkins's flouncy dresses and leather jackets deserve singing roles of their own. I expected a scene of seduction under the boardwalk, but McDermott dodges that cliché. Instead, Amanda Majeski sings Fiordiligi's aria "Per pietà" as she is hoisted aloft in a balloon ride. It's one of the character's few introspective moments, without sister, suitors, or servant nudging and tugging at her, and Majeski makes it bloom with self-doubt and regret. Alone with her thoughts, she drifts up and away, her silvery voice shooting higher as her body returns to earth.
McDermott can get frantic, though. Mozart and Da Ponte work with emotions that aren't AMAZING! INCREDIBLE! or DEPRAVED! but uncertain, human, and full of shades that get flattened by the glare. On opening night, the staging's complexities left singers visibly scrambling at first to remember their lines and the blocking at the same time. By Act Two, the cast settled in and found its comic rhythms. Kelli O'Hara is a brilliant bit of casting as Despina, the chambermaid at the Skyline Motel who orders her bobby-soxer bosses to have fun, and instructs them on the perfidy of men. O'Hara has always made being a Broadway diva seem effortless, and she skips just as lightly onto the opera stage. Her Italian isn't crisp or her Mozart native, and she's had a microphone-aided career, but she has the vocal technique and personality to command the Met's stage without breaking a sweat.
The rest of the cast has her back. Majeski is exquisite and Serena Malfi convincingly playful, if a tad cautious, as her sister Dorabella. Ben Bliss sings Ferrando with a quiet, tender tenor that makes him seem like a lovely guy and an unlikely back-stabber. Adam Plachetka makes Guglielmo sympathetically goofy, always willing to be needled, manipulated, provoked, and forgiven. Pulling all their strings is Christopher Maltman's Alfonso, the puppet master in a yellow zoot suit who sings with a relaxed, invincible swagger.
A cast this supple could have excavated more of the opera's wrinkles and ambiguities. They might, for instance, have made it clear that it circles back to sincerity at the end. After all the cruel pranks and disappointments, the original lovers reunite, alert now to each other's faults and their own limitations but still game for the trip — years' worth of wisdom acquired in a single night. But McDermott doesn't leave much room for characters to grow. By the finale, he has plunged so far into razzle-dazzle that subtlety just blows away.
Così fan tutte is at the Metropolitan Opera through April 19.