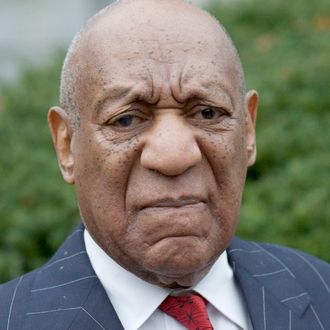 Photo: Bastiaan Slabbers/NurPhoto via Getty Images
Judge Steven O'Neill, the judge in the case against Bill Cosby, says he will not step down despite the defense's best efforts to paint him as biased against the 80-year-old comedian.
During the latest pretrial hearing at the Montgomery County Courthouse just outside of Philadelphia today, O'Neill – the judge who also presided over the first trial against Cosby that ended in a hung jury last June – denied the defense team's accusation that he's biased because his wife works with victims of sexual assault. The judge told the defense that to suggest his wife's work would somehow influence his rulings is "faulty, plain and simple."
Cosby's team has been making a few last-ditch efforts to postpone the trial. Cosby's charged with three counts of felony sexual assault for allegations that he drugged and assaulted a former Temple University employee in his suburban Philadelphia home in 2004.
The defense team, lead by high-powered L.A.-based attorney Tom Mesereau, has been dealt several blows this month. Not only will five accusers be allowed to testify when the new trial gets started next week, but former supermodel Janice Dickinson will be among witnesses called by the prosecution to attempt to establish a pattern of sexual abuse by the once beloved TV dad.
Dickinson, who's being represented by high-profile attorney Lisa Bloom (daughter of famous attorney Gloria Allred who represents several other Cosby's accusers) is suing Cosby in civil court over defamation in L.A. Dickinson alleges that after she came forward with allegations that the comedian drugged and raped her in Lake Tahoe in the early 1980s, Cosby slandered her in the press by calling her a liar.
Regardless of what happens in the criminal trial in Philly, Cosby will also face a second civil trial in California this summer. Allred's client Judy Huth has accused Cosby of raping her at the Playboy Mansion in 1974. The case is expected to get a lot of attention because Huth is the only woman who has come forward accusing Cosby of raping her while she was underage – she says she was just 16 when the incident is alleged to have occurred.
For now, the next step is jury selection. Unless Cosby's lawyers appeal the judge's decision to not step down to the State Supreme Court, jury selection is expected to begin Monday morning – and opening arguments could come as early as next week.