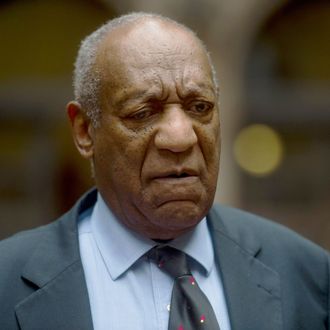 As motions continue this week in the felony sexual-assault case against Bill Cosby, today his attorneys asked that Judge Steven O'Neill be replaced. The defense team argued that the judge could be biased because his wife is a social worker who works with victims of sexual assault.
The defense, led by Los Angeles lawyer Tom Mesereau, is alleging that O'Neill's decision to allow five accusers to take the stand when the case gets started next month could signal that the judge is biased against their client. In the first trial last year, O'Neill allowed just two accusers to testify against the famous entertainer.
The judge, who did not yet rule on this most recent motion, is married to Deborah O'Neill, a clinical social worker with a doctorate in social work at the University of Pennsylvania. According to the university's website, O'Neill is the coordinator of the STTOP Team, a sexual-trauma outreach and prevention program on the Philly campus. Her dissertation in 2012, according to the Guardian, was about acquaintance rape, the same type of assault that Andrea Constand, a former employee at Temple University, has accused Cosby of in his suburban Philly home in 2004.
In recent days, Cosby's lawyers have asked O'Neill to ban anyone from wearing pins, flowers, posters, hats or anything that might influence jurors, not only in the courtroom where the trial will take place, but also in the hallways and public areas where jurors might be present and potentially influenced. During last year's trial, which ended in a hung jury in June, several of Cosby's accusers attended the proceedings wearing pins "We stand in truth." There is discussion on social media about protests that are anticipated both inside and outside the courthouse when the trial gets started next month.
Lili Bernard, a former actress on The Cosby Show who has accused the comedian of raping her in the early 1990s, has been posting tributes to known accusers on Instagram this month. She's planning a vigil at the courthouse on day one of the criminal trial.
Jury selection for the new trial is scheduled to begin April 2. On Monday, the judge refused the defense's request to delay the trial.