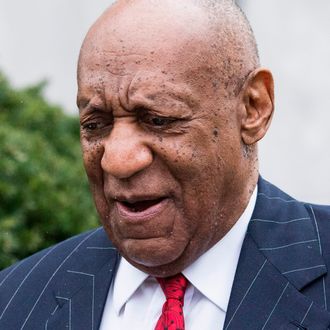 Photo: DOMINICK REUTER/AFP/Getty Images
During pretrial hearings for the Bill Cosby trial today at the Montgomery County Courthouse outside of Philadelphia, prosecutors and the defense went head to head over whether testimony from last year's felony sex-assault trial will be permitted into evidence during the comedian's new trial next month.
DA Kevin Steele would like Cosby's admitted quaalude use, a major component of the first trial that ended in a hung jury last year, included in evidence. Assistant DA Stewart Ryan argued today that Cosby's deposition over using quaaludes in the past proves that the comedian understood the effects the drugs have on women, thus pointing to intent.
The defense argued that introducing testimony about drug use is "outweighed by the unfair prejudice, confusion and issues and misleading of the jury."
The 80-year-old comedian faces three charges of felony sexual assault for accusations that he drugged and sexually assaulted Andrea Constand, a former Temple University employee, in his suburban Philadelphia home. In a deposition, the former TV dad claimed that the relationship with Constand was consensual and limited to "heavy petting," and that he gave her over-the-counter Benadryl.
Judge Steven O'Neill, who just this week refused to step down from the trial after the defense called into question his wife's work with sexual-assault victims, must also rule on whether the defense will be able to introduce what could be very damaging testimony for Constand. The defense claims that Constand told one of her former co-workers that Cosby did not drug and assault her, but that she hoped to receive money from the entertainer. Cosby's legal team would like to call the co-worker to the stand to help paint Constand as untrustworthy, someone seeking money and fame.
Before breaking to weigh in on these motions, the judge admonished lawyers on both sides on the aisle, asking them in no uncertain terms to stop using "judgmental, conclusory language" that could influence potential jurors. He said it "has no place in the law."
This follows O'Neill ripping the defense just yesterday over accusations of bias. He got choked up, according to CNN, saying, "It's a difficult thing when parties include to bring the families of a jurist" into the court. He added, "The premise that the defense built, the assumption that this court could not be impartial, is faulty, plain and simple."
O'Neill said as of now, the trial is expected to start on April 9 at the earliest. Jury selection is to begin on Monday, April 2, when 187 residents from Montgomery County are summoned to the courthouse. It may take several days for the jury and alternates to be selected in this closely watched case. The jury will be sequestered for the duration of the trial, which is expected to last at least a month.