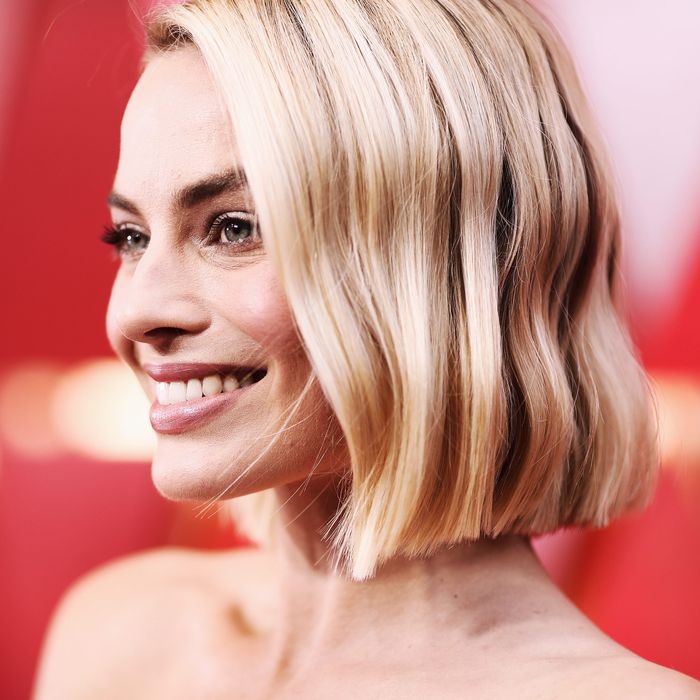 Margot Robbie
Photo: Getty Images
Until quite recently, Quentin Tarantino was mainly known for his Academy Award–winning eight-film oeuvre, and for being a revelatory actor's director. He's coaxed career-defining performances out of Uma Thurman, Ving Rhames, and Christoph Waltz while also dusting off and giving renewed relevance to actors previously consigned to the cinematic relic heap: John Travolta, Robert Forster, and Pam Grier among them. So under ordinary circumstances, the news last month that Tarantino had tapped A-listers Brad Pitt and Leonardo DiCaprio to co-star in his upcoming, '60s-set ninth feature, Once Upon a Time in Hollywood, wouldn't be surprising. Nor would news that Oscar nominee Margot Robbie was reportedly "in talks" to portray pop icon Sharon Tate in the film, which uses the Manson Family murders as a subplot.
But more than a week has passed since this news broke — an eternity by Hollywood deal-making standards. Normally, a carefully placed trade-paper story that an actor of Robbie's stature is "in negotiations" with a director like Tarantino would be enough to seal the deal; agents and producers have a rich history of planting speculative news items to persuade foot-dragging talent to sign on to a hot project. It's possible that the actress's apparent reluctance is the latest evidence of a cascading PR crisis for Tarantino.
More closely associated with Harvey Weinstein than any other director, Tarantino has admitted he looked the other way and stayed silent despite knowledge of the deposed mogul's alleged serial sexual predation. "I knew enough to do more than I did," he told the New York Times. Going forward, the filmmaker will likely bear the toxicity of that long-standing relationship like a scarlet letter. More recently, he's come under intense criticism for revelations of his reckless and disrespectful treatment of Thurman during the filming of Kill Bill, and for an unearthed 2003 interview in which he dismissed the notion that Roman Polanski had raped the teenage Samantha Geimer in 1977 (Polanski pleaded guilty to unlawful sex with a minor and fled the country). "He didn't rape a 13-year-old," Tarantino told Howard Stern. "He had sex with a minor. That's not rape."
As a result, even before a single frame of the new movie has been shot, Once Upon a Time in Hollywood is already shaping up to be the writer-director's most controversial effort to date. And beyond potentially cratering the casting of Robbie — who portrays a victim of domestic abuse in her most recent film I, Tonya and who spoke out in support of the #MeToo movement on Australian television earlier this week — there is increasing speculation the sum total of these controversies could derail the film.
This week, Debra Tate, the younger sister of Sharon Tate, added fuel to the fire by lashing out against Tarantino's "exploitative" intent to use her sister's 1969 murder as a plot device. "I am a vocal opponent of Mr. Tarantino's film," Tate, a victim advocate and the author of the essay collection Sharon Tate: Recollection, tells Vulture. "He has yet to reach out to me to talk to me about anything to do with my sister or her depiction in his film. Why? Because I believe it's negative. If his depiction was positive, he'd have a dialogue with me."
As evidence, Tate points to the film's official log line: "Set in Los Angeles in the summer of 1969, the movie focuses on a former male TV actor who's had one hit series and is looking for a way to get into the film business. His stunt double is looking for the same thing. The horrific murder of Sharon Tate and four of her friends by Charles Manson's cult of followers serves as a backdrop to the main story."
"Let's remember that this movie, until very recently, has always been referenced as the 'Manson Family Murder Film,'" she continues in an email to Vulture. "Mr. Tarantino even demanded a release date based on the 'anniversary' of my sister's devastating murder, Aug. 9, 2019. How is this not vulgar? Or sick? THIS IS NOT A CELEBRATION."
While Hollywood is in the midst of a golden era of biographical dramas and fact-based films — exhibit A: Gary Oldman's Oscar win for his portrayal of Winston Churchill in Darkest Hour — their condemnation by real-life story subjects and their family members can have a demonstrably corrosive effect. Sometimes that outcry can even pull the plug on a movie. This week, in the lead-up to FX's Sunday premiere of Trust — the Danny Boyle–directed series that details the 1973 kidnapping of Paul Getty, 16-year-old grandson of J. Paul Getty, who was the richest man in the world at the time — Paul's sister Ariadne Getty has threatened to sue the network for what she says are distortions of the truth and defamation of her family. And in January, 20th Century Fox canceled its planned biopic about newspaper heiress Patricia Hearst, that was to be based on Jeffrey Toobin's best-selling account of her kidnapping by the Symbionese Liberation Army, American Heiress, with James Mangold attached as director. The studio caved in to pressure to spike the project after Hearst released a blistering statement condemning the veracity of its source material.
Tate also weighed in on Tarantino's treatment of Thurman. In the final days of production on Kill Bill Vol. 2, he demanded that Thurman perform a sequence against her wishes, in which she drives an old Volkswagen Karmann Ghia — a car she described as a "deathbox" — through rural Mexico at an unsafe speed, without proper safety precautions and absent the back-up of on-set stunt professionals. Thurman ultimately lost control of the car and crashed into a palm tree, leaving her with leg injuries and a concussion. She went on to detail how Tarantino spit in her face and choked her with a chain for other scenes in the film.
"Here was another beautiful actress being spit on and forced to drive a death trap because Tarantino demanded it," notes Tate, who has thrown her unqualified support behind a Sharon Tate biopic titled Tate that is set to star Kate Bosworth. "I will not allow my sister to be spit on, nor her death to be glorified. Honestly, it is surprising to me in these times of zero tolerance and Time's Up, we are finding too much tolerance in this case and with this movie."
According to Jason Squire, editor of The Movie Business Book (Fourth Edition, 2017) and an associate professor of cinematic practice at USC, Debra Tate's criticism of Once Upon a Time presents liabilities not only for Tarantino but also for Sony Pictures, which is bankrolling and distributing the nearly $100 million movie. "Within the context of today's heightened sensibilities, everyone has to respect the sister's point of view," says Squire. "It was a devastating story for anyone who followed it or lived through that time — one of the worst Hollywood-based stories. If social media starts trending in the direction that this is not an appropriate movie to make, that's a cautionary moment for Sony. The suggestion would be that Sony or Tarantino sit down with the sister and talk to her about the project."
But to hear it from an influential agent turned manager who has guided clients to Academy Awards, not only will Tarantino's latest feature go off without a hitch thanks to his cult of personality in Hollywood and transformative reputation as a filmmaker, Margot Robbie will go to any length necessary to appear in one of his productions. "If the question is, 'Is Margot Robbie going to get cold feet?' My intuition is, my gut is, she'll do whatever it takes to work with Quentin Tarantino and suffer whatever it takes," the manager says. "If crashing a car is the price of admission, she might do that — and then some."