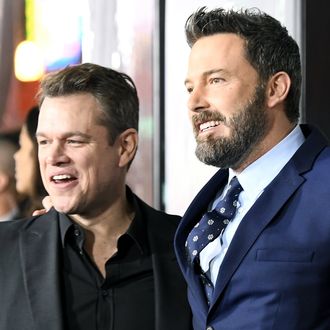 Matt Damon and Ben Affleck.
Photo: Frazer Harrison/Getty Images
So it looks like Michael B. Jordan gets at least a little credit for all future projects made by Ben Affleck and Matt Damon's production company Pearl Street Films. As The Hollywood Reporter points out, the Black Panther star is the proponent of inclusion riders that Pearl Street's head of strategic outreach Fanshen Cox DiGiovanni retweeted on Twitter when announcing that the company would be following in the footsteps of Jordan's own production company Outlier Society.
"On behalf of Pearl Street Films, Matt Damon, @BenAffleck, Jennifer Todd, Drew Vinton & I will be adopting the #InclusionRider for all of our projects moving forward," DiGiovanni tweeted on Monday night. Famously hyped by Frances McDormand during her acceptance speech at the Oscars this year, inclusion riders, an agreement put in place to maintain racial and gender diversity both in front of and behind the camera, can be practical tool to fight inequality in Hollywood. The director of USC Annenberg's Media, Diversity & Social Change Initiative Stacy Smith reportedly coined the term "inclusion rider" back in 2014, so technically, she also gets a hats off for Damon and Affleck's upcoming movies too.